Naples Botanical Garden is proud to announce one of our most ambitious projects yet: the Evenstad Horticulture Campus. The completed project will feature state-of-the-art greenhouses, shadehouses, a potting area, nurseries, and recycling center. Included in the design of the Horticulture Campus is a new building complex with offices and storage space for the equipment used to tend the Garden's 170 acres.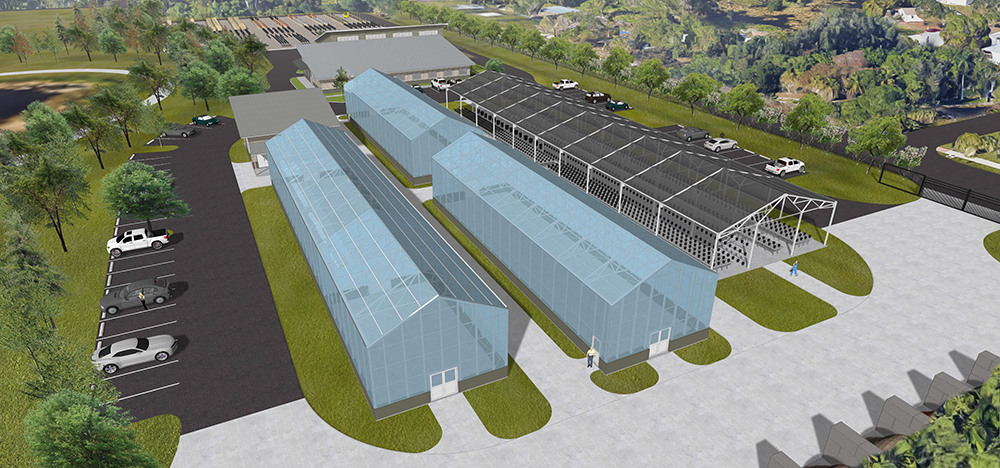 Located on the southeast side of the Garden, the Horticulture Campus will support our mission by allowing staff to care for current display gardens, restore and grow living collections, collect and exchange seeds and cuttings with colleagues around the world, expand conservation leadership with gardens through the Caribbean, continue to evolve as a teaching campus, and build community partners in Collier and Lee counties.
For media inquiries, please contact Jennifer Reed, Editorial Director, at jreed@naplesgarden.org.
Evenstad Horticulture Campus: Additional Information & Funding Opportunities
To inquire on how to support the Evenstad Horticulture Campus, please contact Rhea Merrill, Director of Development: rmerrill@naplesgarden.org.
---
Thank you to our generous donors:
Cornerstone Gift of Support:
Mr.* and Mrs. Kenneth L. Evenstad
Lead Gifts of Support:
The Blair Foundation
Tanya and Denny Glass
Marcia* & L. Bates Lea*
Irma and Thomas Leonard
Juliet C. Sproul
Deki Stephenson
Catherine Kidder Ware
Significant Gifts of Support:
Patricia and Don Altorfer
William and Sharon Kiehl
Dan and Peggy LeKander
Naples Garden Club
Karen and Robert Scott
Linda and Ken Sumner
Mr. and Mrs. Kermit S. Sutton
Gifts of Support:
Mary Avellina
Linda LaRue and Jerry J. Brown
Mrs. R. Jill Chamberlain
Thomas B. Dunkel and Diane A. Dahl
Mr. and Mrs. Michael W. McNamara
Mr. and Mrs. Jay S. Merritt
Sudie Minamyer
Mr. and Mrs. Hugh W. Nevin, Jr.
Mr. and Mrs. David Raymond
Mrs. Henrietta B. Rothwell
Linda and James White
*deceased
The Evenstad Horticulture Campus is developed with financial assistance provided by the Florida Department of Environmental Protection through the Florida Recreation Development Assistance Program.