Friday, January 17, 2020
Jennifer Reed
The butterflies arrive in a box every Tuesday. They are sent from Gulf Coast Butterflies, a nearby farm, and bound for the Pfeffer-Beach Butterfly House in the Smith Children's Garden.
Fear not – they are not bumping delicate wings against a cardboard cage; they're still in their chrysalides, tucked safely inside womb-like shells for another week or so, until triggered to emerge.
Tatiana Castro, a programs assistant in our Education and Visitor Experience Department, unpacks them gently. There's one "early bloomer," which has broken free of its chrysalis and is flapping new wings. Tatiana carefully places it in an enclosed carrier to release later.
Tatiana will prepare the rest of them for the chrysalis house in the butterfly enclosure where guests can see what they look like before they sprout their wings.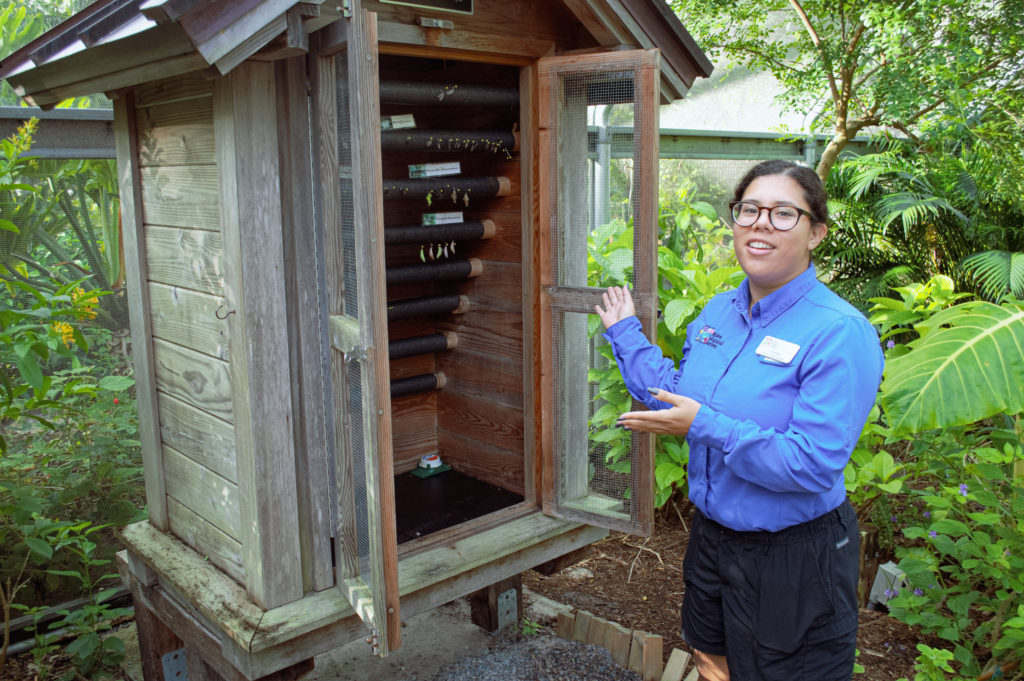 Education Visitor Programs Assistant Tatiana Castro stands with the Butterfly enclosure in the Pfeffer-Beach Butterfly House.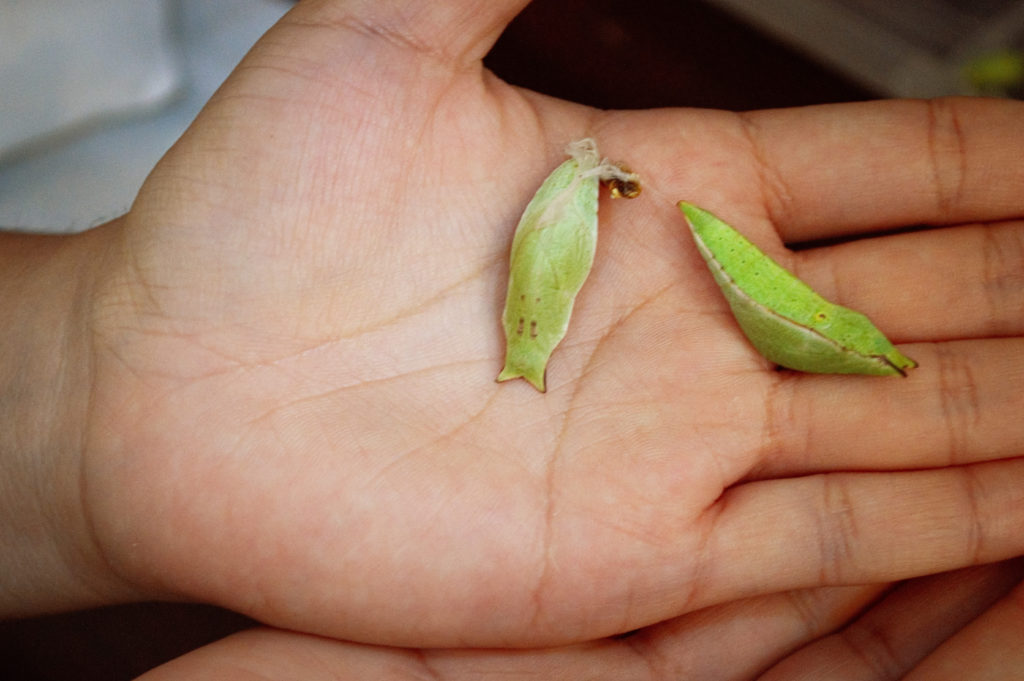 Education and Visitor Experience Programs Assistant Tatiana Castro holds chrysalides before setting them up in the Butterfly House.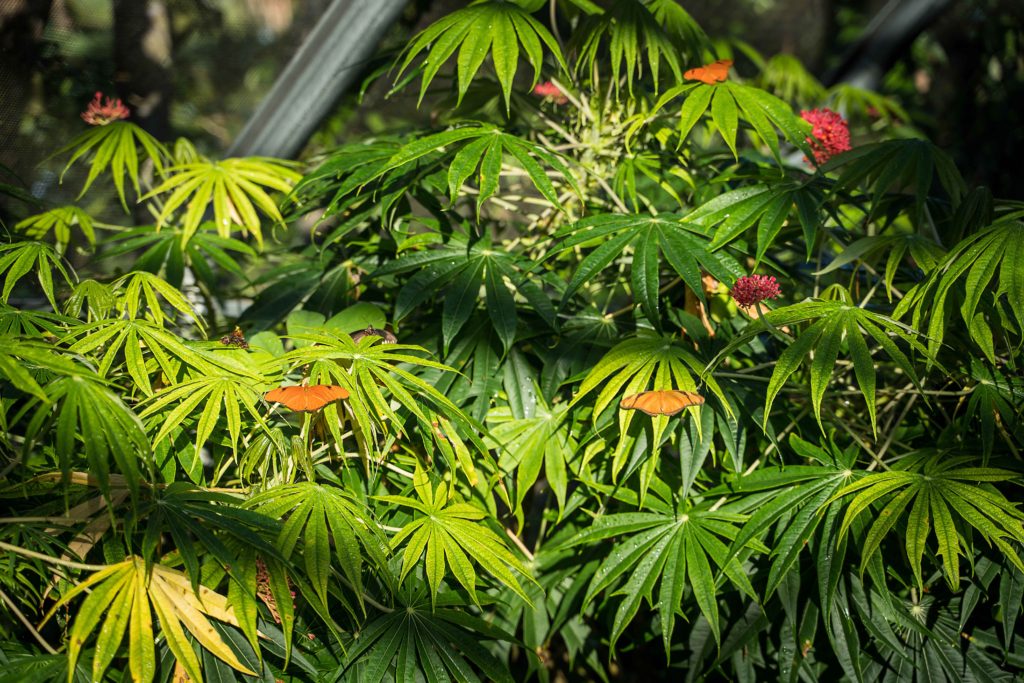 Julia heliconian (Dryas iulia) can be found year-round in Southwest Florida.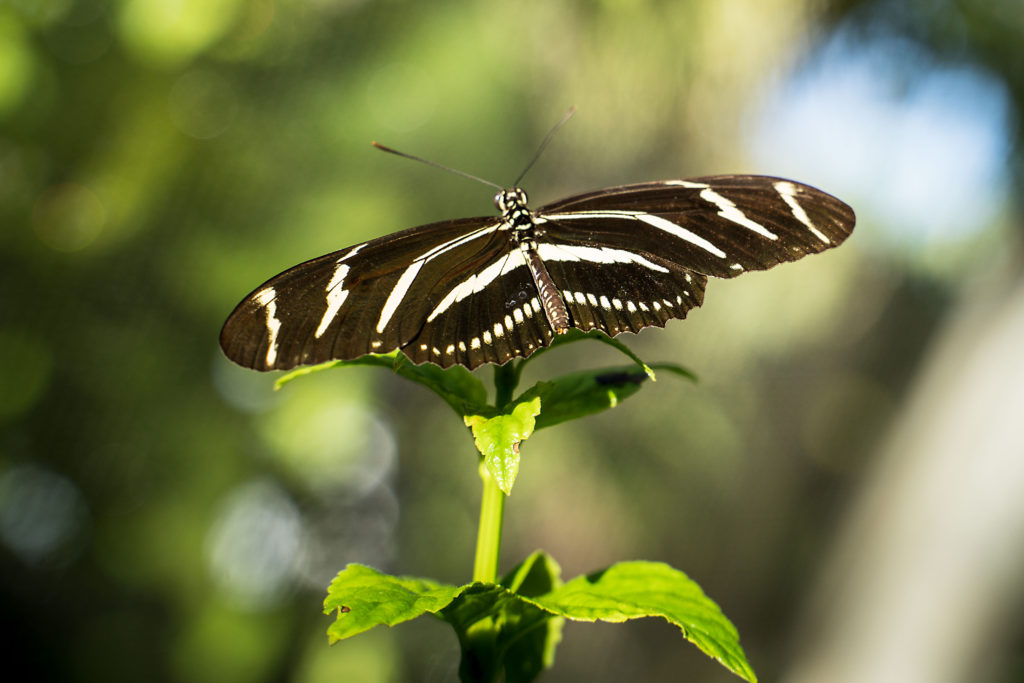 The zebra longwing butterfly (Heliconius charitonius) is the official Florida state butterfly.
"Sometimes, they're really wiggly," Tatiana observes, pointing to a few twitching chrysalides. She grabs the packing slip to see what this week's shipment includes and then begins sorting. The julias have a bit of a metallic sheen; the Polydamas swallowtails are larger than the others; the white peacocks, at this stage, are lima bean colored.
To help them emerge, Tatiana will replicate how the chrysalides typically appear in nature, where they hang from a leaf or branch. "Our setup is not very high tech," she confesses, "but it works."
Carefully and deftly, she makes almost invisible loops of hot glue at a chrysalides' tops (No, she's not hurting them!), then sticks straight pins through the loops and into a piece of Styrofoam, thus creating a way for the chrysalides to hang. She arranges them by species and will take them out to the chrysalis house where guests can see them on display.
"It's really cool because I don't think a lot of people see this part of the life cycle. Several times when I've gone to pin these up, people have asked, 'Oh are they dead?'" Tatiana says. "I tell them, 'No, this is just the start of a life cycle.'"
Generally, all the new arrivals will have emerged within two weeks. They'll live another two to three weeks as butterflies. The Garden gets the new chrysalides weekly to ensure our butterfly house has a constant supply of these much-beloved insects for guests to enjoy.
Butterfly terminology:
Call new hatchlings caterpillars, not worms.
Butterflies "eclose" from chrysalides, not "hatch."
Butterfly fun facts:
Butterflies have four wings.
Their taste buds are located on the bottom of their feet.
Their compound eyes have five to six color receptors (people have three!).
They use their antenna to smell.
When to see butterflies:
Butterflies are most active between 10am and 2pm.
They like the sun (they're cold-blooded and need the sun for energy).
Because they like the warmth, they are less likely to emerge from their chrysalides during cold spells.
---
About the Author
Jennifer Reed is the Editorial Director of Naples Botanical Garden and a longtime Southwest Florida journalist.