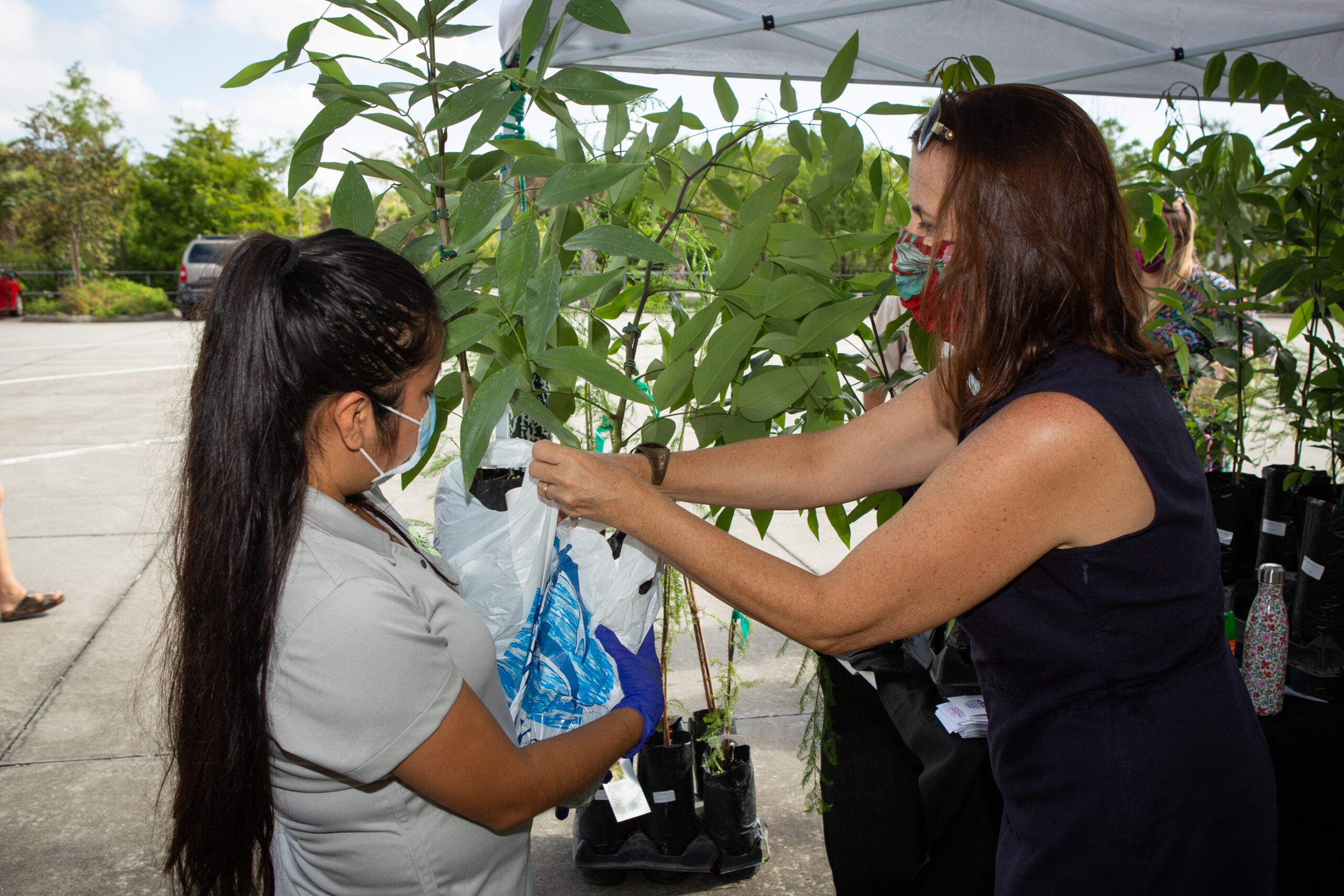 Naples Botanical Garden is holding its second public tree giveaway this weekend! Yes, you read that right, the Garden is giving away free trees. Stop by the Garden's main parking lot, and follow signs to the south end, where we will have hundreds of young trees ready for new homes. Garden admission is not required.
Why is the Garden offering these trees? The Community Foundation of Collier County began planning for its 35th anniversary and had an idea to mark this milestone, growing and distributing 3,500 trees to all corners of the county as a symbol of their impact in the region. The Garden, with its new mantra of "Being a Force for Good," jumped at the chance to help and began gathering seeds from our collections, representing some of the best species to plant in Southwest Florida. A special section of the nursery was designated for the project, and after spending months under the care of our Horticulture Team, the trees are now ready for their new homes (see below for details on pickup times and tree species available).
The project is one of several endeavors the Garden has undertaken in these past few months to bring people closer to nature and to each other — even amid a pandemic.
Individual homeowners are not the only ones who can enjoy these community trees. We have partnered with other organizations such as Habitat for Humanity, Shelter for Abused Women and Children, Salvation Army, and Guadalupe Center that were eager to incorporate these trees into projects they had underway. The Salvation Army, for example, had just lost a large banyan tree that shaded their playground. Following a site visit, our Horticulture Team figured out the perfect grouping of trees to take its place. Habitat for Humanity is working on an amazing 60-acre neighborhood in Immokalee, and we are thrilled to offer multiple trees per homesite. Also, in Immokalee, Guadalupe Center is excited to receive trees for two existing properties and one under construction. At the other end of the county, Everglades City kicks off its first community tree giveaway Friday, August 28 and Saturday, August 29 at the home of well-known resident Kathy Brock. Residents can stop by Kathy's home to select from trees that our experts have determined are well-suited to Everglades City's growing conditions. Stay tuned to the Garden's social media for more details on this and other upcoming giveaways.
Partnerships are in the Garden's DNA. We were born from a small group of people who aspired to create a world-class tropical garden. We are that today because of the collective power of many groups and individuals. And now as a cultural anchor in the community, the Garden is in a unique position to pay it forward. In addition to growing trees, our staff has been busy serving the community in several other ways.
With a workforce in Collier County heavily impacted by closures due to COVID-19, food insecurity was, and continues to be, on the rise. Local families living next to the Garden and other nearby neighborhoods were in need. We reached out to an organization called Brighter Bites that works with regional partners to distribute fresh produce. We held our first food distribution in our parking lot shortly after reopening the Garden to visitors. In a mere four weeks, 49,280 pounds of fresh food was shared with local families. The Garden will continue to work with additional area partners to help meet this need for fresh produce.
Recently, the Garden launched a program also supported by the Community Foundation of Collier County that targets one of the most vulnerable populations, seniors living with dementia. The first Activity Care Kits, distributed through the Golden Gate Senior Center, included supplies and easy-to-follow instructions to create individual terrarium gardens. Participants are already looking forward to receiving more such activities!
The Garden will keep you updated on the progress of this life-enriching program for seniors and other efforts toward being a Force for Good in the community. And I hope to see you at our Community Foundation of Collier County's tree giveaway at the Garden this weekend!
---
We invite you to take part in the Community Foundation of Collier County's anniversary celebration! Stop by the Garden on Friday, August 21, and Saturday, August 22, from 9am – 12pm to select a tree or two or three, from the following species: Florida Fiddlewood (Citharexylum); Golden Shower Tree (Cassia fistula); Pink Shower Tree (Cassia javanica); and Ivorywood (Calycophyllum sp.).
---
About the Author
Kara Laufer is the Director of Community Relations at Naples Botanical Garden.