Tuesday, November 23, 2021
The first strings of lights went up months ago, tucked discreetly into the foliage. In just a few days, we'll flip the switch and illuminate the Garden during the annual Johnsonville Night Lights in the Garden extravaganza.
As we gear up for opening night (Friday, November 26), we thought we'd share the philosophy behind our lighting design and horticulture displays, as well as give you a rundown of food specials, entertainment, and other features to enjoy during your visit.
Determining the Design
Illuminating the Garden is a little bit like lighting a stage show; the colors help tell each garden's story and highlight its best attributes.
"Each year, we try to outdo ourselves and create a fresh, but familiar experience," says Erin Wolfe Bell, Director of Exhibitions & Special Programs. "We let the colors in the Garden dictate our design choices, keeping the focus of the event on the beauty of our plant collection."
Kathryn's Garden
Kathryn's Garden was inspired by the art of Henri Rousseau. Purple and green lights will capture the mood of this lush, deeply shaded portion of the Garden. Be certain to slow down and take it in on your way to the Ticketing windows.
Kapnick Brazilian Garden
Perhaps the Garden's most iconic scene is that of the Kapnick Brazilian Garden and the Roberto Burle Marx Mosaic. As you progress through that garden, you'll be surrounded by lights in orange, red, blue, and turquoise — a mosaic-inspired palette.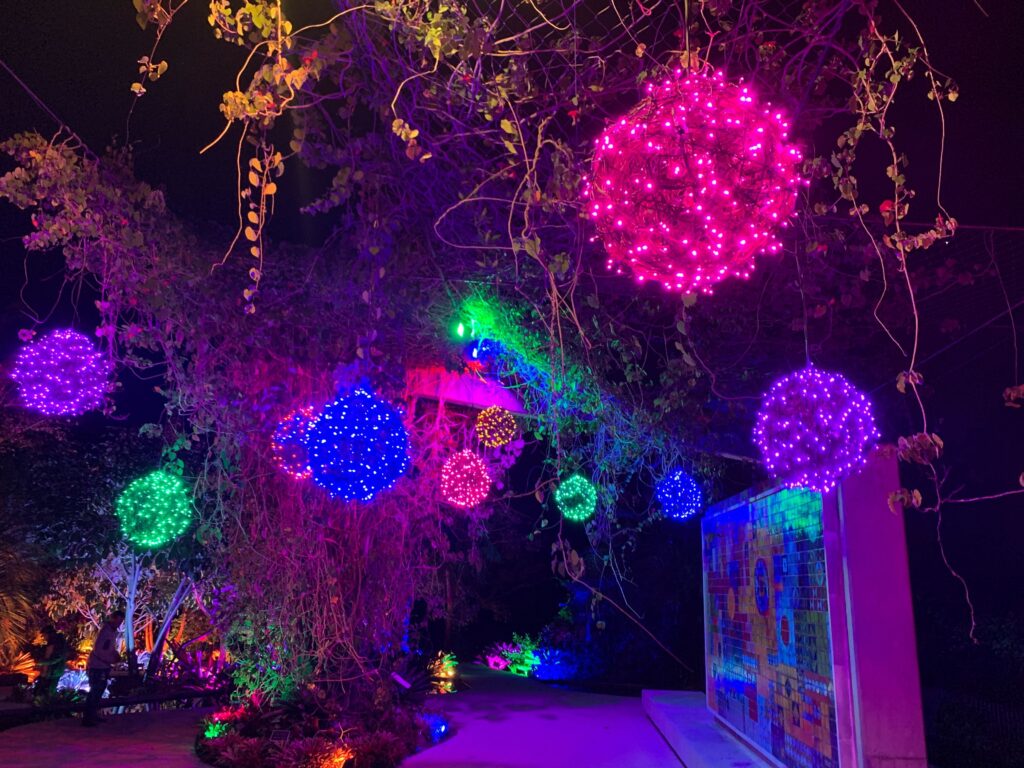 Kapnick Caribbean Garden
When in bloom, this garden is awash in purple: jacarandas, plumbago, Queen's wreath, and sky vine. In keeping with its character, we've draped it in purple and white lights. And here's a special treat: The newly completed STICKWORK sculpture, already magical in appearance, promises to look even more enchanting under holiday lights.
Smith River of Grass
The River of Grass depicts the Florida Everglades, a slow-moving river that flows from Lake Okeechobee to Florida Bay. It will be lit with greens, blues, and whites to honor this critical ecosystem.
Scott Florida Garden
There's nothing like a sunset in Naples, and the Scott Florida Garden will glow orange, pink, red, and yellow with blue accents befitting our tropical oasis.
Foster Succulent Garden
A cool blue will wash over this garden of curiosities. Red and pink will highlight its distinct blooms on plants, such as the desert rose, prickly pear, and aloe.
Lea Asian Garden
Plants take center stage as red and orange highlight the striking blooms found in the Lea Asian Garden. Its eye-catching plants include crotons, gingers, ixora, and trees, such as the betel nut palm, thief palm, and ficus religiosa.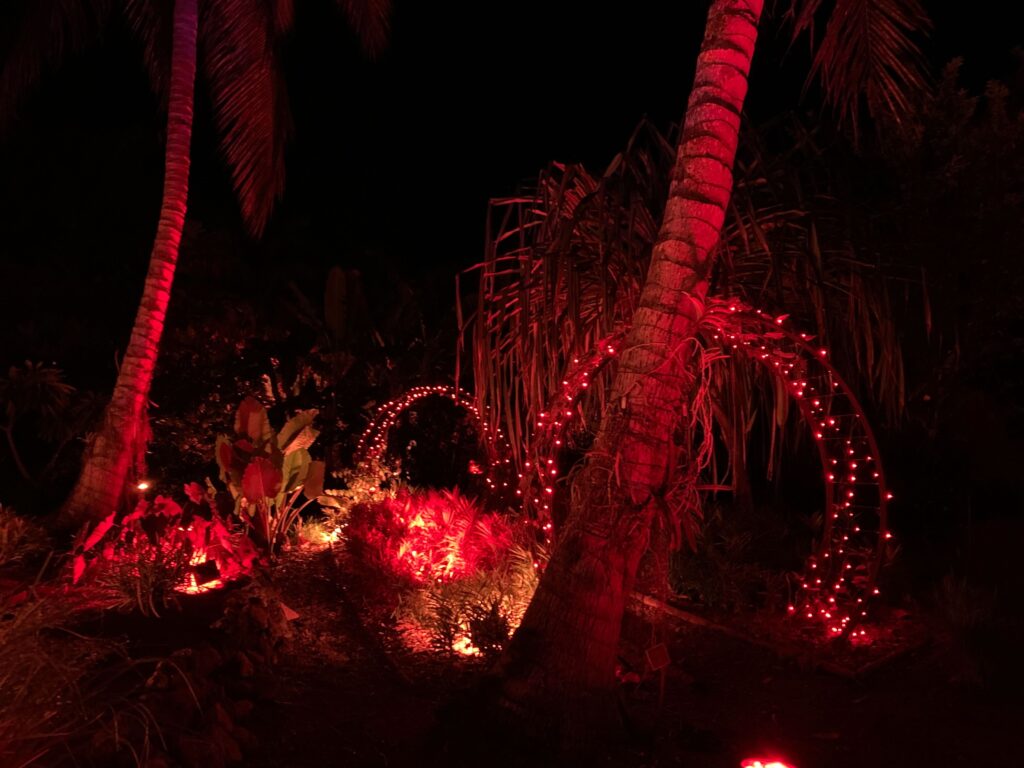 Showing off the Collections
"It's not just a light show," says Associate Director of Horticulture Elizabeth Beans Cohn. "We're highlighting our collections."
Our team chooses the placement and color of lights largely based on the plants that they want to hold your gaze.
"We want to make you come back during the day," Cohn says. Anyone who has visited the Garden under daylight and Night Lights knows the experiences are entirely distinct.
Plants add to the festivities in other ways, too. Horticulturalists have been busy planting red and white varieties of plants, such as petunias, geraniums, anthuriums, and bromeliads so that the grounds feel as merry during the day as they do at night.
Rockin' Around the Bromeliad Tree?
Yes, that's right. Our team has assembled 400 bromeliads of two different varieties, along with 90 Tillandsia xerographica "ornaments" into a tropical holiday "tree" like no other. You can find it on the Performance Lawn, the perfect backdrop for your family portraits.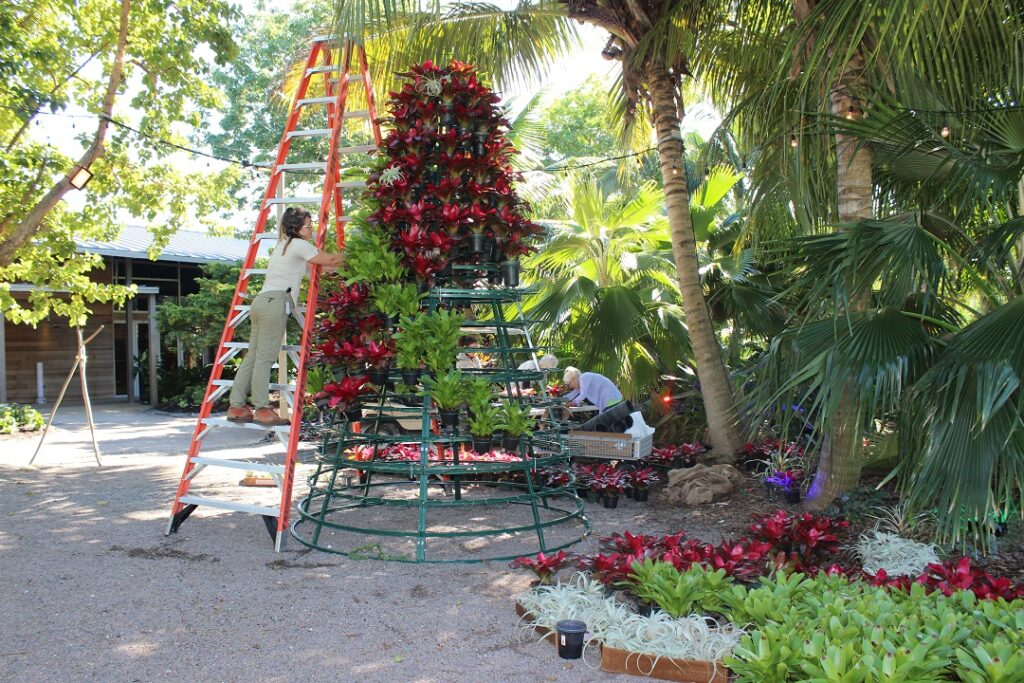 Making Merry with Music and Make-Believe
Each night will feature a live music performance on the Water Garden stage. Click here for a full event listing.

New this year! A special, family-friendly exhibit located on the Performance Lawn will invite guests of all ages to sit around make-believe campfires, venture into a brightly lit campground tent, and grill faux Johnsonville hot dogs and treats. For guests who crave the real thing, Johnsonville hot dogs and bratwursts will be available for purchase via a live grilling station on select evenings.
Cranking up the Kitchen
What are the holidays without festive food and drinks? The Fogg Café team has created special holiday dishes and cocktails to delight your senses. Sip a spiked apple cider infused with cinnamon, spiced rum, and cinnamon whisky, garnished with a cinnamon stick. This year's holiday entrée is porcini mushroom ravioli with wagyu Bolognese sauce, brie, and walnut gremolata. Decadent!
For dessert, snack on a s'mores cookie. This essential camping dessert is also offered near the children's campfire on the Performance Lawn.