Admission
$25 Adult
$10 Child ages 4 – 17
Children 3 and under are FREE
Members are FREE
---
Hours of Operation
Hours of Operation October 1 through May 31:
9 am – 5 pm daily
Members-only entry 8 – 9am daily
Summer Hours of Operation June 1 through September 30:
9 am – 2 pm daily
Members-only entry 8 – 9am daily
We recommend comfortable shoes and reusable water bottles to fully enjoy your visit to the Garden.
Please note: Member children and/or grandchildren are to be accompanied by their Member parent or grandparent for admission. Children 17 and under must be accompanied by an adult.
Berger Shop in the Garden
9am – 5pm daily
Fogg Café
9am – 5pm daily
Fogg Café does not accept reservations. Click here for a menu and more.
Please note: Access to Fogg Café is included with the price of admission.
---
2023 Seasonal Events
Join us this season for an exciting array of events and exhibitions.
---
Museums on Us
The first full weekend of every month, Bank of America cardholders receive complimentary admission to the Garden through the Bank of America Museums on Us promotion. To redeem, please present your Bank of America card and ID at Ticketing in person.
---
Naples Botanical Garden Magazine
Download the latest issue of Cultivate
Read about upcoming Garden events, plus get a behind-the-scenes look at our team's work in conservation, horticulture, and education!
---
Naples Botanical Garden Conservation Magazine
Download the latest issue of Conserve
Read about our ongoing conservation work.
---
Dogs in the Garden
Want to experience the Garden with your pup? Dog walking days are Sundays and Tuesdays from 9 – 11am. If this is your dog's first visit, you will need to fill out a dog form prior to arrival. One dog per adult. No retractable leashes permitted. Please bring a collapsible bowl/container so your dog can stay hydrated.
Complete Dog Registration Form
---
Students & Teachers

Teachers and educators, please visit the Students & Teachers webpage for details and registration for our field trip programming.
---
Our Policies
By entering Naples Botanical Garden or becoming a Member, you acknowledge and agree that there are risks associated with entering the premises, including but not limited to: tripping and falling, having an allergic reaction, and contracting an illness. You agree to release and forever discharge and hold harmless Naples Botanical Garden, Inc. and its directors, officers, employees, and agents from any and all liability, claims, and demands of whatever kind or nature which arise or may hereafter arise from your visit, including any claim you may have against any of them with respect to any bodily injury, personal injury, illness, death, or property damage whether caused by their negligence or otherwise.
Naples Botanical Garden is a nicotine-free environment.
Inclement Weather Policy
The Garden uses a Lightning Prediction System to alert guests when lightning is near. An alarm will sound one 15-second blast of the horn, signaling that lightning is near.
In the event of lightning, all guests should seek shelter immediately. Safe indoor waiting places include Fogg Café, Kapnick Hall and the Berger Shop in the Garden. When lightning is clear, the alarm will sound three 5-second blasts of the horn.
Please contact info@naplesgarden.org or call our Ticketing Office at 239.643.7275 for more information.
Accessibility
ADA accessible paths are through all buildings and cultivated gardens, as well as to the Birding Tower. Wheelchairs are available for free rental; scooters are also available for $14 a day both on a first come, first served basis. We do not reserve wheelchairs or scooters.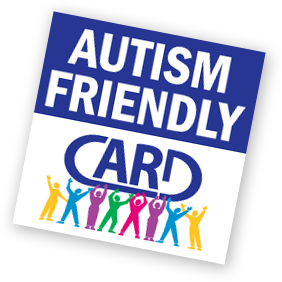 Naples Botanical Garden is a certified Autism-Friendly venue through the Center For Autism & Related Disabilities (CARD) at the University of South Florida. We have collaborated with CARD to provide pre-visit tools for individuals with autism spectrum disorder and other sensory processing or cognitive impairments. We hope to provide you with as much information as possible about Naples Botanical Garden in order to make your visit special and enjoyable.
The Social Experience Story is a picture book-style guide, which walks visitors through the entire Garden and what they might experience, from waiting in line to purchase tickets to encountering wildlife.
The Parent/Caregiver Guide provides parents, caregivers, and teachers with sensory and behavior considerations as well as general visit tips to prepare individuals with sensory sensitivities for visiting the Garden.
The Visual Schedule is a tool that provides pictorial icons representing the Garden's exhibits, restrooms, and other stops to allow individuals to plan the order of their visit.
The Garden is committed to being a welcoming place for people of all abilities. Have questions about accessibility? Contact us at: info@naplesgarden.org.
Photography
We encourage our guests to take casual photographs and videos of their visit for their own personal use. However, personal photographs and videos may not be used for commercial purposes.
---
Private Events
As we continue to provide vital Member and community programming, our calendar no longer supports the ability to host private events, including weddings. We remain steadfast in our loyalty to our community partners and welcome conversations surrounding partnership-related events. To submit a request, please contact Development at development@naplesgarden.org.
---
More questions?
Call us: 239.643.7275, email us: info@naplesgarden.org or take a peek at our FAQ.