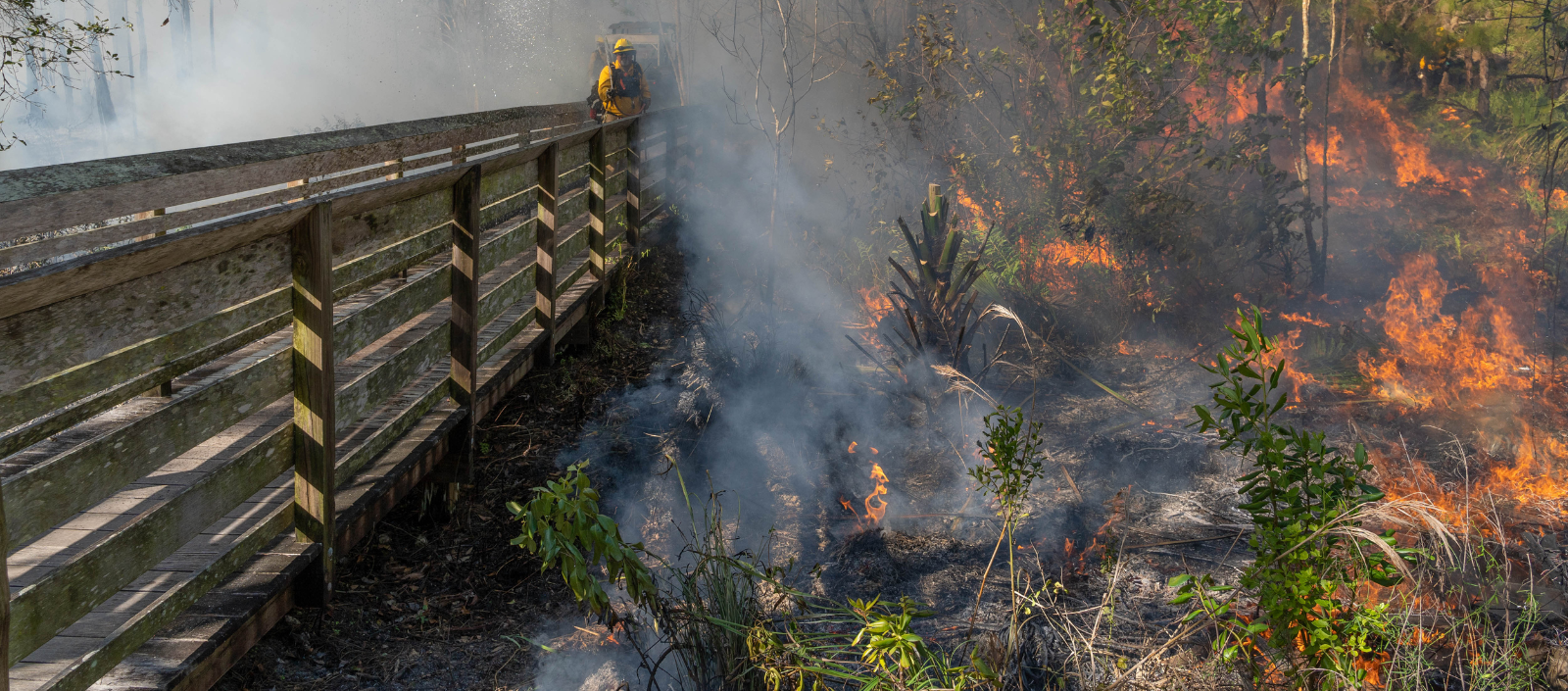 As you walk along the lake trail or the wooded pathways near the Sönne Family Ghost Orchid Boardwalk, you'll come across a charred patch of forest, which will probably spark (pun intended!) a few questions.
No, we weren't struck by lightning. Yes, we meant for this fire to happen.
Armed with a state-prescribed fire permit, Garden conservationists and partners from other agencies ignited a blaze and burned close to two acres of the Preserve on February 13.
Fire is nature's way of encouraging new plant growth and species diversity, ridding forest floors of excessive plant matter, and, in some cases, spreading seeds to facilitate reproduction. In urban areas, roads and developments minimize the chance of lightning igniting a flame, and if one does start, emergency crews snuff it out to protect people and structures.
That's why land managers use special techniques to light, manipulate, and contain fire, and achieve their intended objectives. They work to replicate nature's benefits while taking precautions to prevent harm.
Eric Foht, Director of Natural Resources, surveys the site the day after the burn, explains the process, and what he's watching for in the days and weeks to come.
"This fire went over the ground in a flash," he says. The burn lasted about 40 minutes. That's because the crew used what's known as a "head fire," a flame propelled by the wind. It moves quickly, minimizing damage to the pine tree roots, which were a concern.

One primary goal was to burn the excess pine needles, leaves, and other debris that had accumulated on the ground over time. The Garden is surrounded by residential areas, and Foht says homes are safer now because the fire consumed a lot of debris. Increasing plant diversity is another objective. Foht compared the newly burned patch with an untouched area.
"Look how thick that is," he says of the latter, noting clumps of saw palmetto, which crowd out other species.
"This looked like that before." He expects new plant types will emerge now that they receive sunlight.
We burned a small lakeside patch, too, hoping to knock back torpedograss, which is considered invasive. Foht said he intends to replant the waterfront with native grasses.
Despite precautions, there is a chance we may lose a few pine trees. But that happens in nature, too. Foht says wildlife will turn the remnants — known as "snags" — into places to nest and burrow. Within hours of extinguishing flames, he noticed wildlife moving back in — spiders, doves, warblers, even a couple of rabbits.
"I look forward to continuing to work with fire, as an ally, to help restore this land and make the Garden and surrounding community safer from wildfires," Foht says. "This is just the beginning."
"They love fresh, new growth," she said. "In Brazil, they decimate seedlings, and we're hoping they bring that activity here."
---

About the Author
Jennifer Reed is the Garden's Editorial Director and a longtime Southwest Florida journalist.