Daily Tours
Take a staff-led daily tour included with Garden admission. Reserve your spot in person the day of your visit by checking in with a staff member at the Information Station Kiosk on the Smith Entry Prow. Please arrive early, as these free tours are popular and fill up quickly! Each tour is 45 minutes with up to 16 guests per tour.
Refer to the Daily Schedule posted in the Garden upon arrival to view the tour schedule for the day.
---
Group Options
Interested in exploring the Garden with a group? Connect with our tropical surroundings and one another during an immersive Garden experience! We offer guided group tours to enhance your botanical knowledge together as well as hands-on guided group activities that include a takeaway potted plant.
If you are interested in booking with us or would like more information, please contact groupinfo@naplesgarden.org or submit the Group Visit Request Form to schedule your group's next outing. Please note that dates and times are subject to availability.
The following applies for all guided group options:
Minimum 15 guests
10% off Individual or Family level memberships same day, onsite
10% off in Berger Shop in the Garden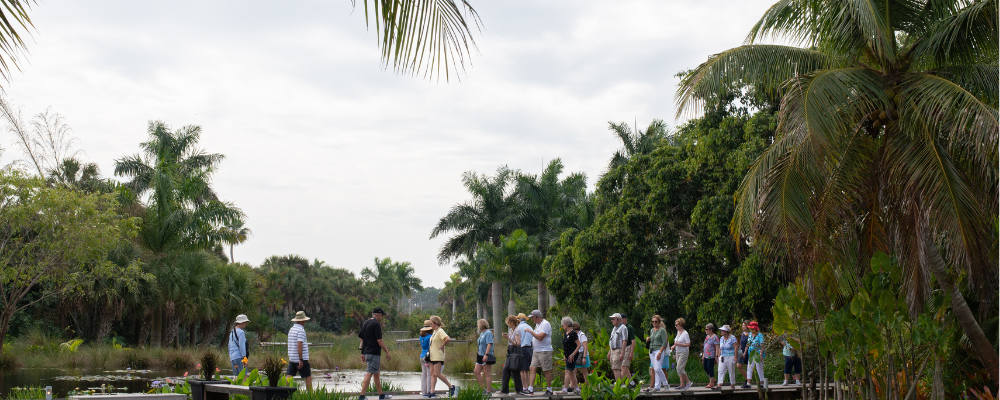 Self-Guided Group Visit | $20 per person
Minimum 15 guests
$5 off Garden admission
No staff guided experience included. A staff member will greet your group at the Entry Pavilion for check-in.
Audio tours included
Guests are encouraged to bring their own headphones for an optimum listening experience.
---

60-minute Guided Group Tour | $50 per person
60-minute tour guided by professional Garden staff
Maximum 50 guests
Choose from one of three themes:
Highlights of the Garden Tour Discover the beauty of the cultivated gardens, learn highlights of our history, and immerse yourself in landscape design in this 60-minute guided journey through Naples Botanical Garden.
Orchids & Epiphytes Tour Naples Botanical Garden has a great variety of orchids and epiphytes growing throughout the gardens. Join us on a guided journey to look up, down, and all around at these plants that may be hiding in plain sight!
Plant to Plate Tour Discover the edible plants that grow in nearly every part of the Garden. From Asia to the Caribbean, we'll find fruits, vegetables, and spices! Passport not required on this trip around the Garden.
---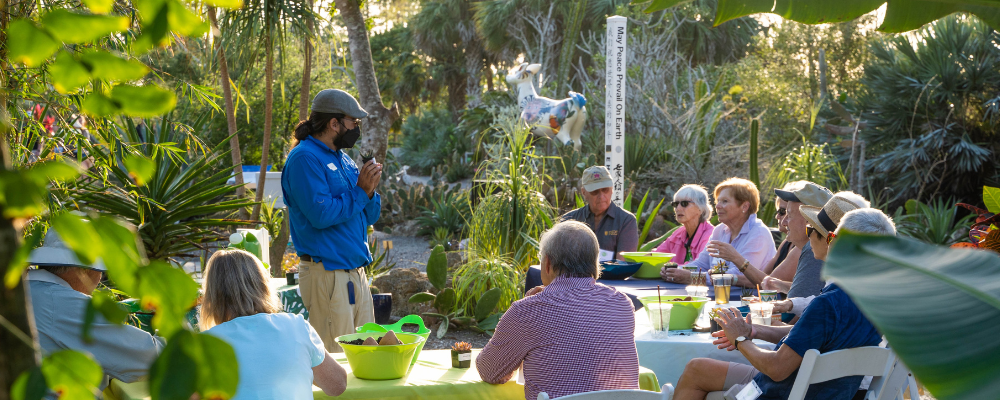 60-minute Guided Group Activity | $60 per person
60-minute activity and talk led by professional Garden staff, includes a takeaway potted plant.
Maximum 25 guests
90-minute Guided Group Experience | $75 per person
60-minute tour and 30-minute activity led by professional Garden staff, includes a takeaway potted plant.
Maximum 25 guests
Choose from one of two activities:
Cacti & Succulents Cacti and succulents are quite the craze in the gardening world, thanks to their hardy nature and diversity. Learn how to care for these plants and take home your very own potted succulent!
Orchids & Epiphytes Discover the mission of our tropical garden and learn more about an important part of our collection: orchids! Learn how to care for and pot up your very own orchid to take home!
Add boxed lunches | Additional $22 per person
*Only applicable with Guided Tours and Experiences, may not be selected with Self-Guided visits.
Sandwich meal options include chips, house baked cookies, and bottled water.
Salad meal options include fresh baked bread, house baked cookie, and bottled water.
Reserved lunch seating in shade included.
---
Self-Guided Audio Tour
You can access our self-guided tour offerings during your visit at the Garden or follow this link to listen at home.