October 1, 2020 – September 6, 2021
As part of our Roots: Power of the Unseen annual theme, Naples Botanical Garden presents Steve Tobin: Nature Underground during the 2020-2021 season. The journey begins as you enter the Garden, with a series of three Dancing Roots within the Entry Gardens. You'll be amazed as you continue to experience soaring sculptures—12 in total—as you explore different parts of the Garden.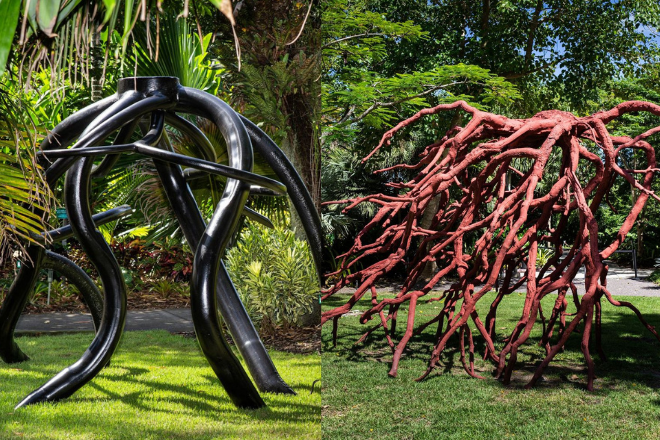 Steve Tobin's Steelroots and Bronze Roots sculptures—both of which are represented in this exhibition—expose the beauty and intricacy of one of nature's most underappreciated and essential components: roots. Tobin's deep respect for the natural world as a source of constantly changing forms is reflected in his choice to bring a less visible component of nature above ground on a massive scale.
Tobin first explored the theme of roots in bronze, creating literal interpretations cast from actual root systems. In the Bronze Root series, details typically unseen are brought to the surface where viewers can visualize the interconnected systems which lie underground. Their complex, yet graceful shapes are quite literally unearthed for us to appreciate.
After creating a monumental sculpture cast from the stump and root system of a sycamore tree that shielded St. Paul's Chapel in New York City in the attacks on September 11, 2001, Tobin turned to a new medium: steel. Instead of producing roots in the literal sense, Steelroots convey the essence of roots through a modernist approach with simplified forms. Their towering, elegant shapes have a lyrical quality, as do the shadows they cast—something that Tobin considers during design and construction. The artistic display of dancing figures seemingly in motion represents the constant movement inherent in the natural world. The scale reminds us that humans are part of the ecosystem, too—our futures forever intertwined.
---
About Steve Tobin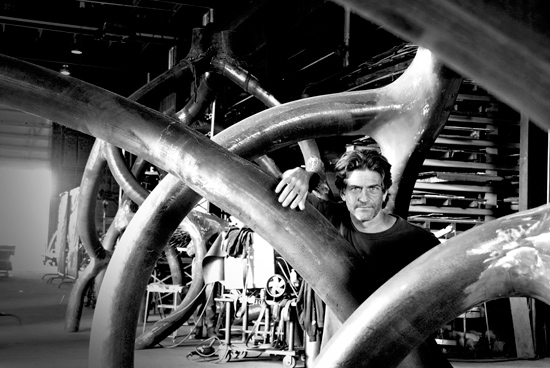 Steve Tobin (born 1957, Philadelphia, Pennsylvania) is a contemporary American sculptor who lives and works in Bucks County, Pennsylvania. Throughout his 40-year career, he has created nature-based works in glass, clay, wood, bronze, and steel, but is best known for his Roots sculptures featured in this exhibition.
"When you walk away from the roots and go on with your life, hopefully the next time you look at a tree, your mind will travel underground and see things not readily apparent. We all have roots. We all have histories. We all have mysteries below the surface." – Steve Tobin
Steve Tobin: Nature Underground is on view through September 6, 2021 and is included with general admission.
---
This exhibition is part of this year's Roots: Power of the Unseen theme which celebrates the complex world beneath our feet and seeks to inspire a new appreciation for the unnoticed, yet vital parts of our ecosystem.
---
Supported By
---
Media Sponsor
---
Funded in part by