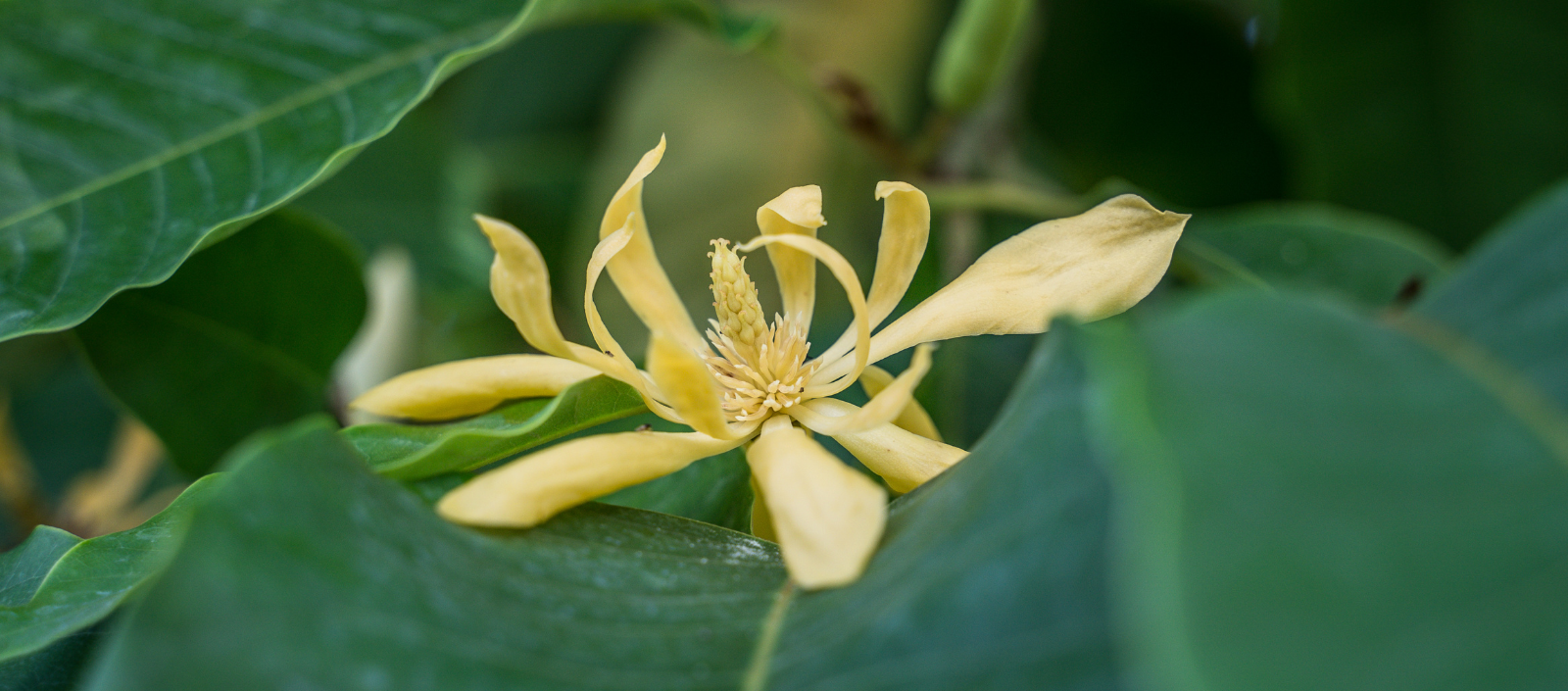 All creatures, including humans, plants, animals, and insects communicate with odor. Smell makes up one of the four methods of communication, including sound, sight, and touch.
Why are scents important for plants?
Some flowers use scent to attract pollinators. There are no identical scents in flowers, thanks to compounds and interactions. Plants that attract bees or flies will have sweet fragrances, whereas those that attract beetles will have more of a spicy and musty scent.
Why are scents important to humans? When we smell a fragrance, our limbic system is activated, and this ignites our olfactory glands, which can evoke an emotion, and even draw us into a memory.
Check out these plants, and get scents-i-tized in the Garden!
Ylang-ylang (Cananga odorata)
Native to Tropical Asia from India to Papua New Guinea to Queensland, ylang-ylang is a fast-growing tree located next to Susy's Bali Ha'i by the Grove. It has a yellow-green flower with six narrow droop petals that resemble a sea star. It blooms on and off during the warm months of the year. The flowers produce an essential oil that has many uses. It can relieve high blood pressure, help with skin problems, and is an aphrodisiac. The oil gives off a strong sweet scent with a fruity note that is widely used in perfumes and used to be the main ingredient in Chanel No. 5.
---
Sweet almond bush (Aloysia virgata)
Native to South America, the sweet almond bush is a large, fast-growing shrub located in the Grove and the Buehler Enabling Garden. This plant has scalloped green leaves and long spikes with intensely fragrant white blooms. Its scent is reminiscent of almond, hence its name.
---
Magnolia rajaniana
Native to Southeast Asia, the Magnolia rajaniana is a rare tree located in the Lea Asian Garden. It is very fragrant, with flowers in hues ranging from cream to light orange. The flowers will turn brown as they age. This tree blooms year-round.
---
Port wine magnolia (Michelia figo)
Native to China, the port wine magnolia, located in the Buehler Enabling Garden, is a flowering, evergreen hedge native to Western China. It blooms with purplish-brown flowers that emit a sweet scent resembling banana. Its flowers grow on old wood, which makes it easier to prune and shape new growth.
---
Tahitian gardinia (Gardenia taitensis)
Tahitian gardenia is a rare gardenia with leathery, green leaves and white, pinwheel-shaped blooms that offer a sweet fragrance. Native to the islands of Tahiti, it is the country's national flower. This plant is located near the Grove.
---
Vietnamese gardenia (Gardenia vietnamensis)
Located in the Lea Asian Garden, the Vietnamese gardenia is an evergreen, rounded shrub with glossy leaves and cream-white blooms with six petals emitting a potent, sweet scent. Native to Vietnam, it is tolerant to drought and pest-resistant, making it an easy plant to grow.
---
Lemon bay rum tree (Pimenta racemosa)
The lemon bay rum tree, located in the Buehler Enabling Garden, showcases a tranquil lemon scent. This cultivar is not common. It can reach a height of 25 feet. It has white, fragrant flowers, and its aromatic leaves can be used in cooking, especially teas.
---
Oncidium heaven scent 'sweet baby'
Located in the LaGrippe Orchid Garden, Oncidium heaven scent 'sweet baby' will delight all foodies! As an offspring of the well-known chocolate orchid, aka the 'Sharry Baby,' this odiferous orchid has a strong scent (mostly in the morning) of chocolate with a hint of citrus! It blooms twice a year and produces spikes of burgundy flowers with white lips. The chocolate scent lasts about a month.
---
dendrobium uniflorum x sib
Native to Southeast Asia, dendrobium uniflorum x sib is an epiphyte that has white and light green flowers with up to five red stripes and deciduous leaves. It flowers year-round and gives off a clean, citrus scent. You can check out this orchid now in the LaGrippe Orchid Garden.
---
Maxillaria tenuifolia
Native to Central America and Mexico, Maxillaria tenuifolia is commonly known as the coconut orchid. A feast for the eyes to see, this orchid's dark red flowers with a spotted lip will last for up to 10 days and give off the strong scent of coconut. Go smell this orchid now in the LaGrippe Orchid Garden.
---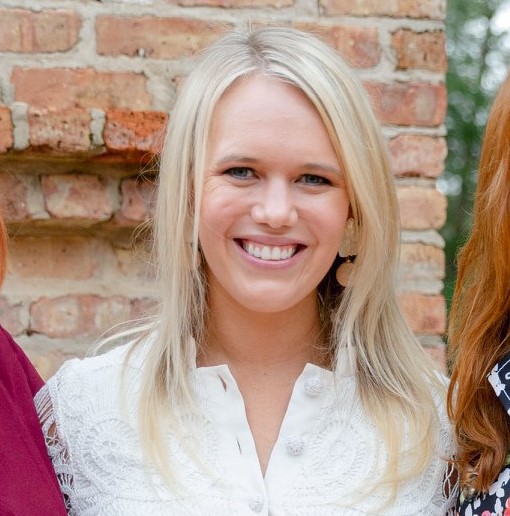 About the Author
Darby Kordonowy is the Content Coordinator for Naples Botanical Garden. Darby loves learning! Her favorite plants are the jade vine (Strongylodon macrobotrys) and the Camellia japonica 'Pink Perfection.' She is an amateur bird watcher!