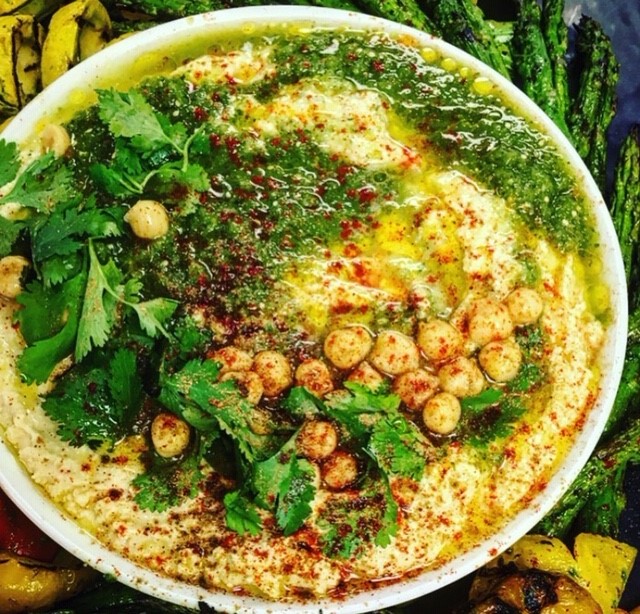 Classic hummus
1 can chick peas, strained, reserve liquid
2 T lemon juice
3 clove garlic, roasted
1 t cumin, ground
2 T sesame paste (tahini)
2 T olive oil
Salt to taste
Combine the chick peas and oil, garlic, cumin, lemon juice, and tahini in a food processor and let run for 15 to 20 seconds until warmed and smooth while adding canned liquid back in to keep it from getting too thick. (This step replaces the cooking liquid if one were using dried garbanzos that were cooked.)
This base hummus can then be used in addition to other ingredients, such as poblano, dill and lemon, jalapeño, roasted tomato, etc. …
I personally like to add salsa verde (pictured above) or grilled fresh salsa mixed in, recipe as follows:
For salsa verde there are usually three types: roasted, stewed, and raw/fresh; for this recipe we will make fresh.
7 – 9 tomatillo, or green tomatoes, (outer paper-like skin removed and washed if using tomatillos)
1 each yellow onion raw, peeled, chopped
1 cup fresh lime juice and zest
4 each garlic bulb, peeled and tipped
1 each bunch cilantro, picked
Green chili, serrano, or jalapeño, and depending on the heat level (this is your preference) removing the seeds takes much of the heat level down and still holds flavor, also makes for a cleaner product in the end.
Salt to taste
(Note: adding an avocado or two will make this recipe creamier)
Add ingredients to a blender, and blend until smooth and emulsified
Fresh grilled salsa:
This recipe is a great addition to chicken, meat, or vegetarian dishes or can be used for just chips and salsa. This also is a great way to use the grill for more than just the main part of the meal.
4 – 5 fresh tomatoes, cut in half
2 each red or orange bell peppers, seeds and stem removed, cut in half
2 each jalapeno or other chili
1 each yellow onion peeled and sliced 1/2″ thick
1 bunch green onion, white and green
½ bunch cilantro, picked
3 each limes juiced
1 pinch coriander, toasted and ground
1 pinch cumin, toasted and ground
6 – 7 leaves fresh oregano or 1 t dried
2 each garlic clove, peeled, tipped
Salt to taste
Grill the tomatoes, peppers, chili, onion, and green onion until charred and blistered.
Remove, and leaving skin on and seeds in, combine with cilantro, limes, garlic, cumin, coriander, oregano, and salt in a food processor and pulse to chunky but emulsified mixture.
Chill and serve, or serve alongside grilled meat, fish, poultry, or grilled vegetables. Great with tacos, chips, or used as a cooking liquid and or marinade for shrimp or vegetables, perhaps tofu.
---
Made this? We want to see the results! #StayPlanted
---
About the Author
Jack Raben is chef of the Garden's Fogg Café.