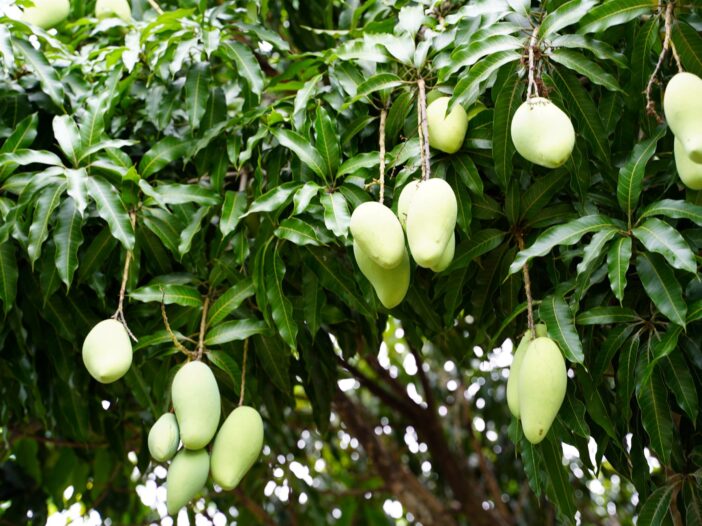 The mango, Mangifera indica, is perhaps one of the most iconic and delicious of all the tropical fruits. Luckily for us in Southwest Florida, mangos thrive here, and with little effort, you can easily have an abundance of them. Some homeowners shy away from planting a mango tree because of its eventual height and expansive canopy. But a mango can be pruned and maintained as a compact small tree that still provides as much fruit as a large one. In fact, I recommend containing its growth even if you have a spacious yard. Doing so makes it easier to harvest fruit and treat pests. In addition, smaller trees are less prone to hurricane damage.
If you want to plant a mango tree, taste as many mango cultivars as possible and find one you really enjoy. There are dozens of cultivars readily available in Florida. Some people enjoy the spicy and resinous notes in a cultivar that originated in India, while others prefer the sub-acid, citrus flavor of a Southeast Asian cultivar, and for some the clean, classic mango flavor of a Florida cultivar can't be beat.
There are other considerations besides flavor. Research the cultivar's growth habit and disease resistance. Mangos will produce fruit at different times during the mango season, so consider whether you want an early, middle, or late season crop. You could even plant one of each to get an extended harvest from May through August.
With proper pruning, these cultivars can be maintained as compact, easily managed trees, about 8- to 10-feet tall and wide. At the nursery, select a small tree in a 3- or 7-gallon container as it is less likely to be rootbound and will establish more quickly than a larger potted plant. Once planted, the tree should be topped to remove the growing tip, encouraging lateral branching and horizontal growth.
For more on maintaining compact trees, go to YouTube and watch Fairchild Tropical Botanic Garden's "Mango Pruning-Tipping" and "Pruning Young Mango Trees." For more information on mango cultivars and planting, consult the UF/IFAS Gardening Solutions website.
HERE ARE A FEW OF THE MANGO CULTIVARS I RECOMMEND:
'Pickering' – Dwarfish tree, excellent flavor, coconut notes
'Rosigold' – Good choice for seasonal residents, slow-growing with classic mango flavor, fruits may ripen by April
'Carrie' – For those who prefer the stronger Indian mango flavor
'Fairchild' – Small tree, Indochinese hybrid with a citrusy, zesty flavor and excellent disease resistance
This article originally appeared in the Summer 2023 issue of Cultivate, the Garden's magazine.
---
About the Author
Matt Herrman is the Garden's Tropical Fruit Specialist.