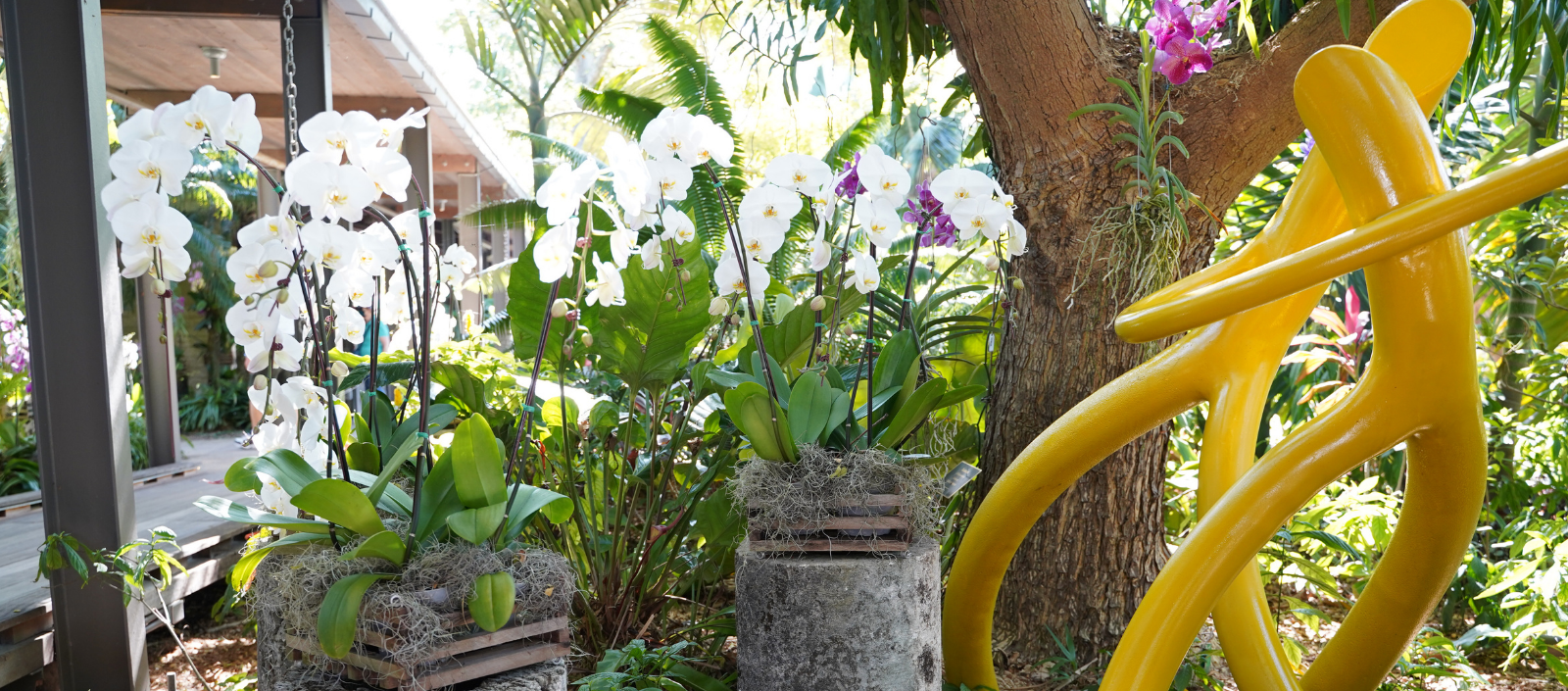 If you are a fan of orchids, you'll rejoice with this news. If you are not a fan of orchids (is that even possible?!), you will be after you visit and see what we've done.
The LaGrippe Orchid Garden has exploded with the flowering plants. They are tightly clustered in displays — a pink-hued arrangement here, a purple-tinged one there, regal whites over there. Every color on the spectrum, it seems, is represented.
The garden now spills out of its borders thanks to the installation of oolite pedestals that hold rotating orchid displays. The flowers greet guests as they round the corner from the Smith Entry Prow and line the boardwalk near the garden's entrance. The upgraded garden displays roughly 500 more orchids than it had in the past, estimates Liz Chehayl, the Brian Holley Curator of Collections. She and Director of Collections Nick Ewy tend the orchids.
The garden's namesake, Jim LaGrippe, made the enhancements possible with a new gift that supports monthly purchases of display orchids and the acquisition of new orchid species to add to our collection.
"Botanical gardens are all about great beauty, and the Naples Botanical Garden is no different. We want our visitors to be captivated while being surrounded by great beauty," he says. "The LaGrippe Orchid Garden is my gift to the Naples community."
The purchasing power allows our Horticulture Team to form deeper business relationships with top orchid growers, who generally set aside prime plants for regular customers.
In addition to the showy favorites, such as vandas and dendrobiums, Nick and Liz are pursuing new plants for our collection. Generally, we collect orchid species (as opposed to commercially produced hybrids) and those with scientific value. The gift so far has allowed them to acquire 58 species and 14 cultivars or hybrids. In all, we have more than 6,500 orchids in our Garden, representing 355 species and 1,258 cultivars or hybrids.
"Anyone can go to Home Depot and see a phalaenopsis," Nick says. "But you can't go to a store and see the kinds of things we have. We like having orchids that are rare and unique and not typical."
You can see the enhancements for yourself on your next visit. Click here for information on our timed ticketing policy and other information about the Garden.
---
About the Author
Jennifer Reed is the Editorial Director of Naples Botanical Garden and a longtime Southwest Florida journalist.