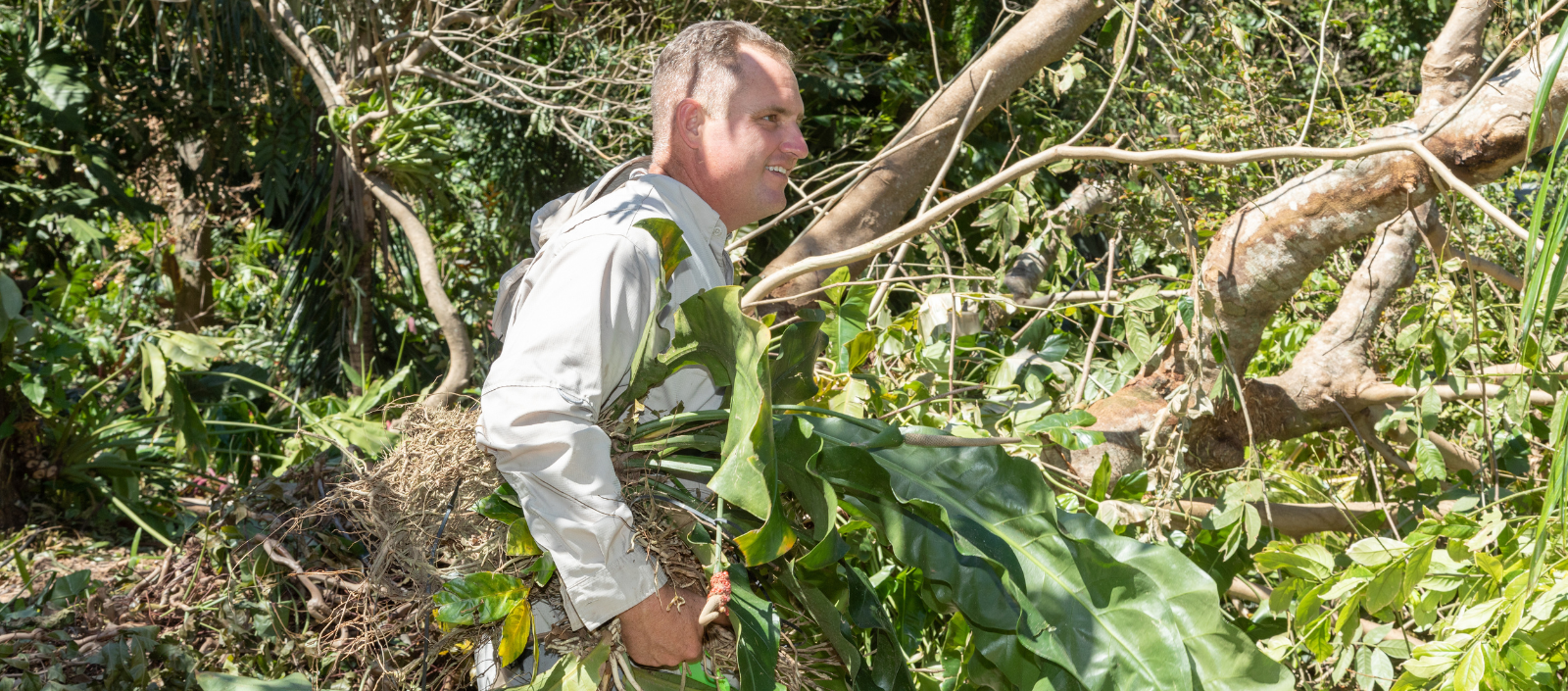 "It is not catastrophic."
That's how Naples Botanical Garden President & CEO Donna McGinnis greeted staff as they assembled for the first time after Hurricane Ian on Monday, October 3. She continued: "We're going to save our collection. That's what we're here to do today."
With that, staff members donned gloves, grabbed tools, and dispersed throughout the property.
The Garden looks, well, like a hurricane whipped through. Jagged branches lay across pathways. Jade-green bamboo have weathered to yellow. Many of the leaves still clinging to trees are brown; those fallen on the pathways crunch underfoot. If we were in a different place, this would harken the arrival of autumn.
Just a few weeks earlier, we had remarked on the five-year anniversary of Hurricane Irma, which made landfall in Collier County on September 10, 2017.
The universal assessment: Ian is no Irma. Irma had unleashed its full fury on the Garden. Nearly 340 trees were lost; sunlight scorched shade-loving plants; and horticultural debris, if laid out all at once, would have spanned two acres, six feet deep.
Ian, though less destructive to the Garden, introduced a different set of challenges. Parts of the Garden flooded for the first time in memory, overturning plants and scattering them helter-skelter (by now, the nurseries are back in good working order). Saltwater licked plants, browning leaves. Horticulturists rushed to hose them off as soon as they got the all-clear to enter. Ian's wind snapped more branches than toppled trees.

A crew from Signature Tree descended on the Garden three days after landfall and righted about 15 trees, including a cannonball, shaving brush, and Ceiba. Approximately 35 others were declared losses as of this posting; many of them had also tumbled during Irma. Staff experts are assessing uprooted trees in the Garden and throughout the community, comparing their observations with similar ones made after Irma, and planning to offer the region science-backed guidance on which tree species show greatest wind, water, and salt resilience. Property owners and local governments will have much to replant in the months to come.
"This time we are more prepared for data collection," says Vice President of Conservation Chad Washburn, holding a bag filled with water samples. The Garden and Florida Gulf Coast University are collaborating to learn more about storm surge, information that will be used to prepare for future storms.
Conservationists are taking cuttings from the Garden's most imperiled plants so they can grow clones and ensure the species are not lost. On Tuesday, they collected six species, including Garcinia aristata, or Cuban mangosteen, an endangered tree that produces small yellow fruits. They intend to collect and propagate other such plants in the days to come.

Mess aside, we have many bright spots to share:
Our structures, including the recently constructed Nina's Pavilion overlooking the lakes, are intact.
The administrative building did not flood. We had stashed many valuable plants for safekeeping, including the Puerto Rican cacti collection. We are protecting the genetics of those species because pests are killing them in their native Puerto Rico.
The Krishnae's buttercup that we recently planted stands firmly in place; its roots look like thick fingers gripping the soil.
Waterlilies wink at us from the Water Garden, reminding us of nature's resilience.
The canopy took a whipping, but it is not devastated as it was after Irma.
The National Plumeria Collection, which had been almost entirely uprooted during Irma, appeared to fare much better in Ian. Many of the trees are now housed in large tubs rather than planted on hills near the lakes.
The sculptures we will showcase in La Calavera Catrina, the opening exhibition for our 2022 – 23 season, are safely tucked away in Kapnick Hall and will be put on display prior to the Garden's reopening (we have not yet determined a date). We expect the remainder of our season, Mexico: A Celebration of Plants & Culture, will go on as planned.
Johnsonville Night Lights in the Garden will open as planned on November 25.
And, miraculously, STICKWORK, the sculpture created on the Kapnick Caribbean Garden lawn by North Carolina-based sculptor Patrick Dougherty, survived with nary a willow branch missing.
Elizabeth Beans, the Associate Director of Horticulture, sees other opportunities arising in Ian's aftermath. The Garden is acquiring a palm collection from a Miami-area collector. Initially, the trees were to go into a holding area until horticulturists determined their permanent homes, but the storm has created new spaces to display these and other interesting specimens in the coming months.
"I know what we can do, and we're going to come back better than ever," she promises.
---
About the Author
Jennifer Reed is the Garden's Editorial Director and a longtime Southwest Florida journalist.