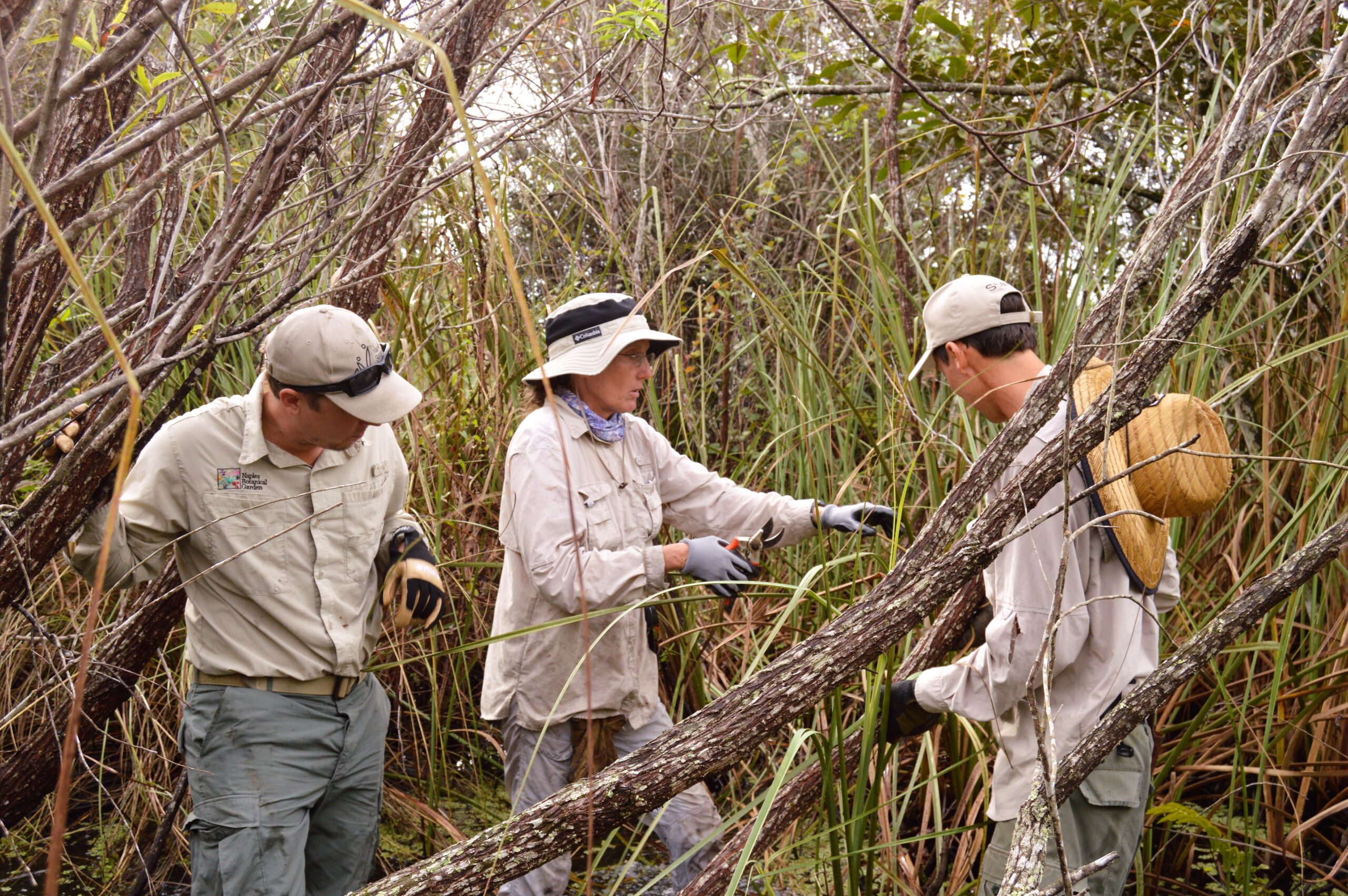 This blog supports this year's Intertwined theme, which explores the connections in the natural world and the bond between people and plants.
A flatbed truck arrived at the Garden from Québec last week, hauling some 30,000 pounds of farm-grown willow, the medium of choice for sculptor Patrick Dougherty who, along with his son Sam and volunteers, began transforming the saplings into an interactive sculpture beginning Monday, November 1.
The North Carolina-based artist customizes each work (he's done well over 300 of them) to the site upon which he's working, the mood it evokes, the organization that sponsors him. What better way to personalize the Garden's STICKWORK installation than to incorporate native coastal plain willow (Salix caroliniana) from our own natural areas?
Harvesting our willow is not quite as easy as downing cultivated trees. On a recent morning, three members of the Conservation Team stepped off the paved pathway opposite Lake Tupke into knee-deep water and disappeared into a thicket of wetlands. Avoid touching the sawgrass, they caution. The serrated blades are aptly named.
Natural Resources Associate Karen Relish offers me a quick primer on how to identify willow, pointing out the rough, textured bark and slender oblong leaves. Later, she shows me a single bloom clinging to a branch, a "catkins," she says. She finds the name delightful; it comes from the Dutch word meaning "kitten." The petalless flower dries to a soft and fuzzy wisp, and the wind carries its seeds far and wide.
Natural Resources Director Eric Foht directs the team, rounded out by Natural Resources Manager Cliff Maehr, to look for long branches on young trees, no more than 3 inches in diameter at the base. It's a bit of educated guesswork as to what the artist will want, but the team is glad for the opportunity to truly make the work a part of the Garden.
So is Erin Wolfe Bell, Director of Exhibitions & Special Programs.
"What's so captivating about Patrick's work is how connected it is to each location," she says. "During his site visit last year, he was excited to see the native willow growing in the Garden's Preserve. Incorporating material from our site provides a meaningful link to our conservation efforts."
STICKWORK anchors the theme of our 2021 – 22 season "Intertwined," an exploration of nature's interworking and the interconnectedness between the human and natural worlds. In that spirit, let's look at Salix caroliniana not as an artistic medium but as a part of Florida's ecosystem and human history.
Birds, especially the red-winged black bird, like to nest in the willow, Karen notes. The tree attracts numerous pollinators, including bees, and also serves as a host plant to a number of butterfly species. It is, in fact, the only host plant for viceroy butterfly larvae.
From a humanistic standpoint, willow has been put to use in basketry as well as in other woven wooden structures such as fences and furniture, according to the Florida Native Plant Society. Its suppleness is also why Patrick favors willow in his sculpting. Another well-known traditional use of willow is as a pain reliever. The sap contains salicylic acid, a natural version of aspirin (acetylsalicylic acid), though we certainly don't recommend DIY medicating with plant bark.
Salix caroliniana is Florida's only native willow, and in many locations, such as our Preserve, it is an unobtrusive tree. However, under the right conditions, willow can become problematic. North of the Garden, at Audubon's Corkscrew Swamp Sanctuary, managers have embarked on a significant restoration project to remove willow from 1,800 acres and return the land to its original marsh habitat. Changing water levels within the swamp allowed for the proliferation of willow, a thirsty plant that is further drying the wetlands, an ecosystem already under siege by development and drainage.
Let that be a lesson in the "intertwining" of nature. Change one element — water levels in this case — and you'll surely change another. Watch this space each month for further explorations of the interrelationships within the natural world.
NOTE: You can watch Patrick Dougherty and his son, Sam, at work weaving willow into an interactive sculpture on the Kapnick Caribbean Garden lawn November 1 – 12 and 15 – 19. Stop by Kapnick Hall to view The Art of Stickwork, an exhibition of his previous works.
---

About the Author
Jennifer Reed is the Garden's Editorial Director and a longtime Southwest Florida journalist.