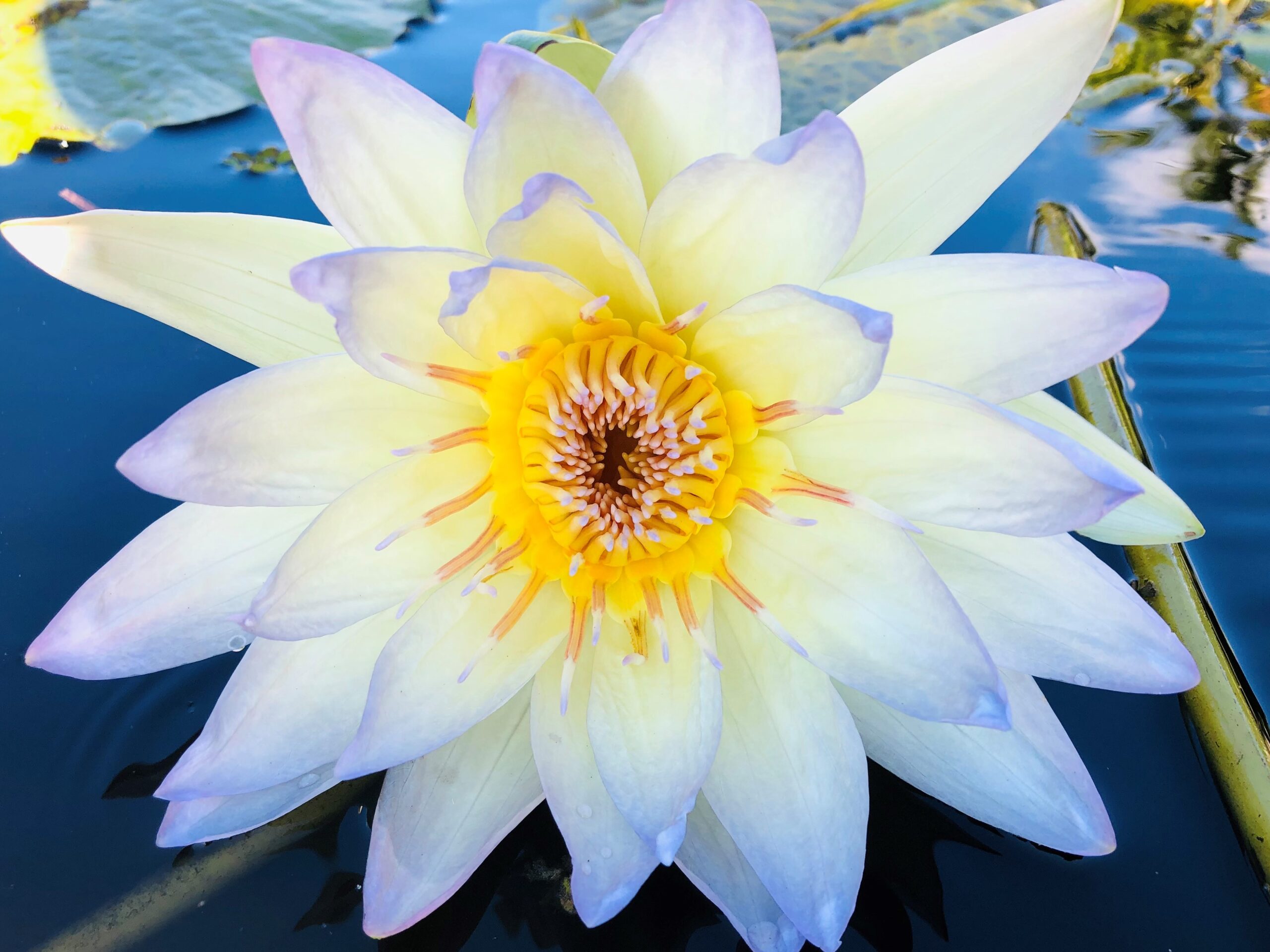 Discover our Latest Waterlily Display with the Third-Generation Grower Whose Family Has Hybridized them for Decades
If you're like our typical guests, you love waterlilies for their graceful beauty and rich assortment of colors and shapes.
We wonder: Would you admire them even more if you knew what it took to produce them?
Brandon McLane, president of Florida Aquatic Nurseries, a 65-year-old family-owned company in Fort Lauderdale celebrated for its waterlily hybrids, visited the Garden recently, giving us a chance to learn more about the quest for the perfect plant. Brandon was here to see the Water Garden where Aquatic Areas Manager Kathy Cahill has staged a special display of his nursery's lilies, many of which are award-winning.
The flowers will be exhibited through the end of summer.
I first meet Brandon by the Burle Marx mosaic in the Kapnick Brazilian Garden to check out Nymphaea 'Purple Passion,' his 2021 entry in the International Waterlily and Water Gardening Society (IWGS) New Waterlily Competition. It won second in the tropical day blooming category.
"What we thought was really neat about this plant was the real deep purple color. There's not a lot of deep purples on the market," he says. The lily is aptly named; Florida Aquatic Nurseries has a passion for purple and keeps one-upping itself in deepening the hue.
Its progression of purples is evident. When we make our way to the Water Garden, he points out N. 'Ultraviolet' (2008 IWGS Best New Waterlily) and N. 'Tanzanite' (2009 IWGS Best New Waterlily). They are vibrant violets but a few shades lighter than the burgundy-tinged 'Purple Passion.'
"I'll find the deepest red possible and cross it into purple and then get a deeper purple," Brandon explains. The nursery also has an affinity for red and is well known for inching the color spectrum from pink toward scarlet.
"We were arguably the first to get the reddest of the red tropicals," he says. They named one 'Bulls Eye' because "we thought we hit the mark right there with that color."
For those unfamiliar with waterlily breeding, a quick primer: The plants have male and female characteristics. When the flowers first open, female traits dominate, and nectar pools in their centers. On the second and third day, the flowers produce pollen. Hybridizers select two parent plants for characteristics such as shape, color, petal count, leaf patterns, and overall vigor. Generally, the female parent will supply the hybrid's shape and physical structure, while the male parent provides the color. Then hybridizers wait and hope that the blooms align — that a "mother" plant opens as the "father's" pollen is ready to insert by hand into the female.
A single seedpod can produce up to a thousand seeds, Brandon says. He'll germinate them and grow the ones that look the most promising into maturity.
"Hopefully, you pick some good ones, but if not, you just try it again next year. It's a numbers game," he explains. Once a hybridizer achieves the desired plant, the work doesn't end. The growers must then create tubers to produce clones because you'll never get same result by crossing the plants again. There are simply too many variables.
Each hybrid on display in the Water Garden was five to seven years in the making, Brandon says.
These days he's going for orange. His experiments have yielded some lovely results — sunset-colored blooms so appropriate for a Florida-based grower — but not quite the tangerine he's going for.
"I've been getting some hints of orange here and there but nothing that's ready yet," he says. But that's OK. Like his father and uncle before him (his dad released the nursery's first hybrid back in 1994), he likes the act of continuing a family legacy and striving to create new and unique plants.
"It's neat to see your creation and to see other people like it and want it," he says. "We feel honored to be where we're at now."
Kathy calls Florida Aquatic Nurseries "hit makers" in the waterlily world.
"Their own hybrids always fill a market niche and provide a 'wow' factor. We feel lucky they're located just across Florida on the East Coast in Fort Lauderdale."
Some of Florida Aquatic Nurseries' hybrids on display include: