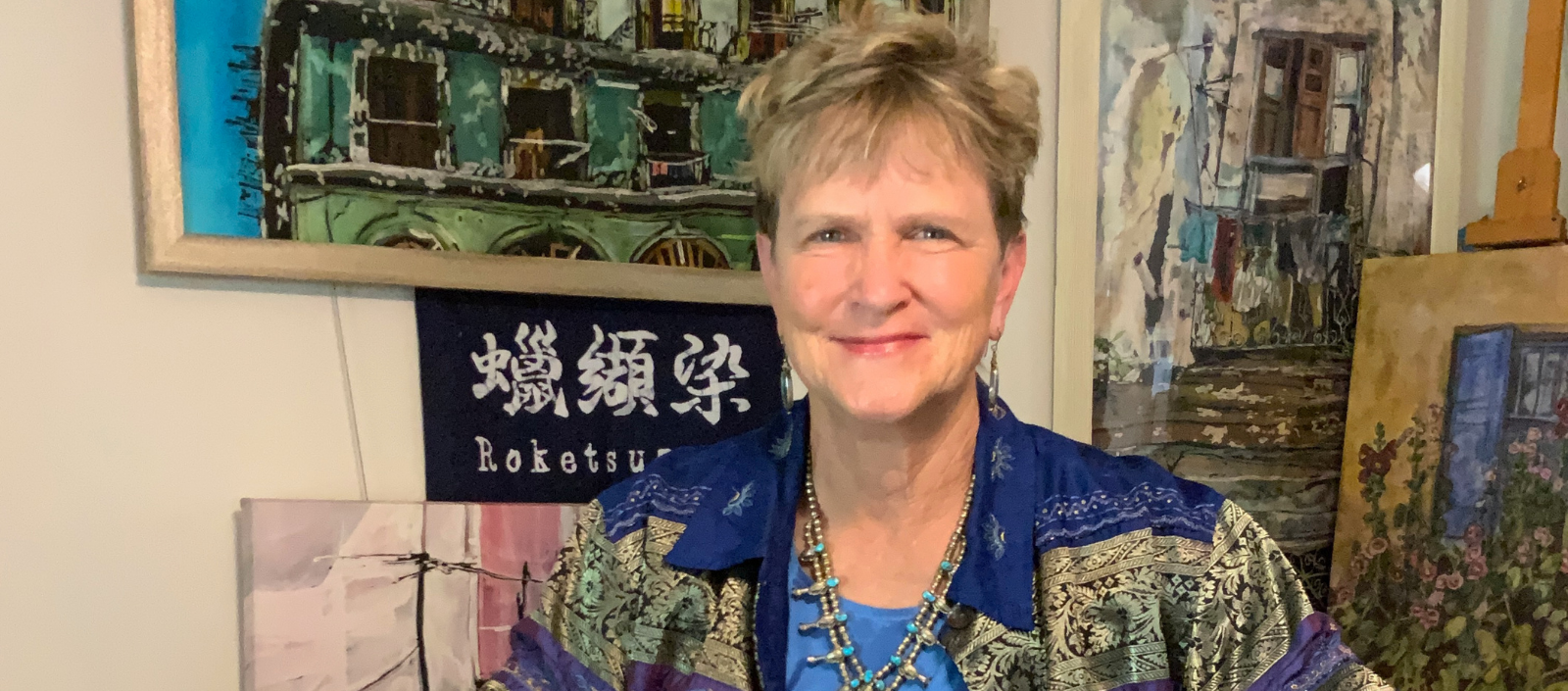 It was not easy, says Naples artist Muffy Clark Gill, to transform the scene she'd photographed in the Garden — a mosaic partially obscured by overlapping palm fronds — into a piece of art. Gill is a master silk painter who specializes in the ancient practice of batik, a means of painting on fabric using wax, dye, and assorted hand tools.
And yet, the results are marvelous — the swirling tiles form a backdrop for vibrant green fronds, some sun-kissed, some shadowed. Gill creates her pieces color by color, layer by layer, separating elements using wax to keep dyes from seeping into places where they are unwanted.
"There's just so much details in these leaves. It was a mindbender," she says, showing the photograph from which she worked to create Kaleidoscope Palms. "I started it in January, and I didn't finish until a week ago … it took me eight hours alone just to get the drawing on the silk."
See the making of Kaleidoscope Palms
Garden guests are invited to learn all about Gill's process, which starts with her tracing a photograph's outline onto fabric, during her live demonstration on Saturday, June 18 from 11am – 2pm in Kapnick Hall. Gill is one of five local artists showcased in Woven: Fiber Arts Now, a new, Garden-curated exhibition launched as part of our 2021-22 programming theme, Intertwined.
Guests will witness the artist tackle an even more intricate scene, tentatively titled Inle Laundress. It depicts vibrant articles of clothing hanging from scaffolding. The image, captured during a visit to Myanmar in 2015, is part of the Wash Day series in which Gill gives beautiful treatment to the universal task of washing and hanging laundry. The widely traveled artist has photographed such scenes around the world.
"I want to get this well underway so people can see the progression," she says of the new work. She'll also have on hand her tools and batik samplers showing her many techniques. Gill works with numerous types of tjantings (the "T" is silent) from different parts of the world. These tools, used to apply hot wax to fabric, have varying metal tips set on paintbrush-like handles. She also achieves special effects using stamps, stencils, circular cookie cutters, and wide paint brushes from which she removes chunks of bristles. The manipulated brushes create unique striping patterns, a technique known as "shi-ki-biki."
"I love that one," she says of the style.
Gill has been photographing the Garden for years and says she's glad to have an opportunity to turn the images into batik art for this exhibition. She has several other pieces on display, including her interpretation of the Garden's famed Roberto Burle Marx mosaic.

Muffy Gill will be at the Garden on Saturday, June 18 from 11am – 2pm. The demonstration and Woven exhibition are included in Garden admission, free for Members.
Additional artist demonstrations will be on April 30, May 7, May 14, May 28, and June 25, all from 11am – 2pm. Click here for information about visiting the Garden.
---
About the Author
Jennifer Reed is the Garden's Editorial Director and a longtime Southwest Florida journalist.