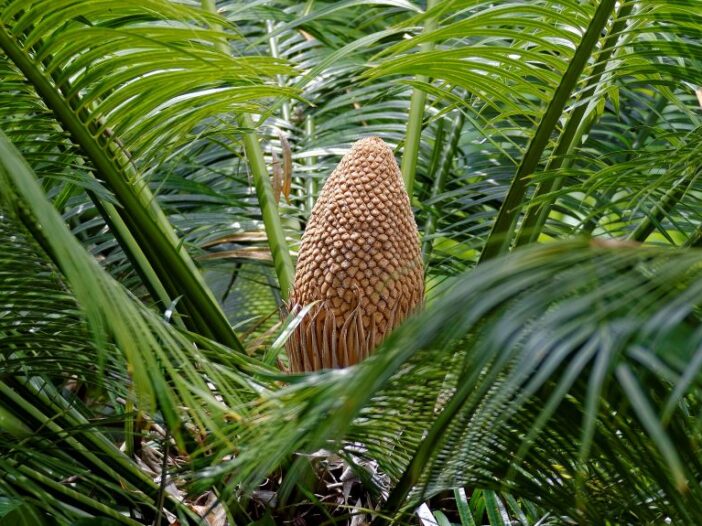 Anchoring a portion of the Frida and Her Garden exhibition are several massive cycads — ancient plants that resemble palms but are in a classification all their own. These plants reportedly date back to the age of the dinosaurs and are prized among collectors. Sadly, overcollection and other stressors make them among the most endangered species on the planet. The plants on display in this exhibition were grown from legally collected cuttings that Tim Nance, a former Collier County commissioner and horticulturist, took back in the 1980s while a graduate student touring Mexico as part of his studies. He tended them for decades and gifted us his collection when he sold his Golden Gate Estates property. Read on to learn the story behind Nance's collection and then enjoy these magnificent specimens as you view Frida and Her Garden.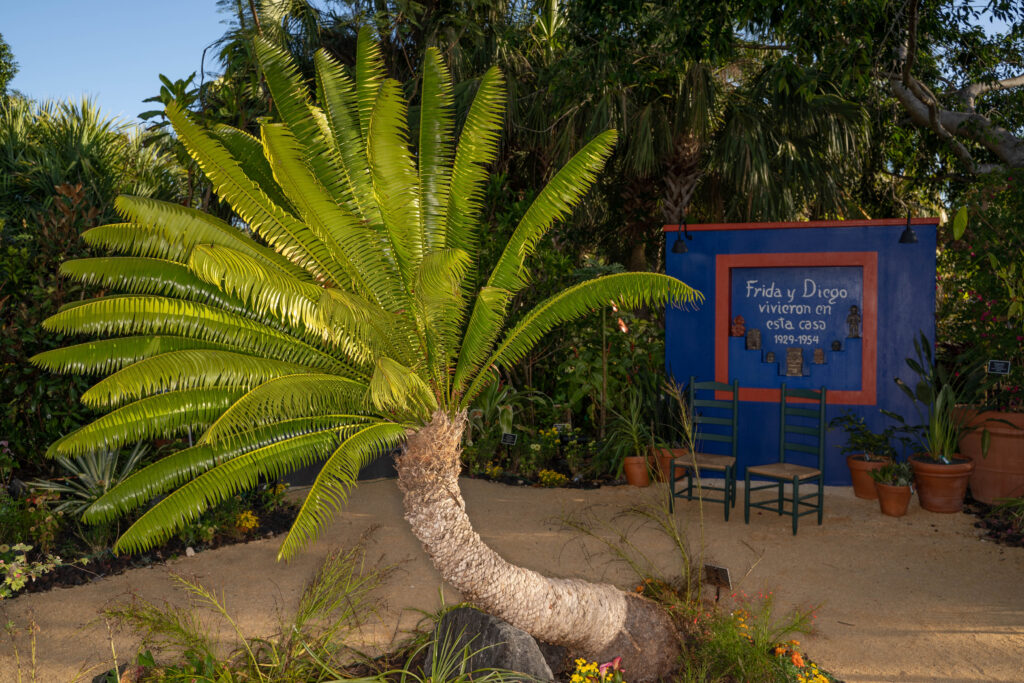 There were no roads leading to the cycads.
To find them, Tim Nance, then a graduate student at the University of Florida (UF), and a fellow UF researcher boarded a train for the South-Central Mexican interior. They ambled into a village, where residents spoke a native dialect, and tried their best to explain themselves. Nance spied a cross fashioned from the leaves of the species he was after and managed to get his point across. The villagers pointed them toward the mountains.
They followed dry creek beds until they spotted their botanical treasure, Dioon merolae. These plants, reminiscent of the Jurassic Era, grow in clumps. The trunks reminded Nance of starfish. They spread horizontally from a central point along the rocky outcropping, some 20 feet long and 20 inches in diameter. Their vertical shoots were flush with the thick, stiff leaves the villagers had used in crafting their Easter crosses.
"It's like the whole ground is a part of the plant," he says of that cluster. "It was shocking. You can't even imagine it."
The memory is an old one, from the early 80s, but Nance retells the story in vivid detail and still-evident excitement, as if the encounter were yesterday. Nance is a former Collier County commissioner, a retired horticulturalist and manager for Gargiulo Inc. — and an avid collector of cycads. The scene he's describing is from an 11-week research and collecting trip to Mexico.
Dating back to prehistoric times, cycads are among the Earth's oldest, most endangered, and slowest-growing plants. The diameter and spread of those Dioon merolae suggested they were thousands of years old, Nance said.
He and his companion took small branches from the plants (they had government permits and agreements with Mexican universities to do so) and returned with that species and others. Fast forward about 40 years. Some of those tiny pieces grew into impressive specimens on Nance's Golden Gate Estates property. Last May, he invited horticulturalists from Naples Botanical Garden to move them to our property. He and his wife, Gayle, had sold their home, and they wanted their collection — about 75 cycads, primarily from Mexico and Africa — to go to a good home. The Dioon merolae were among them.
"It's been a lifelong love for Gayle and me," Nance says. "It was very important for us to pass them on."
Naples Botanical Garden, he says, is one of a few botanical gardens in the United States that can showcase cycads outdoors rather than a conservatory. He wanted us to fold his collection into ours, and we happily accepted.
"Nick and I were blown away when we first saw them," says Vice President of Horticulture Brian Galligan. Director of Collections Nick Ewy nods in agreement. The collection was unique for its age and diversity, along with the fact that so many of the plants had been collected from the wild, the gold standard in botanical collections.
But what exactly is the allure of cycads?
Cycads are often mistaken for palms or ferns, but they are gymnosperms, a classification of plant that has seeds but not fruit or flowers. Like conifers, which are also gymnosperms, cycads produce cones. Unlike conifers, you can't repurpose a cycad cone for a Christmas ornament or table centerpiece. They are enormous. Nance removed one from a plant destined for the Garden. It was oval, roughly the height of a paper grocery sack, and heavy, like a sack filled with goods.
"A baby," Nance called it. He's seen them four times that size.
Cycads are dioecious, either male or female. The female cones house seeds; the longer, narrower males make pollen. Sex complicates cycads' survival; it's believed the insects that once carried the males' heavy pollen granules are long extinct. Even if they weren't, the likelihood of reproduction in the wild still would be dubious. There are mere remnant populations left — a single plant here, a cluster there — separated by distances too great for even the hardiest of pollinators to manage. In fact, there is an African cycad that's been dubbed "the loneliest plant in the world," an Encephalartos woodii, named for 19th-century botanist John Medley Wood. It is the only of its kind; researchers have combed South Africa looking for a mate, to no avail. All other E. woodii in existence are clones, including one that the Royal Botanic Gardens, Kew, in London has tended since Wood sent a clipping in 1895.
There's another threat. People.
Cycads are the most imperiled group of plants on the planet, according to the International Union for Conservation of Nature. Illegal trade threatens two-thirds of species.
Although some cultures have used cycads for culinary and medicinal purposes, the plants generally are coveted for their ornamental value. Because they are so slow-growing, a mature cycad can fetch a hefty price on the black market — well over $1 million, according to Kew. These poached plants can be hundreds of years old.
Cycads' history makes them an even greater temptation. Fossil records put them on the planet at the time of the dinosaurs, stretching from Siberia to Antarctica, and accounting for 20% of the world's plant life at that time, according to CITES, the Convention on International Trade in Endangered Species, an agreement between 180 governments to ensure that the hunting of animals and collecting of plants do not threaten the species' survival. Cycads are CITES protected, although researchers have complained that plants receive far fewer resources and attention than animals when it comes to regulating the illegal wildlife trade.
"They are spectacular plants," Nance says. "They are rare and beautiful, and that's what causes people to seek them out."
This article originally appeared in the Fall 2021 issue of Cultivate, the Garden's magazine.
---
About the Author
Jennifer Reed is the Garden's Editorial Director and a longtime Southwest Florida journalist.