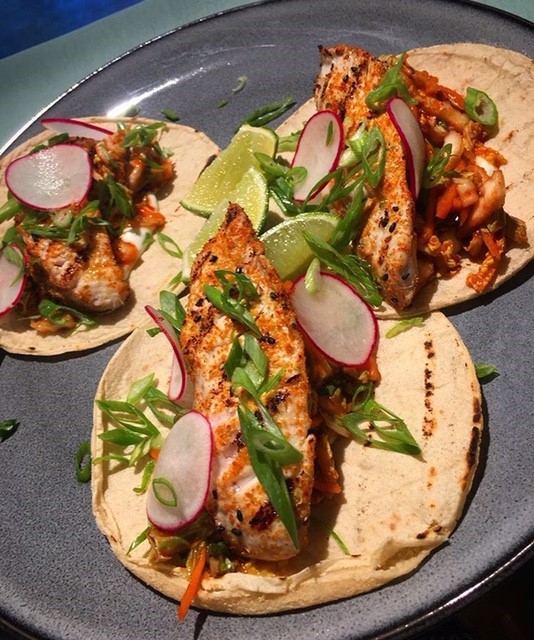 Wednesday, March 25, 2020
Makes 12 tacos
12 corn or flour tortillas; we currently use a corn and flour combination that has the flavor of a street taco but the sturdiness of a flour tortilla.
1 – 2 lbs white fish sliced ¼ inch thin; we currently use cobia, although mahi, snapper, grouper, or any firm white fish will work.
1 – 2 T togarashi seasoning (Japanese 7 spice blend, also known as schichimi togarashi, includes orange peel, sesame seed, nori, chilis, ginger and more, available at Asian markets or online)
¼ cup sour cream
2 each limes, juice and zest
1 head nappa cabbage, outer leaves removed, sliced ½ inch thick
½ cup shredded carrot
1 bunch green onion, sliced thin
¼ cup or more if needed, Kimchi base (pre-fermented kimchi dressing, available at Asian markets or online)
Cilantro leaves picked for garnish
Green onion sliced thin for garnish
Radish, sliced thin for garnish
3 – 4 lime wedges for garnish
Directions:
Mix the lime juice zest and sour cream to make the lime crema; reserve.
Mix the cabbage, scallion, and carrot with the kimchi base and reserve; typically 4 – 24 hours to let marinate is ideal.
Season the fish with the togarashi seasoning.
Grill the fish until cooked through, and warm the tortillas on the grill as the fish finishes.
Serve (while still hot) lime crema and kimchi along with fish, warm tortillas, and cilantro, scallion, lime wedges, and radish garnishes.
---
Made this? Show us with #stayplanted!
Want to plan your next visit to Fogg Café when we reopen? Click here
---
About the Author
Jack Raben is chef of the Garden's Fogg Café.