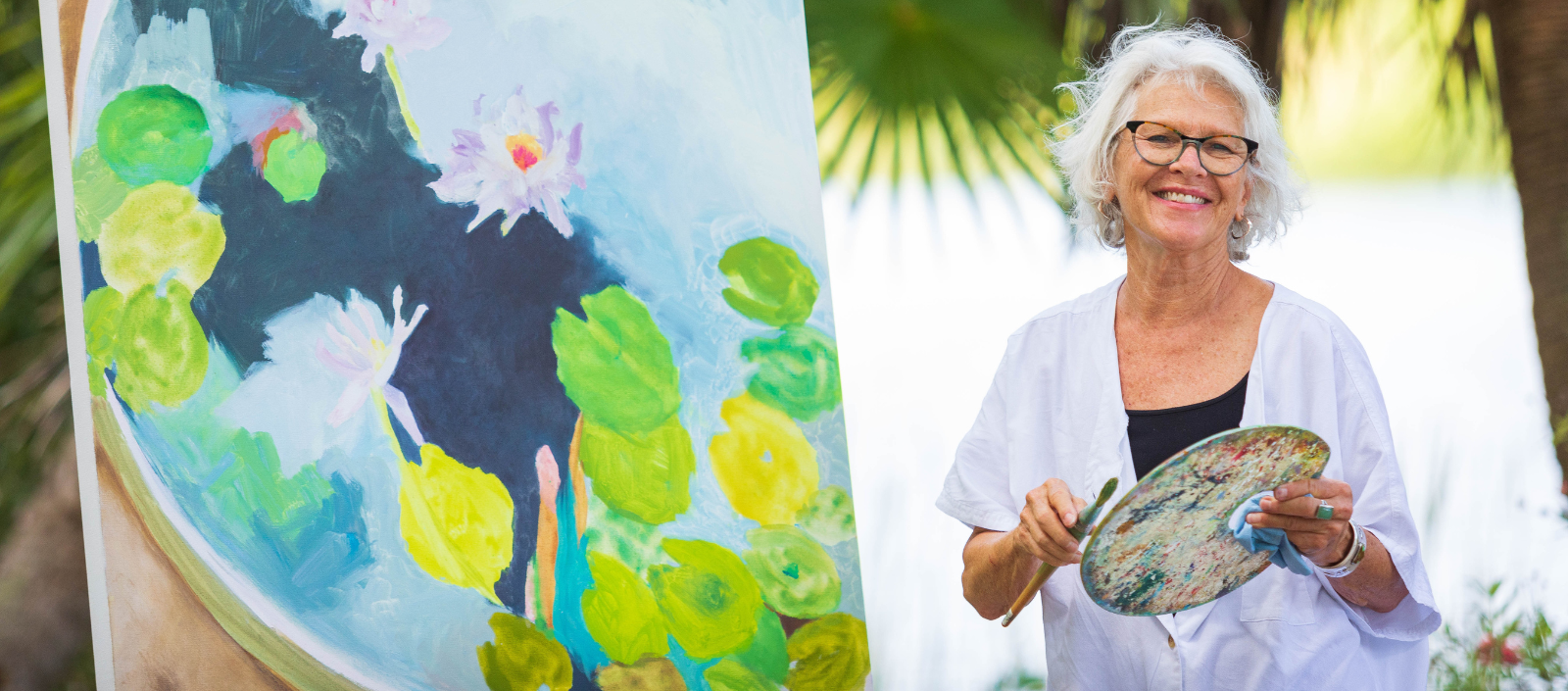 Golden sunlight slants over the Water Garden as Christy Noonan arrives one spring morning, sketchbook in hand. She surveys the scene. A cluster of plants catches her eye, an assortment of green and maroon-tinted lily pads accented by a single magenta-colored bloom.

The Naples-based artist's new collection begins with mornings like this one, studying the Garden's aquatic areas and finding inspiration in the lilies and their surroundings. Christy Noonan: Meditations on Waterlilies opens this Friday, July 15, and runs through September 11.

Noonan turns to a blank page and sets out her watercolor crayons. Here, she'll make a quick sketch to record the lilies, the light, the subtle movement of plants on water, and how she's feeling in this moment. Later, at home, she'll re-create her experience with oil on canvas. Music will play in the background — eclectic choices ranging from guitarist Joe Bonamassa to cellist Yo-Yo Ma — because she processes the world through hearing and movement as much as she does sight. The canvas will be on the ground, and she'll crouch over it, make brush strokes, stand up, contemplate them, change viewpoints, add more paint.
It's really all about the paint — vast amounts of it that she sweeps over the canvas — and its colors, hand mixed to capture her interpretation of a scene.
"Every single color that you find in nature, of course, is a refraction of light. You have to produce that color yourself," she says. As she sketches, she contemplates the hues she'll use: cadmium red to punctuate the flower, gray to darken shadowed areas, a hint of yellow to brighten one patch, a bit of blue to add depth to another.

Noonan has loved art since she was a little girl.
"Very early on, as a young child, (art) was my language. I love symbolic language. I always have," she says. She tells her students that the way they depict an image reveals as much about their inner worlds as it does the outer one. "When you begin to make your marks, you're forming a language that actually tells who you are and how you relate to your natural world, and how it relates to you as well," she says. "When you're finished, and you stand back, you're seeing how you see the world and what the world reveals to you."
Noonan was born in Lakeland, and her family moved to Naples shortly thereafter. She grew up loving the Gulf and the Everglades, and her portfolio would come to celebrate Southwest Florida's beauty. In addition to her waterlily collection, she has painted eagle rays, pelicans, dragonflies, sunsets, wetlands, and a series called "Swimming in the Gulf of Mexico," something she does every day.
Her work is abstract, more emotion than exactitude. In addition to art, she loves science, especially theories like particle and string theory and quantum physics, all of which are about movement and energy.
"I see the world as a very playful kind of fantasy," she says. "I love to bring the unseen world into the seen world. So, there is probably a little bit of fantasy. There is definitely playfulness. I love the playfulness of things, and I love color."
Her first career, in the travel industry, honed her eye for color and light.
"In Florida, typically, the color of the air is a kind of yellow. The color in Mumbai, to me, is a cool red violet. It creates a mystery. You can almost tell something about your overall environment if you pick up on atmospheric colors."
Noonan holds a bachelor's degree in fine art from Luther College in Decorah, Iowa, and returned to formal instruction in the early 2000s when she enrolled in a workshop led by Graham Nickson, dean of the New York Studio School, and met the late Hollis Jeffcoat, the former director of the Paris Division of the Studio School and well-known abstract expressionist who lived on Sanibel.
"She was really the most influential teacher I could have ever had," Noonan says.

The Garden features about an acre and a half of ponds and pools and hundreds of waterlilies on display at any given time. Guests are invited to view Noonan's interpretation of these aquatic gems in Kapnick Hall, and stroll the Garden to view the collection that inspired her. Christy Noonan: Meditations on Waterlilies is included with Garden admission; free for Members.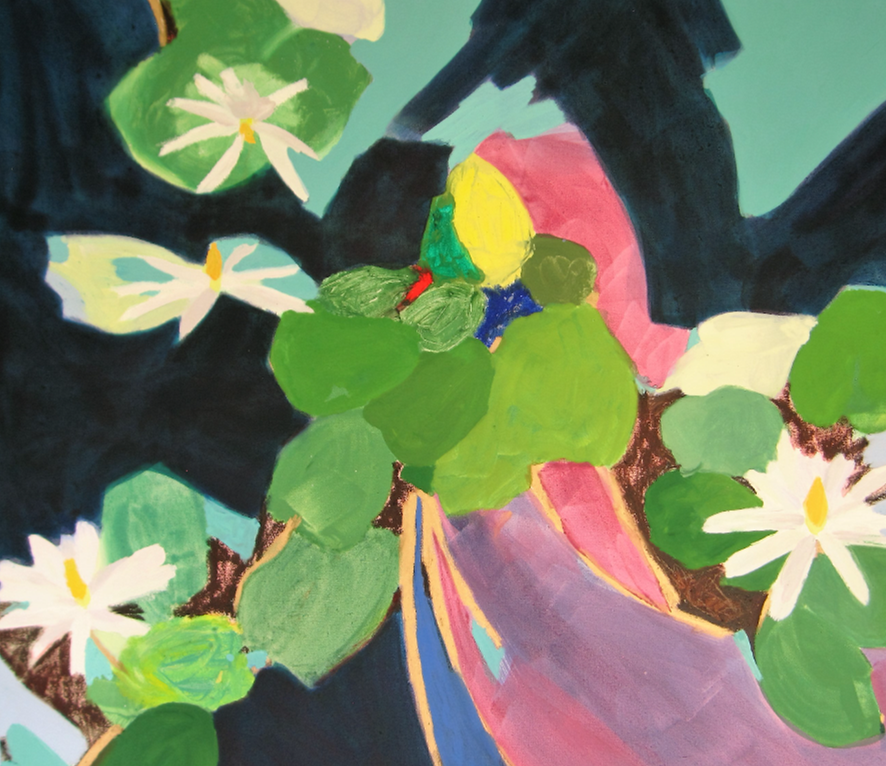 On select dates, visitors can experience the exhibition alongside the artist. Ask questions, engage in conversation, and gain insight into her inspirations and processes. This relaxed, drop-in opportunity is included with admission, and no registration is required.
Christy Noonan will be present from 9 – 10:30am on the following dates:
July 23
August 13
September 3
---
About the Author
Jennifer Reed is the Garden's Editorial Director and a longtime Southwest Florida journalist.