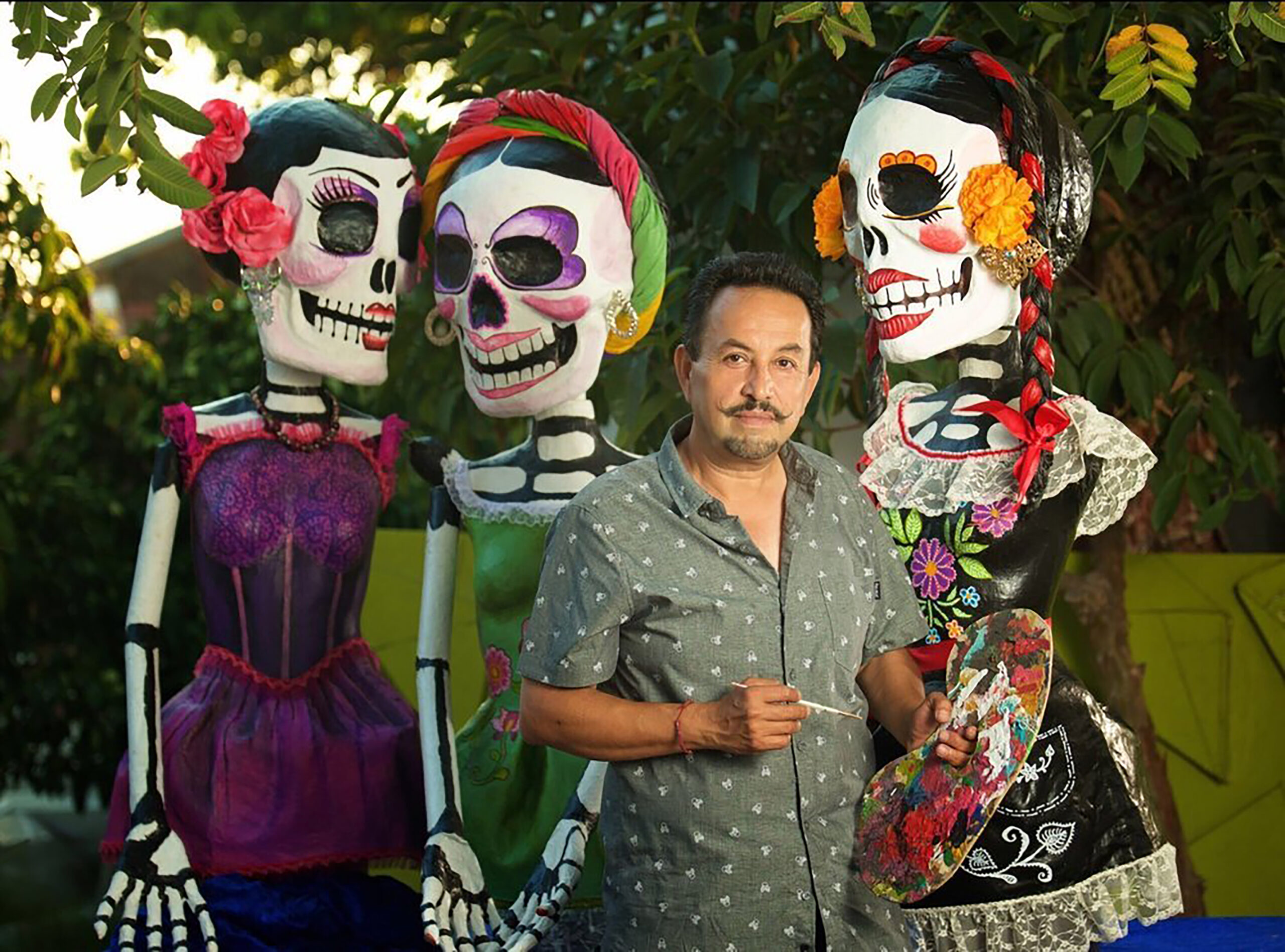 The artist behind this vibrant exhibition

shares how he discovered his life's passion
Artist Ricardo Soltero created his first Catrina figures in 2011 for Hollywood Forever Cemetery in Los Angeles, the site of the largest Día de los Muertos celebration outside of Mexico. Standing 8 feet tall, the figures would become Soltero's artistic hallmark and help familiarize global audiences with La Calavera Catrina and the holiday she represents.
Soltero, the set designer for that annual affair, also influenced a movie.
Coco, the award-winning film by Pixar Animation Studio and Walt Disney Pictures, told the story of a young boy who visits the Land of the Dead during the Día de los Muertos holiday.
"I was at the movie theater, and I was a little bit upset with all the elements that they put together in the movie," Soltero recalls of the day he went to see Coco. That's because, he says, the filmmakers used elements unique to his Día de los Muertos designs at Hollywood Forever, such as the Tree of Life, an emblem distinct to Soltero's sets, not to the holiday itself. "Every year, I add to the event something that is part of our culture or things that are popular in Mexico, but are not related to Day of the Dead." (This year's theme included an homage to the Aztec fertility goddess Mayahuel.)
He sat through the credits and felt immediately better as a "thank you" to Hollywood Forever flashed across the screen.
"It was a good gesture from the Pixar creators to write that in the credits," he says.
Soltero discovered the arts as a teenager growing up in his native Mexico.
"I was a super hyper kid," he says. His stepfather, unhappy with his academic performance, enrolled him in an arts school.
Soltero tried numerous disciplines — tap dancing, oil painting, singing. None resonated. But his quest ended when he ventured into the theater department and fell in love with costume and set design. He liked working backstage, creating costumes that personified the on-stage characters. He enjoyed collaborating with directors to invent sets. The work felt natural.
"When I was a kid, my grandma was a very talented woman, very crafty. She would make these garlands out of crepe paper. All the grandchildren used to help her," he says.
Soltero moved to the United States when he was 19 and sought work in Latino theaters. He ventured to Oregon in 2003, briefly ran a restaurant there, and moved back to Los Angeles in 2008.
"I didn't know what I was going to do," he says. "I ended up working at Hollywood Forever as assistant to the director. And my life changed
there … I started doing events again and got involved again with the theater community. And I got back on track."
Hollywood Forever is a historic cemetery, the resting place of celebrities ranging from actors Judy Garland and Burt Reynolds to musicians Johnny Ramone and Dee Dee Ramone, to directors John Huston and Cecil B. DeMille. It also has a thriving cultural arts center and hosts the famed Día de los Muertos celebration.
Soltero named his first Catrinas after five female friends. Over the years, his sculptures have ranged in size from 6 feet to the tallest at 26 feet.
"It was crazy to put together," he says with a laugh. "It was too much." The sculptures are crafted from papier-mâché and reinforced with metal frames. He works out of his backyard, assisted by volunteers and a few paid staff whom he refers to as "collaborators." He likes living on the site of his workshop — his day starts around 3am, fitting for a "super hyper" kid who is equally energetic as an adult.
"I love what I do," he says. And it appears audiences do, too. Soltero has lost track of how many Catrinas he has created, but says he has 43 in storage and is making 20 more. He believes Coco helped catapult La Calavera Catrina into the popular culture.
"People stopped being scared of them," Soltero says.
The artist is grateful to share his culture with others.
"I love that people from other cultures come and celebrate with us and embrace our culture," he says.
La Calavera Catrina is organized by Denver Botanic Gardens. This article originally appeared in the Fall 2022 issue of Cultivate, the Garden's magazine.
This blog supports this year's theme, Mexico: A Celebration of Plants & Culture, which highlights one of the most biodiverse places on Earth and celebrates cultural connections to the natural world.
---
About the Author
Jennifer Reed is the Garden's Editorial Director and a longtime Southwest Florida journalist.