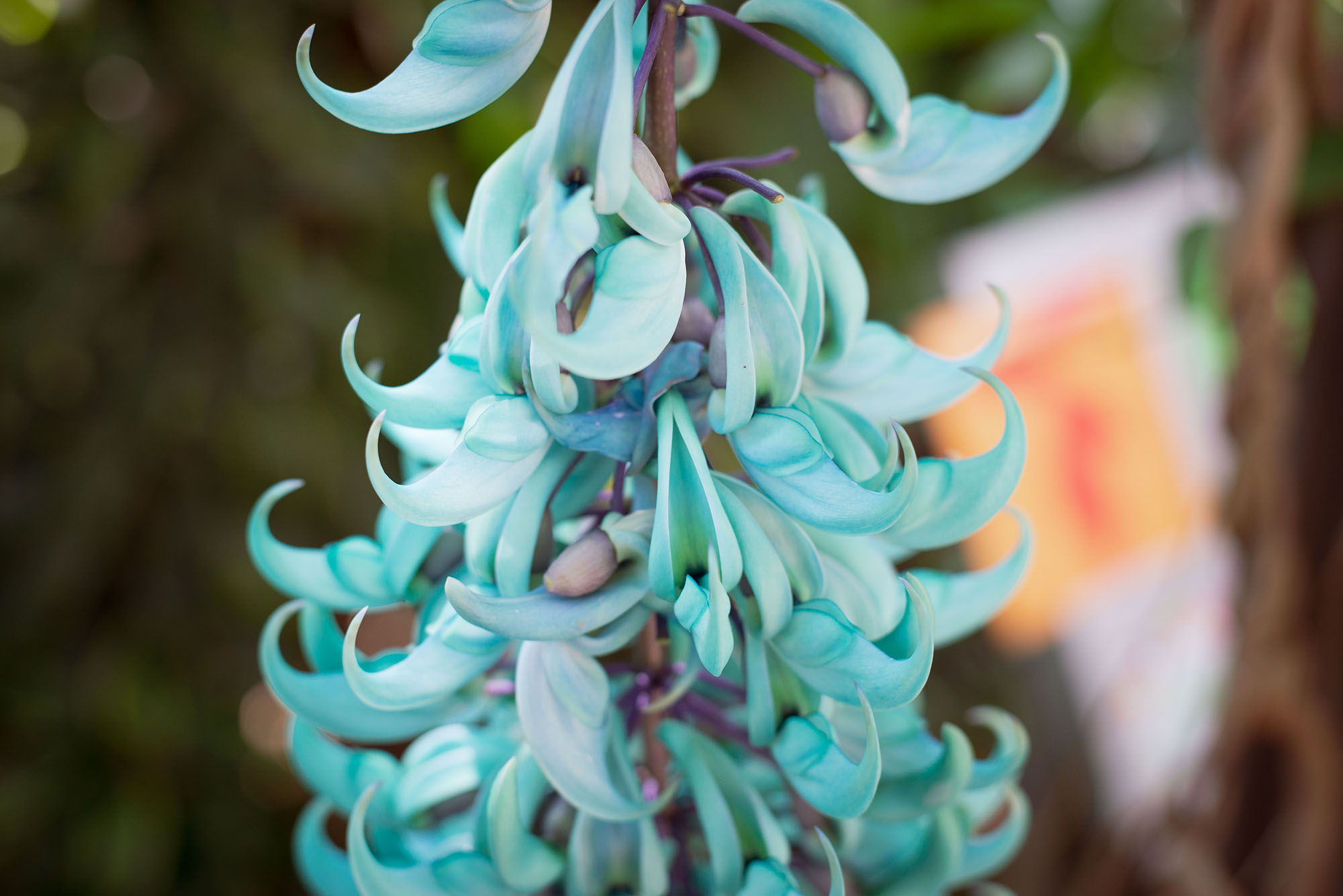 Catch a glimpse of the hallmark colors of spring as blooms throughout Naples Botanical Garden erupt in full force. While seasonal staples such as daisies may come to mind, it's the climbing and creeping vines interwoven throughout this garden paradise that really cheer for spring.
Here's a closer look at a few fan favorites:
Jade Vine (Strongylodon macrobotrys) – This blue-green gem (top) can be found nearly at eye level all along the Smith Entry Prow. Close to extinction in its native Philippines, its talon-shaped flowers aren't the only thing that make the jade vine unique: Bats, not bees, pollinate this perennial woody vine.
---
Queen's Wreath (Petrea volubilis) – This "tropical wisteria can flower several times a year, but the months between February and June are when it really explodes, transforming the Caribbean Garden's archway into a scene fit for a fairy tale. It doesn't just attract people — stand under one of the delicate purple pendants, close your eyes, and the steady buzz of bees hard at work will surround you.
---
Indian Clock Vine (Thunbergia mysorensis) – Find this unusual specimen hanging overhead and beside you in Irma's Garden. Marvel at the red and yellow hues, and if you find it before it's completely bloomed, you'll almost be tempted to eat one of its waxy buds that, at just the right angle, look like little chili peppers.
---
Sky Vine (Thunbergia grandiflora) – Relax in the shade of this fast-growing vine's dense foliage, and while you're at it, swing a while as you take in its blooms' blueish, purplish, trumpet-shaped beauty. Sky vine is found directly over the swings in the Vicky C. and David Byron Smith Children's Garden.
---
About the Author
Jenny Fuentes is the Senior Content Manager at Naples Botanical Garden. She is a communications professional with experience in the nonprofit and higher education arenas. It's the thrill of a good story that keeps her anchored to this profession.