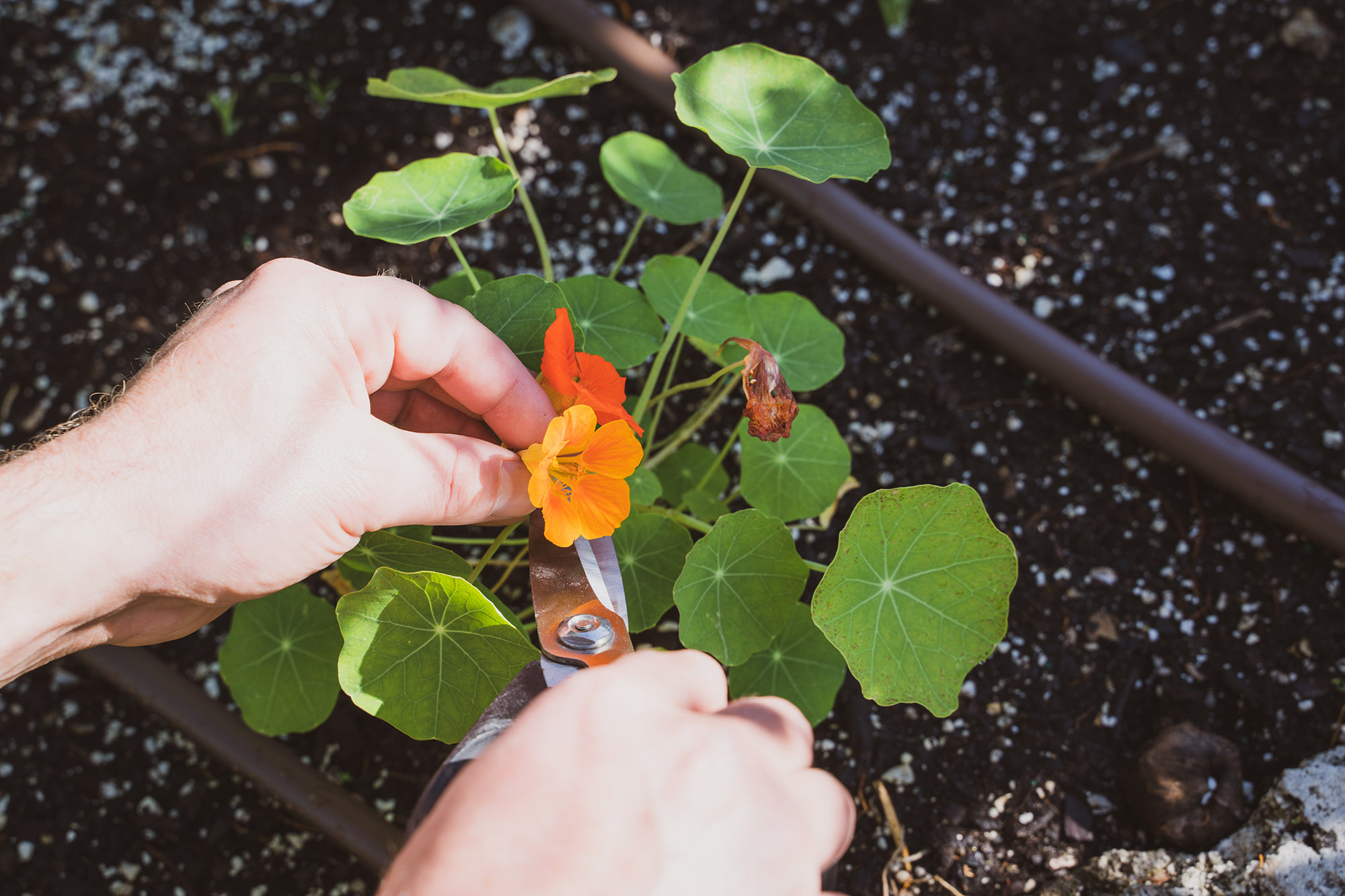 Before I came to work here, I did not associate botanical gardens with fruits and veggies. Flowers? Yes. Cool trees? Absolutely. Tomatoes and kale? Nope. In my mind, those belonged on the farm.
Since then, I've learned better. But I didn't fully appreciate the Garden's bounty until the other afternoon. I meet up with Matt Herrman, our Aquatic Areas Technician, in the Marcia and L. Bates Lea Asian Garden, one of the primary spots for edibles in the Garden (the others are Naples Garden Club's Idea Garden, the Vicky C. and David Byron Smith Children's Garden, the Buehler Family Foundation Enabling Garden, and the Kapnick Caribbean Garden, where you'll find many of our fruit trees). Matt, who works with our edibles in addition to the water gardens, is touting a bin from Fogg Café and a list of requested ingredients from Chef Jack Raben, who is preparing a special dinner and basing the menu off of what's ready to harvest.
This is prime vegetable season in the Sunshine State, and our beds are overflowing with greens, herbs, edible flowers, and vegetables of various sorts. Some are familiar, but much of what we grow is downright exotic — to me, anyway. I'm open-minded in my cuisine and handy in the kitchen; nevertheless, I realize I'm out of my element once we get beyond my standard shopping list: greens, carrots, tomatoes, cukes, broccoli, cauliflower, potatoes, and occasional forays into recipe-driven items such as leeks, watercress, turnips.
This excursion and a follow-up conversation with Jack gives me a new appreciation for culinary creativity and for the vast number of untapped ingredients that could spice up a home cook's repertoire.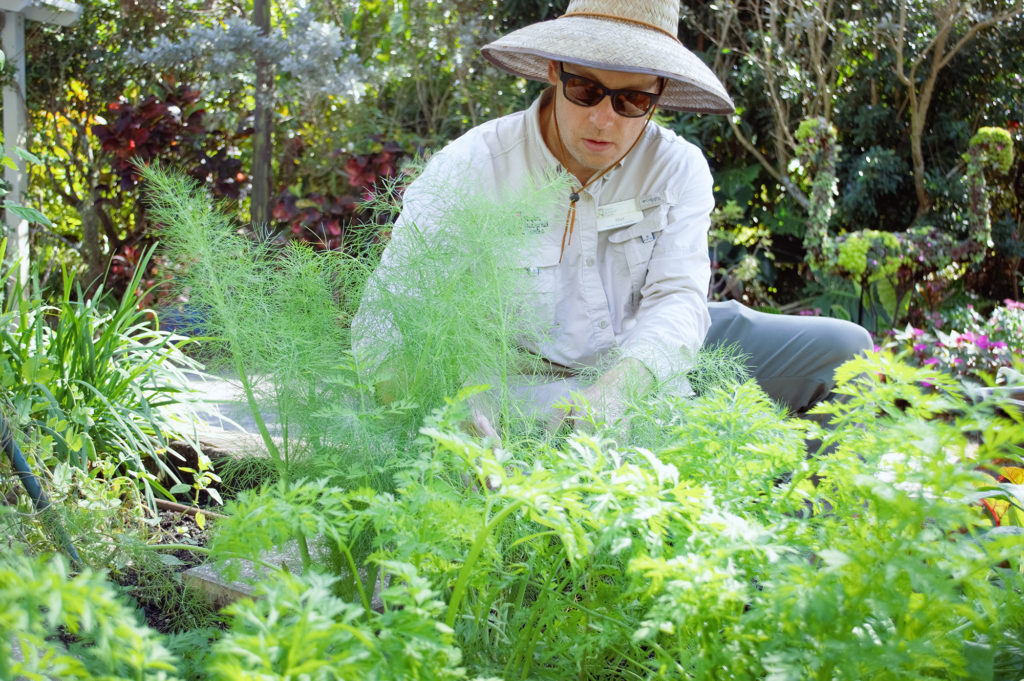 Aquatic Areas Technician Matt Herrman selects vegetables and herbs from the Lea Asian Garden in early February.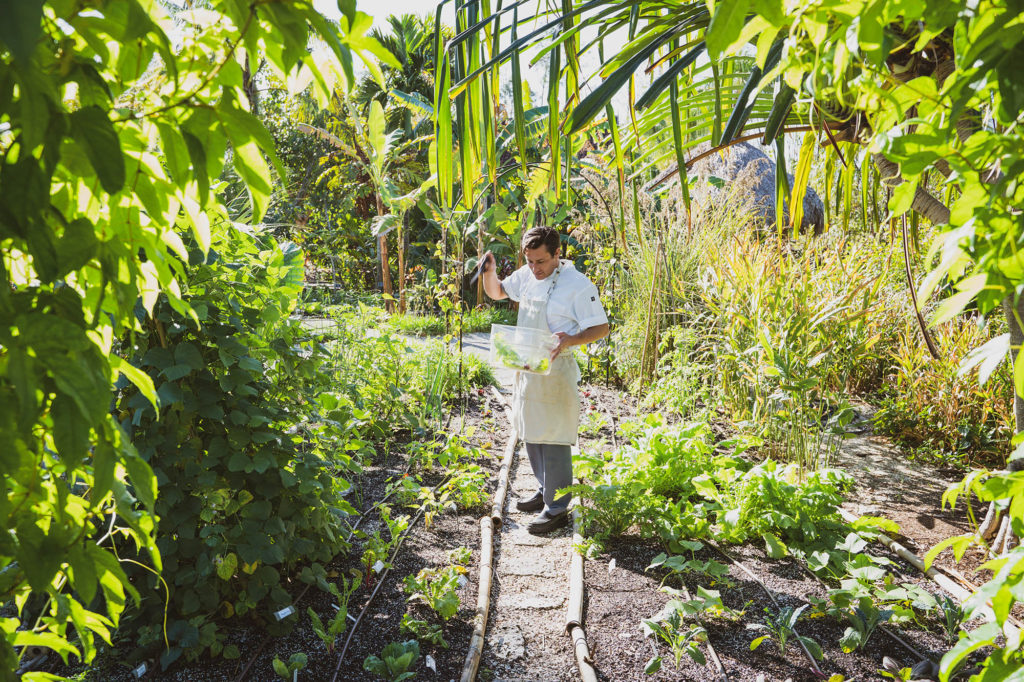 Chef Jack Raben picks carrots to add to Fogg Café dishes.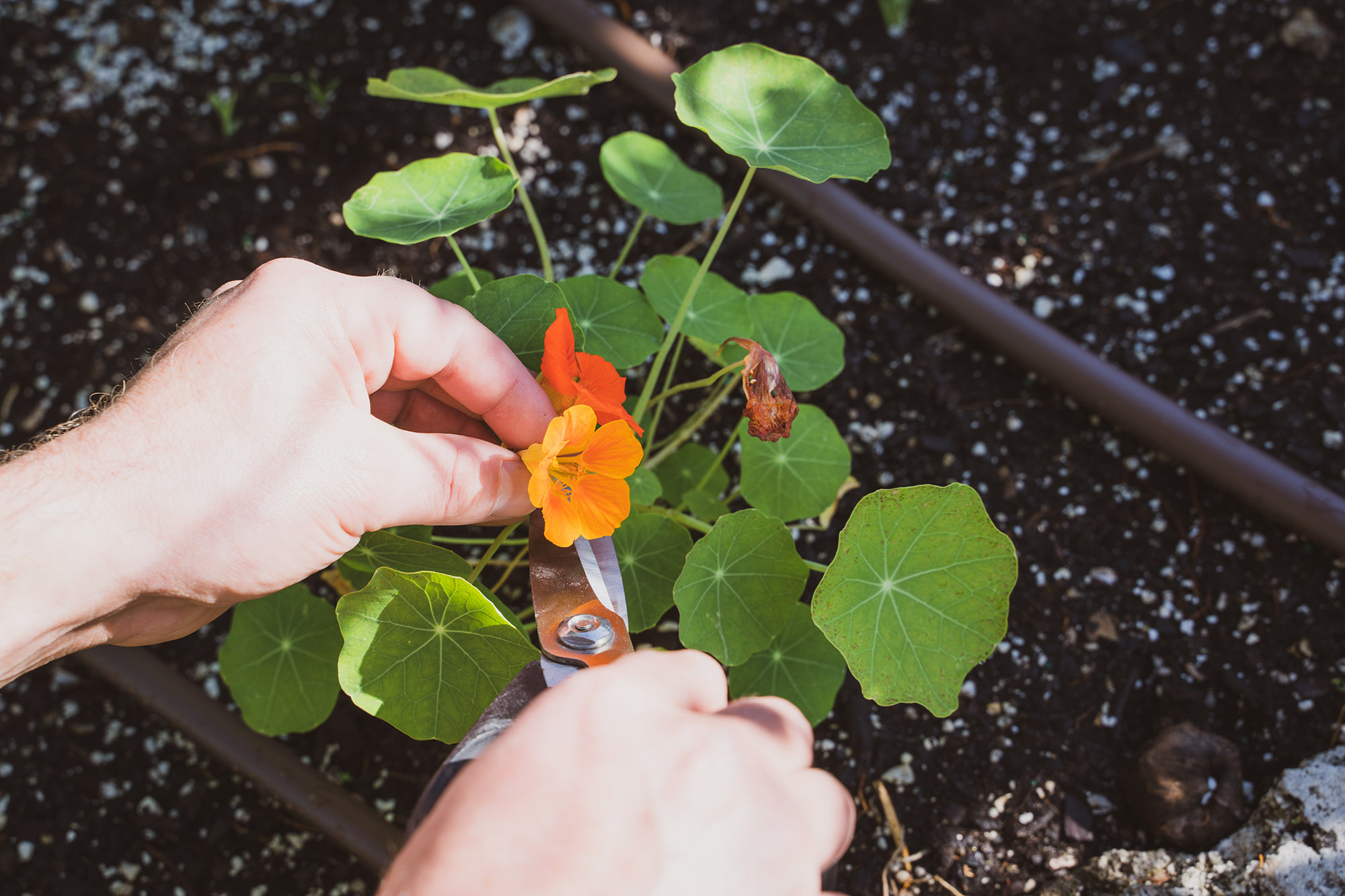 Nasturtiums for salad
The Asian Garden is designed to resemble a village from the continent's Southeast, and that's where Matt and I start. We bypass the taro and rice paddies and pause to survey the vegetable beds lining the main path. The first ingredient does not come from one of these cultivated patches. Instead, Matt steps off the pavement and into a tract of what looks like unremarkable groundcover. He plucks a sprig.
Crunch this up, and give it a whiff, he invites.
I do. It reminds me of hops, though Jack later informs me that it flavors foods with a distinct fish-like taste, hence its common name, "fish mint." Matt had discovered the herb growing there some time ago, no doubt an offshoot from a plant that had jumped its bed and decided to run wild. Jack will put the fish mint to good use, blending it with ingredients including Garden-grown lemon grass, Thai basil, holy basil, mint, cilantro, and galangal — another item I don't know — to season a tilefish main course. Jack already had galangal on hand, but Matt wedges a piece of the root from the earth so that I can see and smell it. Galangal is related to ginger and turmeric, but it's got a sharp piney fragrance — an ingredient used sparingly, I'm sure!
Matt turns his attention to Jack's first course, a beet and citrus dish requiring fennel, dill, parsley, holy basil, and mizuna. Mizuna, if you aren't familiar with it, is a Japanese mustard green with a bite that hits your tongue as you chew. For dessert, the chef plans to whip Garden-grown black sapote into a meringue. Black sapote, which had been harvested already, is a species of persimmon and originates in the Caribbean, Mexico, and Central America. Among its common names is "chocolate pudding fruit."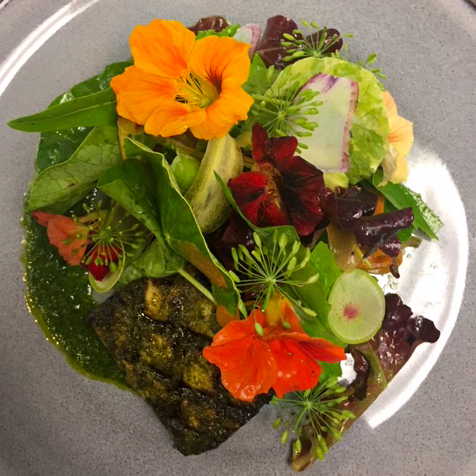 "We have access to things that not a lot of people have access to, especially herbs," Jack tells me. I ask if that makes him more experimental with his food, and he shakes his head. "It goes the other way. We focus on simplicity to not overshadow these really cool elements that we're using. The flavors are so unique and strong. The basil we get in the Garden has a whole different flavor than what you get at Publix."
Jack builds the menu for special events at the last moment so that he can incorporate the freshest of Garden ingredients, harvested the same day.
"It's a little nerve-wracking," he confesses.
Visiting dignitaries aren't the only ones treated to Garden-grown produce. Jack uses it in Fogg Café's regular offerings and specials whenever possible. He points to a bottle of chili oil, sitting on a shelf in his office, made from Garden chilis. His hot sauce recipe includes papaya and starfruit grown on site. The bay leaves, and juniper and allspice berries that season and enhance various dishes all come from the Garden. Jack and his team freeze giant jackfruits for use throughout the year and dehydrate some of the starfruit, to mix into scones from time to time.
The chef has plenty to keep him inspired.
Andrea Grace, the Nursery Manager, hands me a list of about 30 foods, mostly veggies and herbs, ready for winter harvesting.
"It's the complete opposite of the North," she says of Florida's growing season. "But we have twice the amount of time to grow."
Produce in Florida generally comes in three waves: warm-weather crops like tomatoes in the fall, cooler ones like greens in the winter, and another yield of warm-weather foods in the spring.
The fruits will come in the summer, though Matt diverts from our task to show me a couple of unusual fruit specimens that are ripe this time of year, including an eggfruit. Its flesh is the color and texture of a hard-boiled egg yoke; then there's a Malay apple, an Asian fruit that might make a better addition to a Waldorf salad than a snack on its own.
Andrea believes edible plants provide a gateway into the botanical world.
"Food is a really easy way to get people interested in plants," she says. In fact, on Fridays from now through April, guests can join a "Soil to Spoon" tour at 11am, 1pm, and 3pm. Tours are included with admission and free for Members.
Keep coming back to Notes from the Garden, where my colleagues and I will explore other types of edibles, especially leading up to July's Tasting the Tropics event.
In the meantime, dear Guests, please remember the way to sample our Garden-grown goodies is in Fogg Café, not along the pathway. Thank you!
---

About the Author
Jennifer Reed is the Garden's Editorial Director and a longtime Southwest Florida journalist.