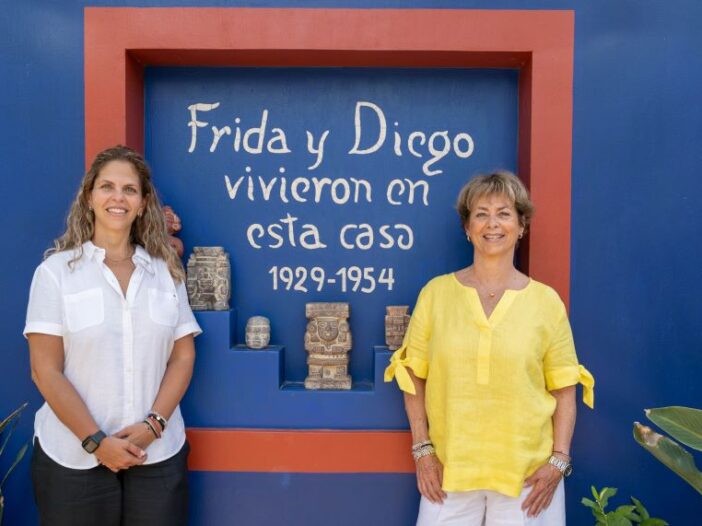 To the world, Mexican artist Frida Kahlo (1907 – 1954) is an icon, but to Mara Romeo Kahlo and Mara de Anda Romeo, she is simply "Aunt Frida." The mother-daughter pair recently traveled to Naples from their home in Mexico City to celebrate our Frida and Her Garden exhibition and share stories of their famous aunt.
Frida Kahlo had no children, but her legacy is alive and well. In fact, of the six Kahlo children, only the youngest — Cristina — had children. It was Cristina's granddaughter, Mara Romeo Kahlo and great-granddaughter, Mara de Anda Romeo, who paid a visit to the Garden in April.
While walking the gardens, Kahlo spoke about Frida's love of plants while pointing out trees that her aunt painted. She shared that it was Frida's mother, Matilde Calderon, who inspired Frida's love of gardening, something that the entire family now enjoys. In fact, Kahlo has an extensive garden at her home in Mexico City, with a wide variety of ferns and other tropical plants.
Noticing the spectacular Hawaiian sunset vine (Stictocardia beraviensis) in the Kapnick Brazilian Garden, Kahlo happily noted that the shade of the pollen is an exact match for rosa Mexicana, a vibrant magenta tone that is popular in Mexican textiles, architecture, and costumes.
As they stepped into Frida and Her Garden, the immersive re-creation of La Casa Azul, Romeo shared that Frida painted her familial home blue because the color was believed to keep out bad spirits. Kahlo remarked that the color in the Garden's exhibit was a perfect match for the real Blue House where Frida was born, grew up, and died.
Within the exhibition, Kahlo pointed out the burro's tail (Sedum morganianum), also called donkey's tail, a succulent native to Mexico. Seeing the plant was an unexpected reminder that her aunt Frida loved the plant and had them all over her home and garden.
Both recognize the Blue House as the place associated with Frida as a painter but shared that it was the Red House, Calderon's familial home just a few miles from the Blue House, that shows the person she was outside the public spotlight. The two plan to open the Red House later this year as Casa Kahlo, a museum to explore this other side of Frida.
"She was this amazing painter, but she was also a woman, a sister, a niece, an aunt, a friend, and a caring community member," says Kahlo. "She was sensible. A woman with feelings. She was happy and strong."
Eileen Shaloum, an artist visiting from Delray Beach, met the Kahlo Family during the public meet-and-greet event.
"I don't know one other artist that speaks so truthfully. Her work is like a diary of her life. She holds the torch for all women artists," Shaloum said. "She was a forerunner."
Another visitor excited to meet the family of Frida Kahlo was Nicole Sella, a second-grader at Lake Park Elementary, who arrived proudly wearing a Frida Kahlo T-shirt. Her mom, Giulia Piccari, brought Nicole for what she called a "once-in-a-lifetime opportunity." Nicole even got the descendants' autographs — one for herself and one for her teacher, Mrs. Bullock. Piccari said, "We will never forget this day."
Kahlo and Romeo hope to continue Frida's legacy by demystifying her. Both women spoke of Frida's big heart. They shared stories about how she helped single mothers in her neighborhood by setting up a weekly food pantry to offer kitchen staples for women in need. Romeo says the family has continued the tradition of helping those in need.
What can people do to honor Frida's legacy? Simply put, Kahlo says, "Help people and give back in any way you can."
This post supports this year's theme, Mexico: A Celebration of Plants & Culture, which highlights one of the most biodiverse places on Earth and celebrates cultural connections to the natural world.
---
About the Author
Erin Wolfe Bell is the Garden's Director of Exhibitions and Special Programs where she oversees all art exhibitions, public events and festivals, and cultural program offerings. She loves meeting artists and engaging with community members to plan Garden events.