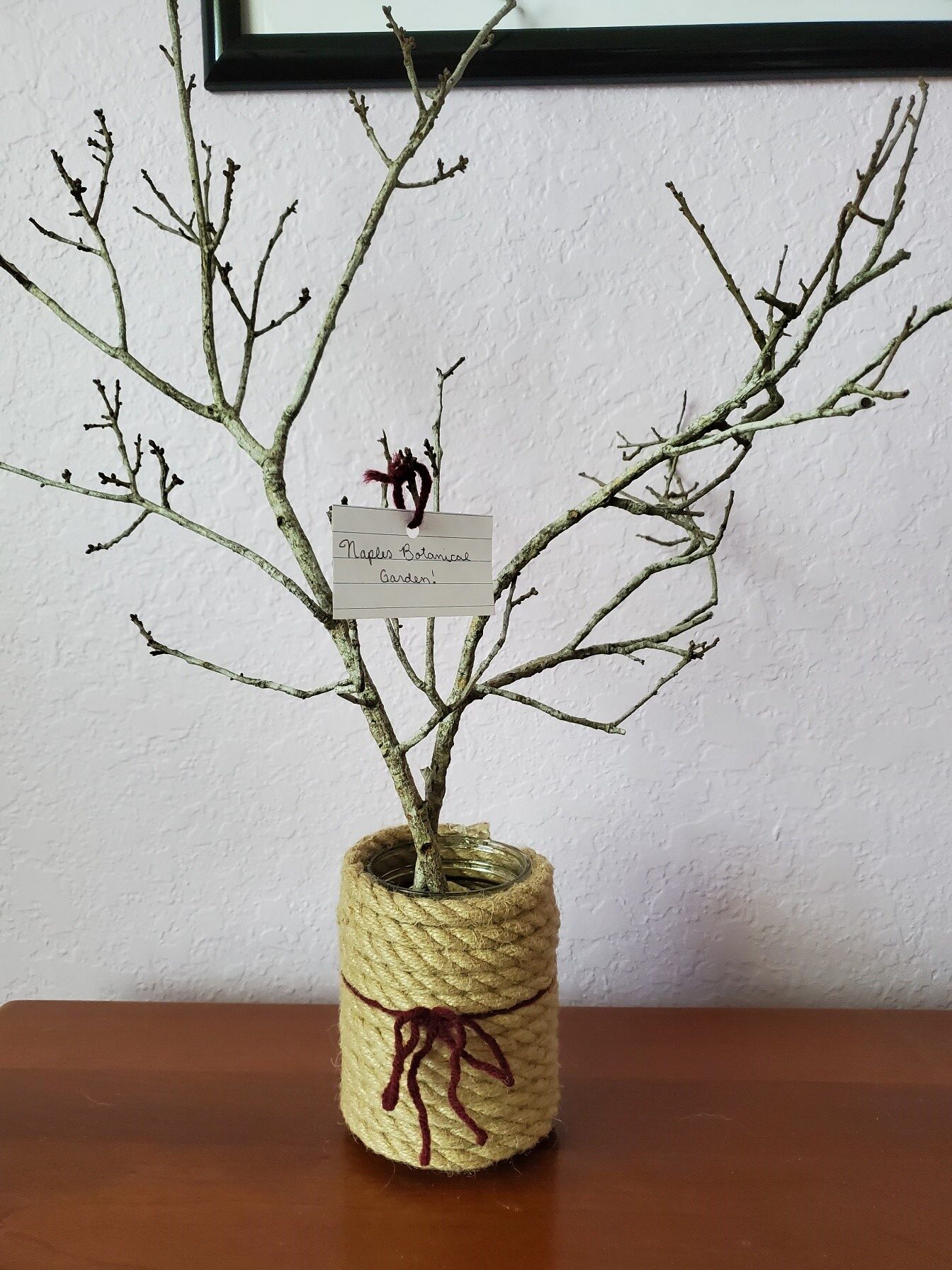 This is a fun, decorative craft that uses recycled and natural materials. It is a great activity for people of all ages and could be used in a therapeutic setting as it requires some fine motor skills. The goal is to arrange found twigs in a decorated jar and then hang notes of gratitude from the branches of the twigs
Materials:
Twigs scavenged from your neighborhood
Jar or other empty container
Rocks or floral foam
Scrap paper
Yarn or string
Hole puncher
Scissors
Material of your choosing to decorate the container (acrylic paint, fabric scraps, and craft rope all work great!)
Instructions:
1. Collect fallen twigs from your neighborhood. Grab what you can, and remember that you can make them smaller once you have your container. Also collect rocks while outside if you plan on using them as your container filler.
2. Grab an empty container from your house or recycling bin. Stick the twigs inside the container, and make any adjustments necessary as far as cutting off excess branches/limbs. Then, remove the branches.
3. Decorate the jar in the medium of your choosing.
4. Fill the bottom of the jar with either floral foam or small rocks, and then insert the twigs.
5. Arrange the twigs to your liking. If using rocks, take the large rocks and wedge the twigs into place.
6. Cut out small pieces of string and small scraps of paper.
7. Hole-punch each piece of paper once.
8. Write down what you are grateful for. Thread a piece of string through the hole and tie it in a knot creating a loop for the note of gratitude to hang from.
9. Place the gratitude note on your gratitude tree!
---
About the Author
Emily Kless is Education Programs Assistant for Naples Botanical Garden. Emily is always excited by the opportunity to learn. Outside of the Garden, you can find Emily and her service dog, Clementine, hiking the region's various trails (and sometimes forging their own) to admire native plants and birds.