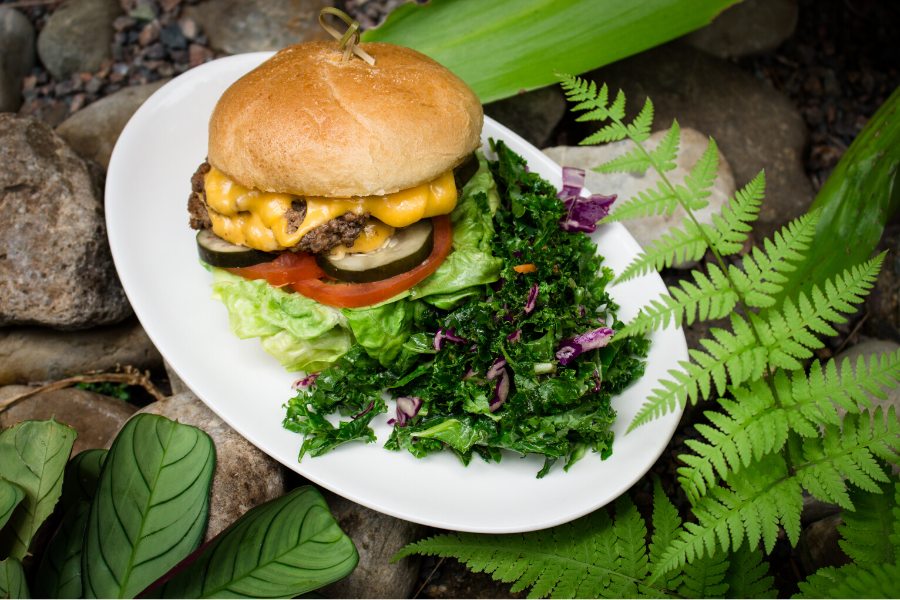 If you can't make it to the Garden to enjoy this mainstay on the Fogg Café menu, well, now you can make it at home!
Ingredients
Two 3-ounce patties, wagyu or higher fat content ground beef
1 bun of choice (Fogg Café uses brioche from Landert Bread in Naples)
Pickles
Tomato
2 slices American cheese, or other fast-melting cheese
Boston or bibb lettuce
Chili mayo:

1 tablespoon sambal oelek chile pepper paste
1 cup mayonnaise (Fogg Café uses Duke's)
1 teaspoon sesame oil
Directions
1. Stack tomatoes on pickles, and place bibb lettuce over tomatoes.
2. Add butter to skillet or sauté pan.
3. Cook patty 2 – 3 minutes; add cheese, and melt.
4. Add butter to skillet or sauté pan, and lightly toast the inside of the bun.
5. Add chili mayo to inside of both buns.
6. Assemble bun, burger, and toppings, and serve.
7. Add condiments of your choice, such as jalepeno or avocado. Any other additions like fried onion, red onion, onion straws, mushrooms, or bacon will be great, too.
Total cook time: 2 – 3 minutes
See how it's prepared
---
About the Author
Jack Raben is chef of the Garden's Fogg Café.