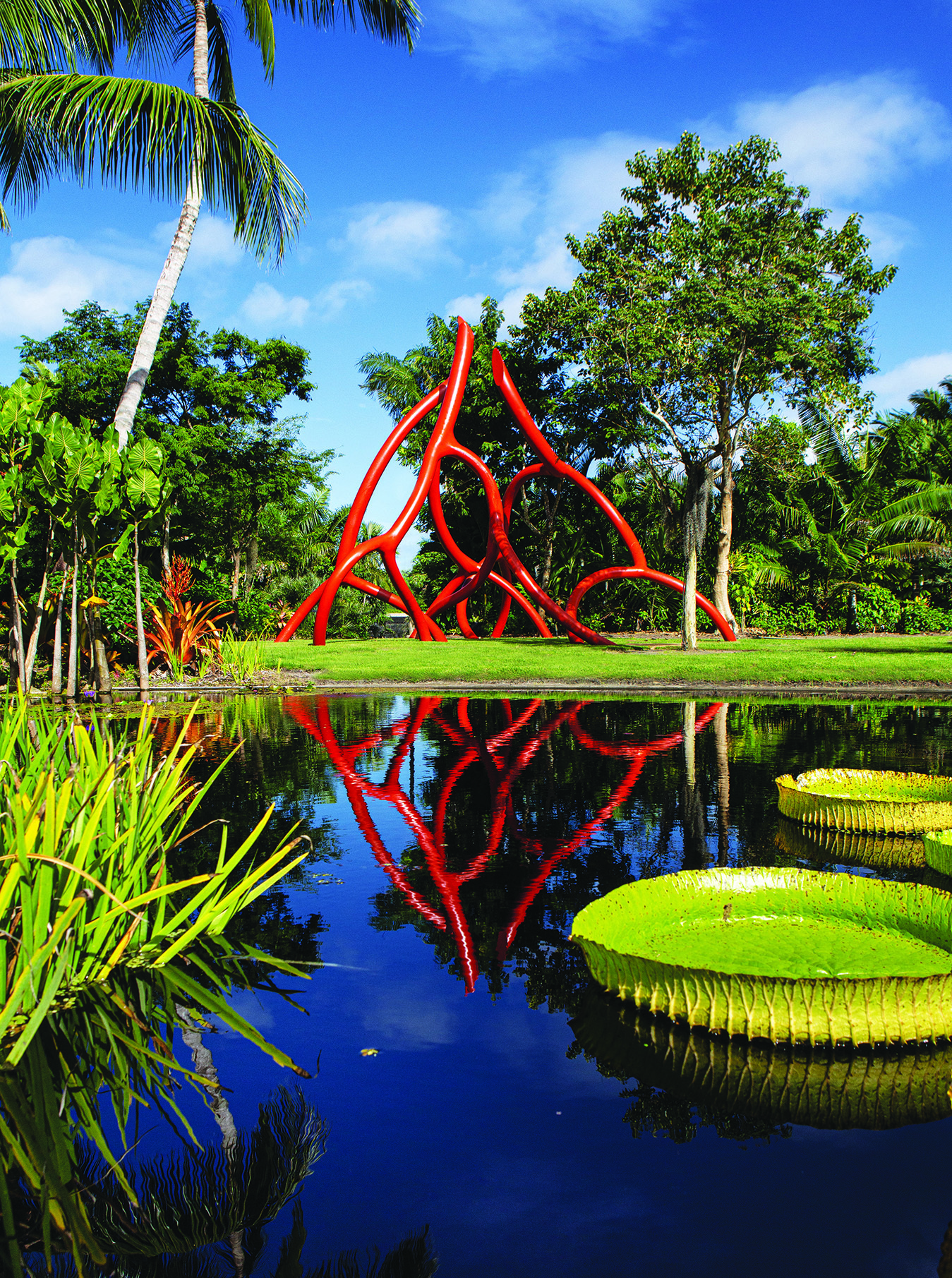 Take a walk with Steve Tobin through his Roots sculptures, and prepare to see each installation in a whole new light.
Artist Steve Tobin generally doesn't name his work. He has a few broad descriptors, a set of steel sculptures dubbed the "walking roots," and another "dancing roots," for example. But he prefers viewers derive their own interpretations.
"The less I have to title pieces, the less they have to read about my process, then the more they have a blank canvas of experience to write their own reaction and responses and what they learned, and not have to study what the artist intended," he says. (There's one notable exception, a pair of sculptures entitled Romeo and Juliet, for obvious reasons.)
Steve Tobin: Nature Underground debuted at the Garden on October 1, an outdoor sculpture exhibit spanning the display gardens and celebrating unseen forces of nature. It is comprised primarily of Tobin's renowned root sculptures — a set of bronze ones cast using actual tree roots and more figurative steel ones, graceful, towering figures sculpted from recycled pipes.
He aims to "decontextualize" nature — to take it out of its element, allowing viewers to "see it again for the first time." With that objective in mind, Tobin offers suggestions on how to best experience his work.
"Every moment," he says, "is different from every other moment … I encourage you to come back multiple times, and look at the same pieces from the same position because with the different light and the different angle of the sun, the piece will be different."
He designs the Steelroots with shadows in mind, and the patterns on the ground are as much a part of the piece as those embedded in the sculpture itself.
"Also, in the Steelroots, they are more, to me, about the negative space," he says. "You see the object — the metal — but it's the negative space that's the content."
Consider, he explains, how the Steelroots might appear in a city compared to a garden. The sculptures' surroundings become its content. Steel pillars dissect the space around them, creating "landscape paintings," sections of foliage or sky or groundcover framed by richly colored metal. The pictures change as your relationship to the sculpture changes — stand right next to it, you'll see one set of "paintings;" stand at a distance, and the images will shift.
When you approach the steel, notice the textures. Tobin works with recycled steel pipes.
"They have the texture of the history they've lived," he says. The pockmarks and the divots are not imperfections; they are stories.
The Bronze Roots, which predate his steel ones, capture the structures as they actually appear underground — every fissure and knob and twist and turn sealed in bronze. How do you feel standing beside these unearthed giants?
"I know how they are going to look; I have control over all my mediums now. But I don't know how they are going to feel."
Nature Underground includes two additional works that offer a sense of the artist's vast range (he's worked in multiple mediums, including glass, clay and canvas). The first is an artistic rendering of a collection that's important in our Garden: bamboo. Tobin says to listen for the sound the wind makes as it moves through the piece. The second is from his newest series — a set of clouds cast from polished stainless steel. This exhibition, in fact, is his first public showing of one of these works.
"I'm always trying to capture nature in a different way, and I've been wanting to make clouds for 30 years," he says. "I've tried bronze and glass, and I finally am very happy with using mirror polished stainless steel, which is something I've never done — I don't do things that are sleek and shiny. But if you have them outside, they bring the clouds and the blue sky down to the ground, and the surroundings go into the clouds. As our dreams do."
Steve Tobin: Nature Underground will be on display through September 6, 2021 and is included with regular Garden admission. Click here for hours, ticket prices, and COVID-19 safety protocols.
Inspired by Tobin's work, the Garden will examine roots and other invisible forces of nature throughout its 2020-21 season, Roots: Power of the Unseen. Look for special content on our blog and YouTube channel, and watch our calendar for other upcoming exhibitions and events.
---
About the Author
Jennifer Reed is the Editorial Director of Naples Botanical Garden and a longtime Southwest Florida journalist.