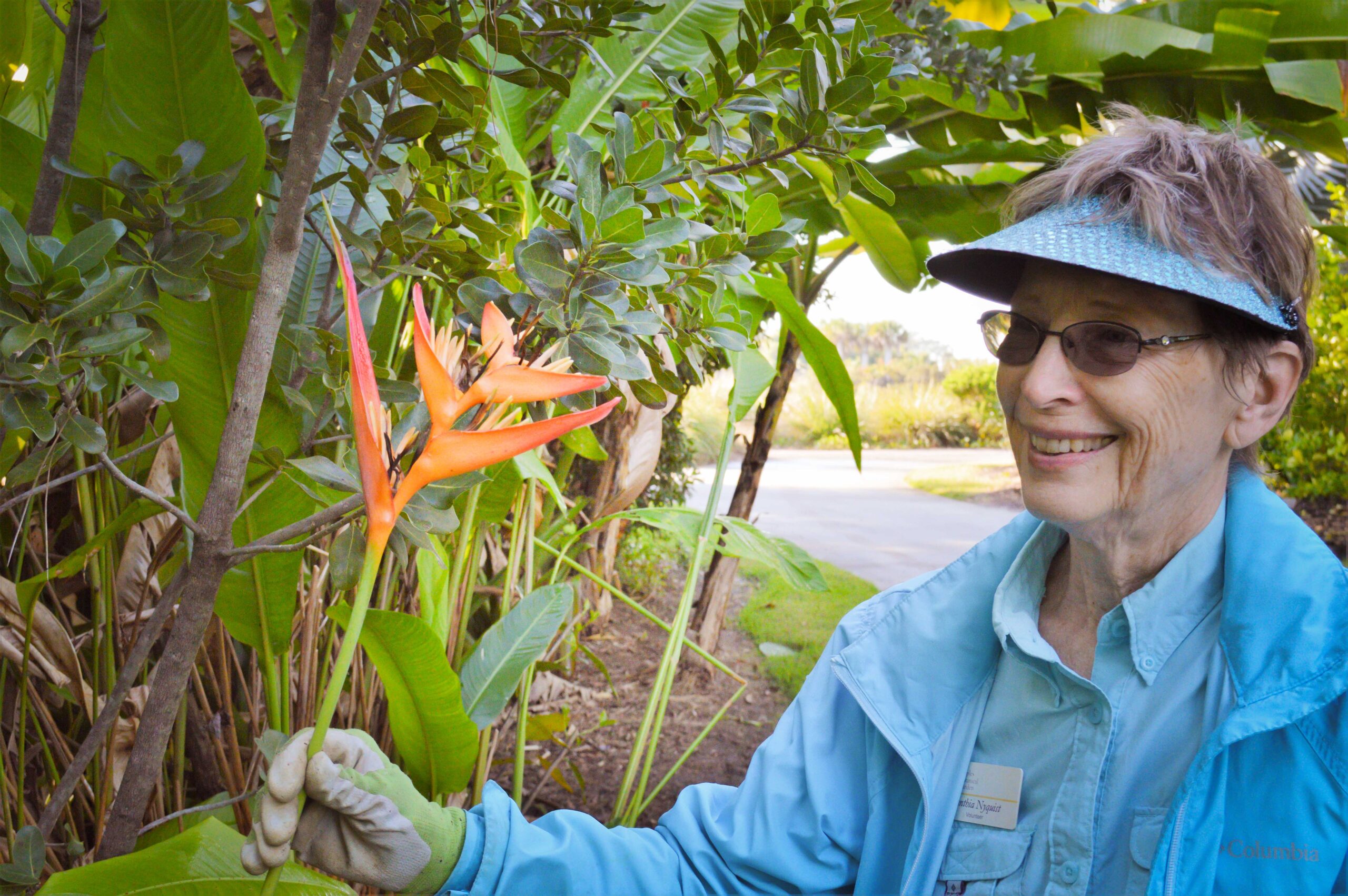 What do you do with a browning leaf? An empty seed pod? A fallen palm frond?
If you are me, you toss them in the horticultural waste bin, and haul them to the curb. If you are Cynthia Nyquist, you collect them, and turn them into works of art. Cynthia, a Garden volunteer, is a self-taught wreathmaker who uses natural materials she finds when working outdoors.
Curious? I'll tell you more in a sec. First, please get your calendars, and mark these opportunities to see Cynthia in person at two holiday wreath workshops. One, on December 10, is reserved for Members; the other takes place this Wednesday, November 27, for any guest with paid admission, as part of our daily Dig Deeper program.
Cynthia hopes participants will discover artistry in nature.   
"The idea is to turn people's heads around, to show them how to manipulate plant matter," she tells me the other morning. "I love seeing their reactions!"
To show me what she means, Cynthia grabs an empty black bucket, and we're off to forage.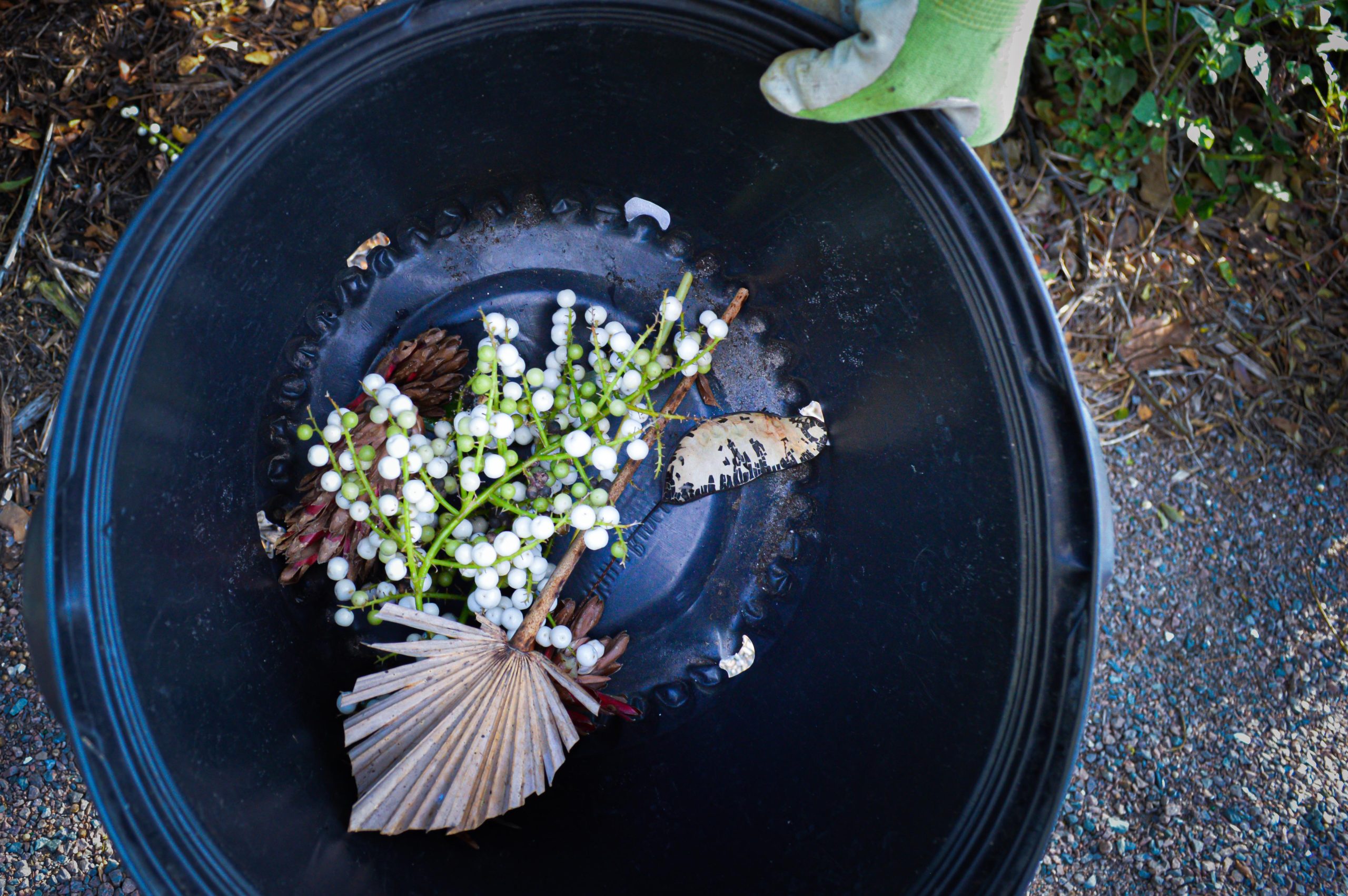 "This is silver buttonwood, and it has fantastic berries," she says, pausing to point it out. The berries are easy to paint if you want seasonal or themed colors, she adds. A little further along the path, she comes upon ginger plants with their cone-shaped blooms. They're distinct at their scarlet-colored prime, but Cynthia sees beauty in them as they fade to brown, too. The pods, she says, have a unique curve. "I love that fact."
She'll incorporate some materials just as she finds them, as she did when making a wreath of feather-shaped tamarind pods. Some she'll paint, like a lovely piece she crafted with magnolia leaves, sprayed gold. And some she'll trim, splice, or crack to reveal new shapes and textures. To demonstrate, she pares an unwieldy dried frond into a compact spade.
Hover over this image and click the left or right arrow buttons to browse wreaths made by Cynthia.
"Now you've got a different shape entirely," she says. "Voila!"
Cynthia took up wreathmaking about three years ago when a fellow volunteer, Ann Thiel, suggested the horticultural "waste" they amassed when tending the Garden could be repurposed. She's been experimenting ever since.
The craft stretches one's creativity, of course, but also trains the eye to look more deeply at leaves, flowers, seeds, cones, and branches. "I'm just enamored by some of the shapes of nature. I can't get over what nature does," Cynthia says.
The Wednesday, November 27, Dig Deeper program, titled "Natural Wreath Making: Festive Foraging," will take place at 11:30am and 1pm outside Kapnick Hall. Dig Deeper is offered to all guests with paid admission. Click here for information about visiting the Garden.
On Tuesday, December 10, Cynthia and Education Programs Manager Kaitlyn Dillard will offer "Holiday Decorating with Native & Unique Plant Material" as part of our Member Mornings series. This event is free for Members, but registration is required. To learn more about membership and its benefits, click here.
One final note: Cynthia is a trained volunteer who works with our staff on Garden maintenance. We hope you are inspired, but we also hope you'll refrain from plucking anything off our plants!
---
About the Author
Jennifer Reed is the Editorial Director of Naples Botanical Garden and a longtime Southwest Florida journalist.