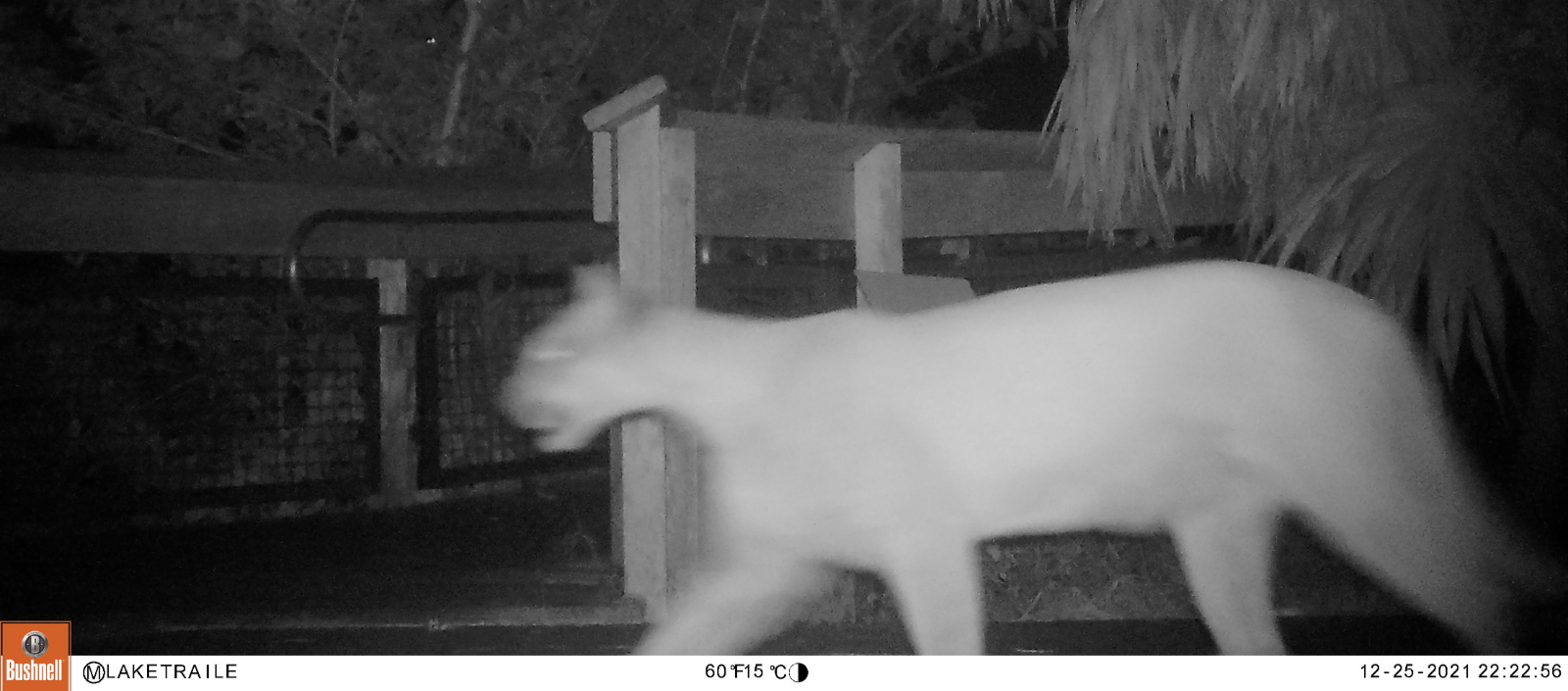 Well, apparently, the creatures were stirring this holiday — we captured a very special image with our wildlife cameras on Christmas Day at 10:22pm. This ghostly image is of a Florida panther strolling around the Lake Trail at the entrance to the White Birding Tower.
This "Christmas Panther," as Art Mattson, our wildlife camera volunteer affectionately called it in alerting me to his find, is the latest image captured of a panther in the Garden.
Over the last several years, we have been fortunate to have these wonderful cats make appearances in the Garden's Preserve and along its trails. Recent Florida Fish and Wildlife Conservation Commission estimates put the panther population in the wild at 120 – 230 individuals. So, to see them in the Garden is certainly a treat.
We owe these images to Art, who dutifully collects, downloads, clears, and reinstalls the memory cards in our six different wildlife cameras each week. He then scrolls through hundreds of images — with plenty of racoons, opossums and armadillos taking up data space — and occasionally hits a photographic jackpot with the elusive big cat caught on camera.
But we also owe these sightings to something else: the Garden's 90 acres of natural habitats. Our restoration efforts and ongoing land management activities have provided a place where native plants, the backbone of our ecosystem, prosper. Our team spends its days removing invasive plant species to let native species thrive. Over the last several years, we have been planning and preparing to eventually reintroduce fire into the ecosystem at the Garden through carefully conducted prescribed fires. Fire is great at rejuvenating and maintaining habitats. It stimulates herbaceous plant growth, partly by bringing more light to the forest floor. This increases plant diversity and helps ensure that the plants that depend on fire survive into the future. This new herbaceous growth is also beneficial to many other species, including pollinators, gopher tortoises, quail, and the Florida panthers' No. 1 prey, the white-tailed deer. So, by managing these habitats for diversity of plants, we are stewarding a home for a diversity of animals. A true web of life, intricately intertwined and inseparable.
A final factor to which we owe this sighting is the Garden's location in relation to larger green spaces. The Garden sits at the western edge of more than 2 million acres of undeveloped land. Conserved land such as Everglades National Park, Big Cypress National Preserve, Florida Panther National Wildlife Refuge, Picayune Strand State Forest, Fakahatchee Strand State Preserve, Collier-Seminole State Park, and Rookery Bay National Estuarine Research Reserve form a connection of land that is necessary for the panthers' large range. Adult male panthers' range can stretch up to 128,000 acres! The Garden's 90 acres may seem small, but because it is well managed, it meets panthers' needs. Wildlife corridors are immensely important to their long-term survival. We will continue to improve the Garden's natural areas through our careful land management so that this place continues to benefit all life — human, plant, and big cats alike.
---
About the Author
Eric Foht is the Director of Natural Resources at Naples Botanical Garden.