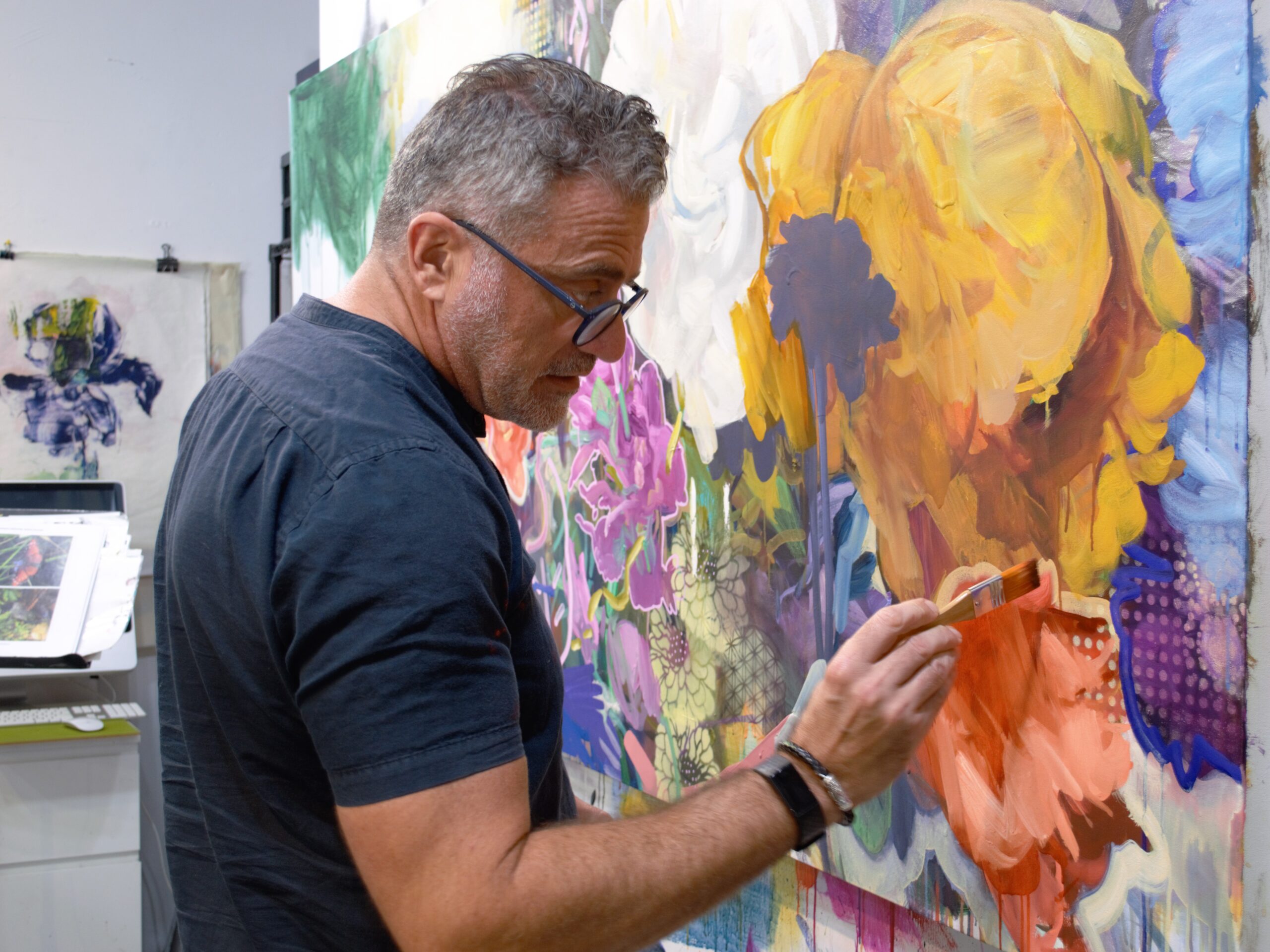 Friday, November 20, 2020
The moment you wake up in the morning—that first flicker of your eyelids—is joy.
Joy for beauty, for breath, for everything good in the world.
That's the perspective of artist Carmelo Blandino, and if you don't share it, you might after seeing his new series, Convergence, debuting at Naples Botanical Garden November 20 – January 10. The exhibit is co-curated with Method & Concept gallery.
"Our primordial way of being is joyous; it's innate in us," Blandino says from his Naples studio earlier this month, where oversized canvases await his finishing touches. The bliss often evaporates as worldly influences start their daily assault, he says. News. Obligations. COVID. Convergence seeks to capture that first, all-too-fleeting moment—before external worries crowd out inherent happiness.
"My purpose in this is a reminder that we are that joy," he says. "That's our true existence."
The five-painting series explodes with color and focuses on Blandino's prevailing subject: flowers.
"It's beautiful how nature puts everything together and creates the forms—the seed, the vines, the leaves—and at the end it laughs, it brings you the flower," he says, paraphrasing a line from Ralph Waldo Emerson. He smiles. "The laughter of the Earth. I love that."
In Blandino's hands, flowers emerge larger than life, vivacious and detailed.
"He has this masculine energy, and then you see him paint the florals. That's a juxtaposition you don't often see," says Method & Concept Director Chad Jensen. The works stylistically hint at classical and Baroque, with a contemporary twist. "He's taking the old and bringing a new, modernist interpretation," Jensen says. Blandino's work stands out to him for other reasons, too. "It seems like there's a trend in contemporary art in moving away from the beautiful. That's part of the reason his work resonates with me, too," Jensen says. "There is room for beauty in contemporary art."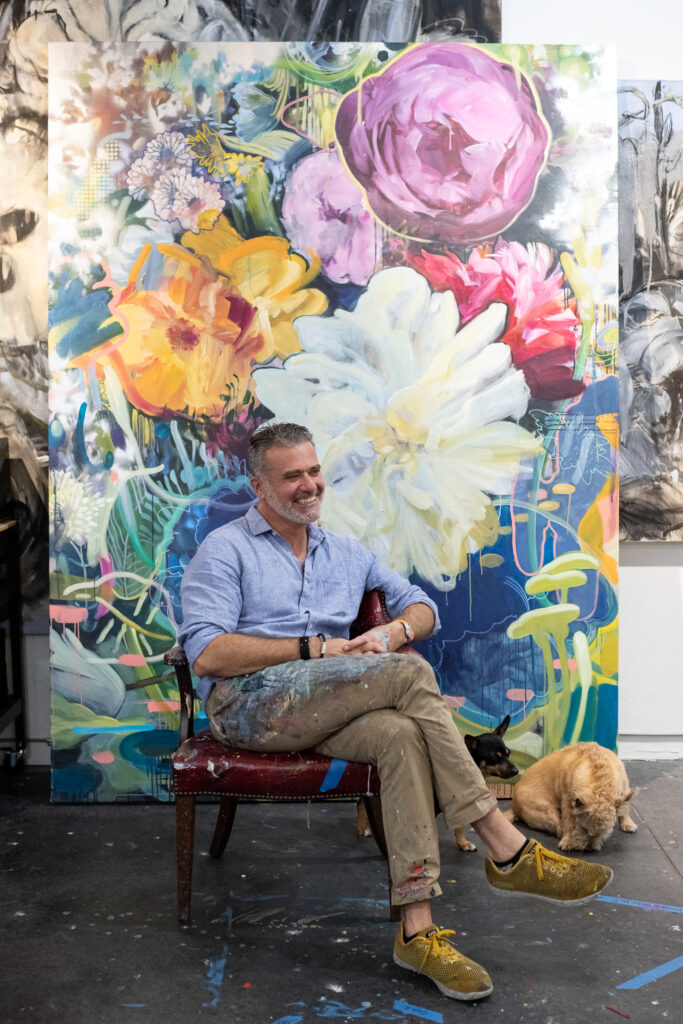 If ever we need the outlook of someone like Blandino, it's now. In this year of so much loss, Blandino reminds of what we have. He titled one piece in the Convergence series Divine Gift "because it's basically everything that you wake up to—this is the gift that we've been given. This is nature." He calls another Baraka, a Middle Eastern term that roughly translates "abundance." Blandino recalls a 1992 documentary of the same title. One scene pans a city sidewalk and zooms in on a monk stepping slowly, soundlessly, meditating amid the frenzy. "He's just staying centered, and that, for me, epitomizes what we're going through with COVID. Amongst all the craziness, we need to stay centered, we need to stay within, and that's what this (series) is about. This is a centeredness."
Tibetan monks, Blandino remarks, meditate on flowers.
The artist, in a first-time initiative, directly involved his audience in the making of the Convergence series. He asked Garden visitors to submit favorite photographs from our property. Their images show up in all sorts of ways—an abstract rendering of a butterfly; feathery strokes mimicking an ibis wing; waterlilies and orchids; a sunset-hued vista. Beyond the contributed images, he embeds other elements—graphic patterns that denote molecular building blocks; colorful ellipses that represent single-celled organisms, honoring the full spectrum of the natural world.
"Carmelo not only recognizes the important role the Garden plays in the community, but also how our community members add life to the Garden and make it a more beautiful place," says Erin Wolfe Bell, the Garden's Director of Exhibitions & Special Programs. His new Convergence series is especially exciting for us to share with visitors because it is a direct response to our living collections. To have Carmelo's work at the Garden is an honor."
The exhibition showcases some of Blandino's earlier works as well. Before we delve into those, know this: Blandino hates complacency and eschews boredom.
"I don't allow them into my life. I pay special attention to that when it comes into my art." Once, he painted a series with his left hand—working with his dominant hand had become too easy and the outcomes too expected, he says. "Change is primordial. The only constant is change. If you're not living within that, you're dying a slow death. You really are."
The exhibition includes four hyper-realistic flower portraits, the Single Flower Series, created during a period of deep introspection. They hang on the same wall as his Abstraction Series, offering as stark a contrast as the name implies.
Also spotlighted are two works from the Ethos series. These are monochromatic florals with hints of color, a departure from the vibrant palettes for which Blandino is known. He, again, had found himself fighting complacency. He pared his painting to its fundamentals, black and white sketches that he likens to the "first draft of putting down your initial thought." He resisted the urge to embellish. The process brought him back to his core self, to the "I am," he says.
And finally, the exhibition includes a micro portrait of a flower—a tiny orchid encased in an antique Italian frame hanging in the picture window overseeing the LaGrippe Orchid Garden. In an exhibit hall dominated by colossal canvases best enjoyed at a distance, this piece, Song of Distinction, invites visitors to come close and enjoy both the painted flower within—and the real-life blooms on the other side of the glass.
Convergence is included with general admission. Click here for more information on timed ticketing procedures and the Garden's safety protocols.
You can meet Blandino and watch him work at the Garden from Sunday, November 22 – Saturday, November 28 between 11am and 5pm daily (closed on Thanksgiving day). This opportunity is included with general admission.
---
About the Author
Jennifer Reed is the Editorial Director of Naples Botanical Garden and a longtime Southwest Florida journalist.