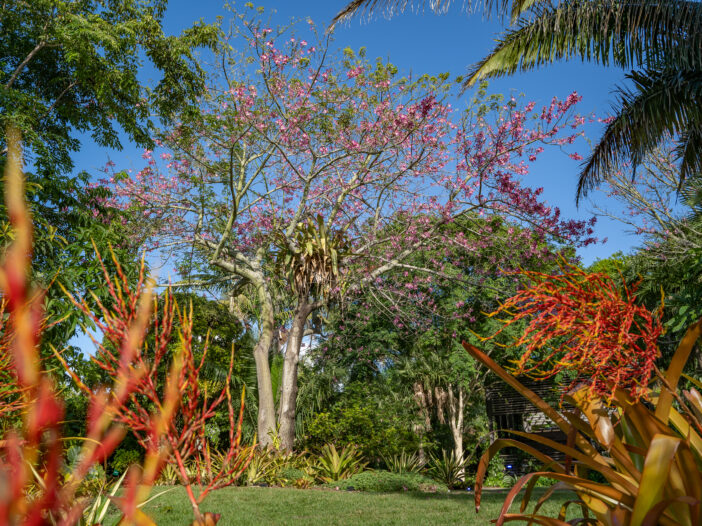 Northern trees get all the fall glory — the maples, oaks, and birches that turn landscapes into tapestries.
It is time, I think, that Ceibas get their due.
These trees (pronounced say-buh) add brilliant color to October skies. The predominant species in bloom, Ceiba speciosa (commonly called "silk floss"), is pink and white, not orange and red, but Florida marches to a different beat, and naturally, our "foliage" has its own palette.
That's not the only reason I'm celebrating Ceibas as a perfect fall specimen. While the blooms cheer us with their color, the trunks elicit a different mood: a menacing, perfect-for-Halloween vibe. Most Ceiba species produce nail-sharp prickers, deterring critters from snacking on their fruits or defacing their bark. If you're lucky enough to have a Ceiba at home, you might illuminate a torturous-looking trunk and save money on inflatables.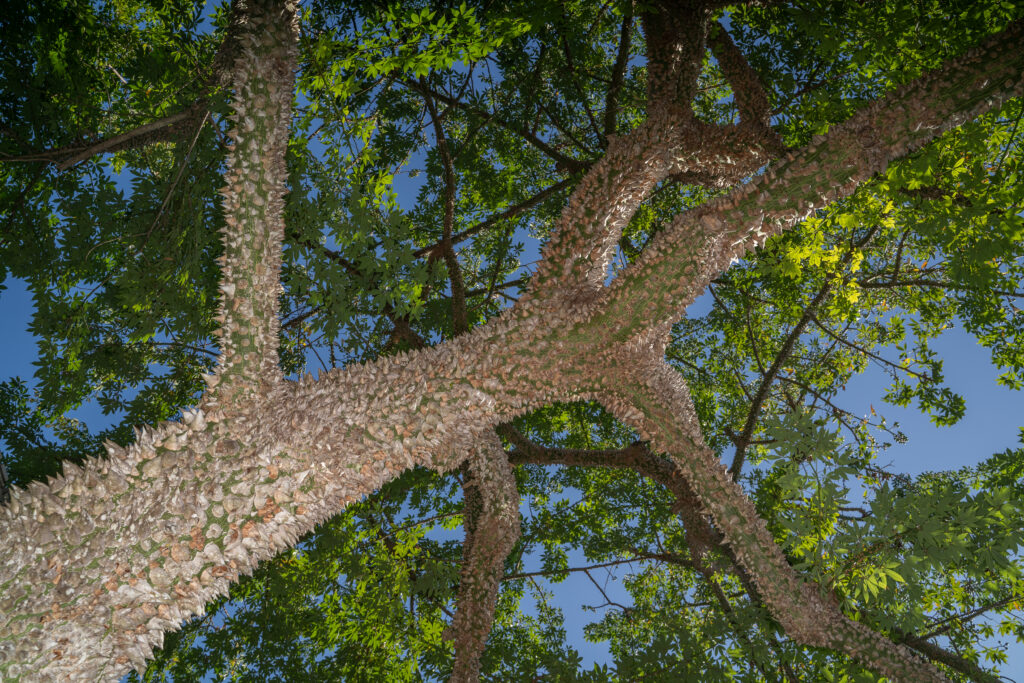 The Garden has several Ceiba species and numerous hybrids. But before we examine our collection, let's look at their legends and cultural uses.
The word "ceiba" is from the Taino language meaning "boat" because these native Caribbean peoples carved massive canoes from the buoyant timber. According to the Florida Museum of Natural History, as many as 100 people could fit in a single one. That gives you a sense of their size.
The kapok (C. pentranda), was sacred to ancient Mayans, who considered it the symbol of the universe. It was believed the roots reached down into the underworld, the trunk represented the middle world, and the canopy stretched into the heavens. Several Amazonian tribes in Peru believed deities live in Ceibas. Even today, these symbolic trees often are spared when forests are cleared, according to The Ceiba Foundation for Tropical Conservation.
Ceiba seed pods, C. pentranda in particular, produce a fiber that is "hydrophobic" or water resistant. Until the mid-1900s, life preservers and upholstered automobile seats were filled with this material, according to The Ceiba Foundation. Researchers have also considered the fibers as a tool for cleaning up oil spills, notes a February 2022 article in the journal Plants.
Kapoks are cultivated for their seeds, which are rich in protein and fatty acids. The seeds and roots of C. aesulifolia are used as food in traditional Mexican markets; the seeds, bark and roots have been used to treat illnesses including kidney disorders and skin infections.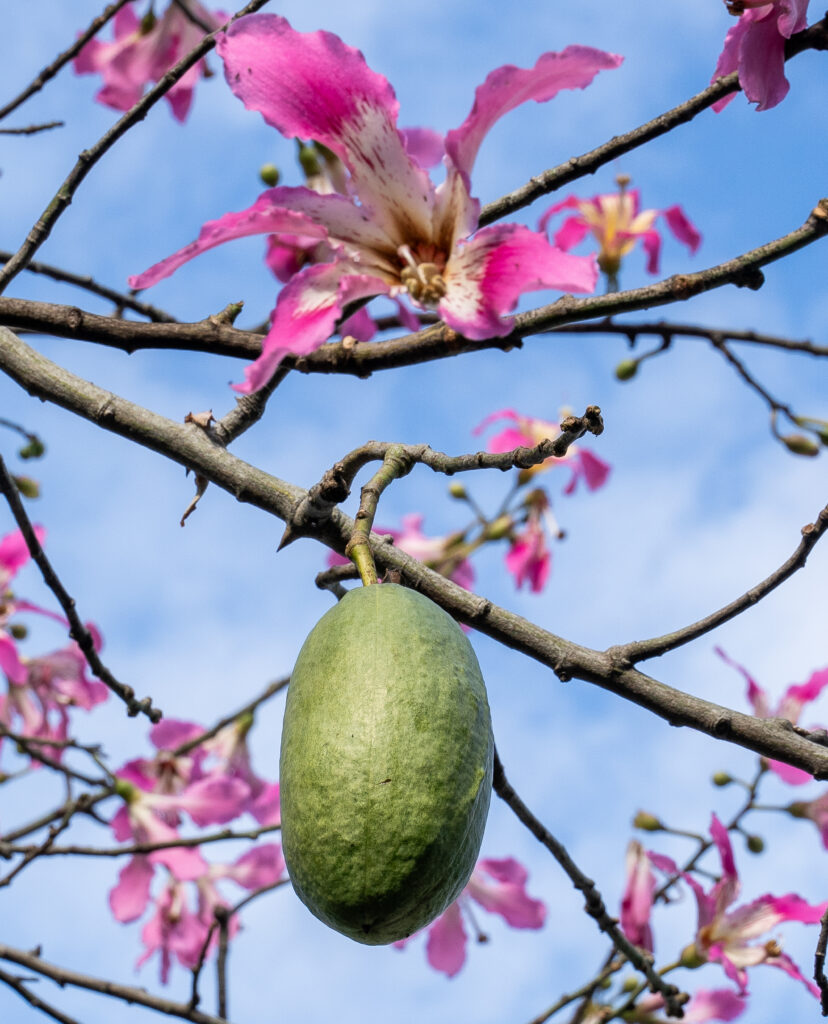 Tropical forests, traditional Ceiba habitats, are under siege, falling to the demands of agriculture and other pressures. We're glad to provide a refuge.
Meet some of the Garden's Ceiba:
C. speciosa: That brilliant pink I referenced at the start of this piece? Those are the flowers of C. speciosa, a magnificent, prolific species that brightens our fall skyline. They're known as silk-floss trees for the material in their seed pods.
C. erianthnos: This species yields an especially spiny trunk. Cross those traits with the showy blooms of the C. speciosa, and you get one magnificent tree. Look for an erianthos and speciosa mix along the "S" curve in the Kapnick Brazilian Garden. It's one of our favorites! Another is just off the Smith Entry Prow; this one has a white bloom with a wine-hued center and a very spiny trunk.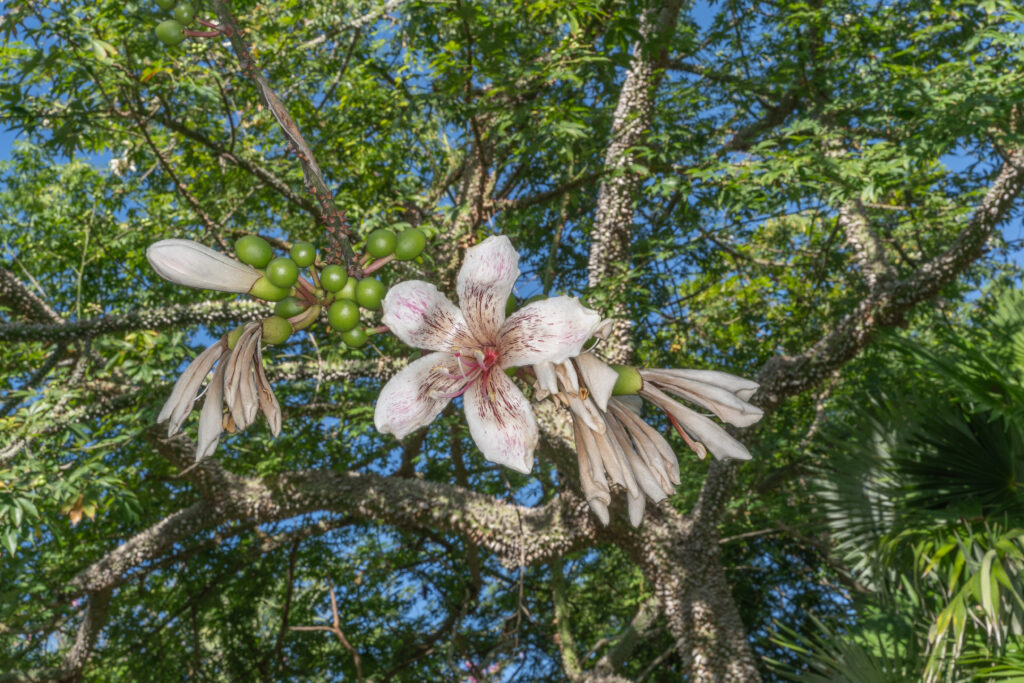 C. pentranda: The kapok is a rainforest giant, growing as tall as 200 feet and producing massive buttresses that dwarf a person. You'll find three in our parking lot and another in Kathryn's Garden just before you reach Ticketing. Director of Collections Nick Ewy remembers planting it around 2014; it is now some 40 feet high and growing!
C. samauma: Just off the prow, near the performance lawn, the C. samauma is an Amazonian tree that yields a white flower reminiscent of Easter lilies.
C. jasminodora: Not every Ceiba grows into a towering specimen. C. jasminodora is one of our newer additions, located in the Brazilian Garden along the descent from the Burle Marx mosaic. It will grow into a short, bushy tree.
C. schottii: This species originates in Mexico and parts of Central America. It is "super armed," Ewy says of the trunk, and it will produce slender flowers that smell like vanilla.
Scattered throughout the Garden, we have additional Ceiba hybrids. Many come from Adam Pollak, a Ceiba collector and hybridizer in Palm Beach, who grafts the trees to create new and unique looks. Ewy intends to plant Pollak's C. rubliflora hybrid in the near future. This is a cross between the rubliflora, a species in Pollak's collection that produces a brilliant red bloom, with an erianthnos/speciosa hybrid we provided to him. We won't know the outcome of this gene-crossing experiment until the trees bloom. "We're hoping for something with a red variation in color," Ewy says. That might be a nice replacement for the C. bombax, once a favorite until its seeds started escaping the Garden, and we removed them lest we create an invasive plant problem. To learn more about Ceiba hybridizing and the Garden's partnerships with plant collectors, see the Summer 2022 issue of Cultivate, page 19.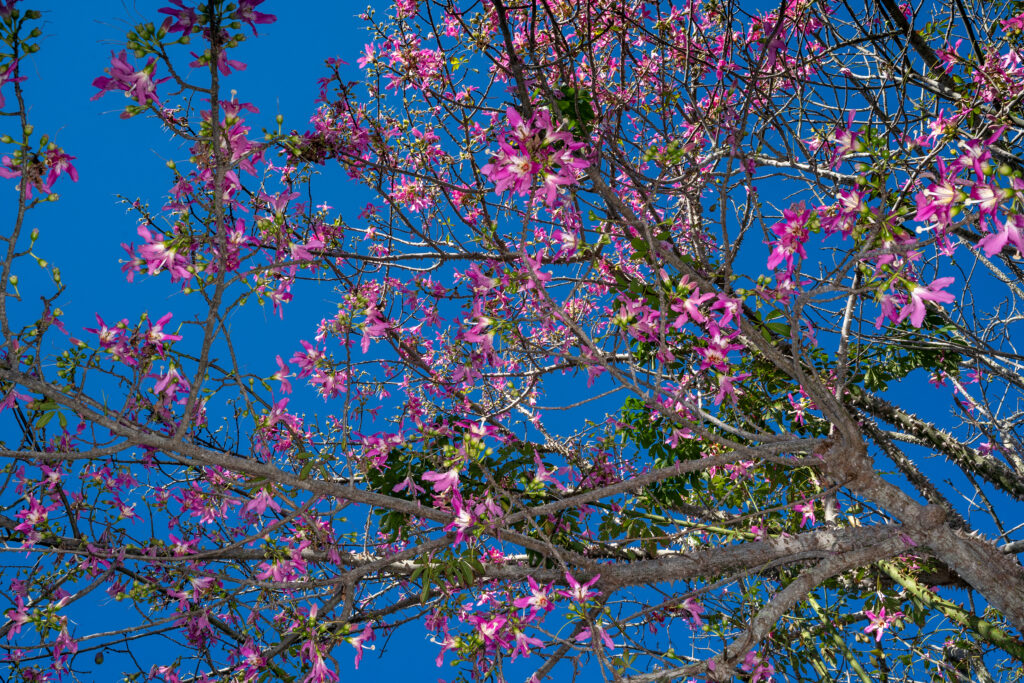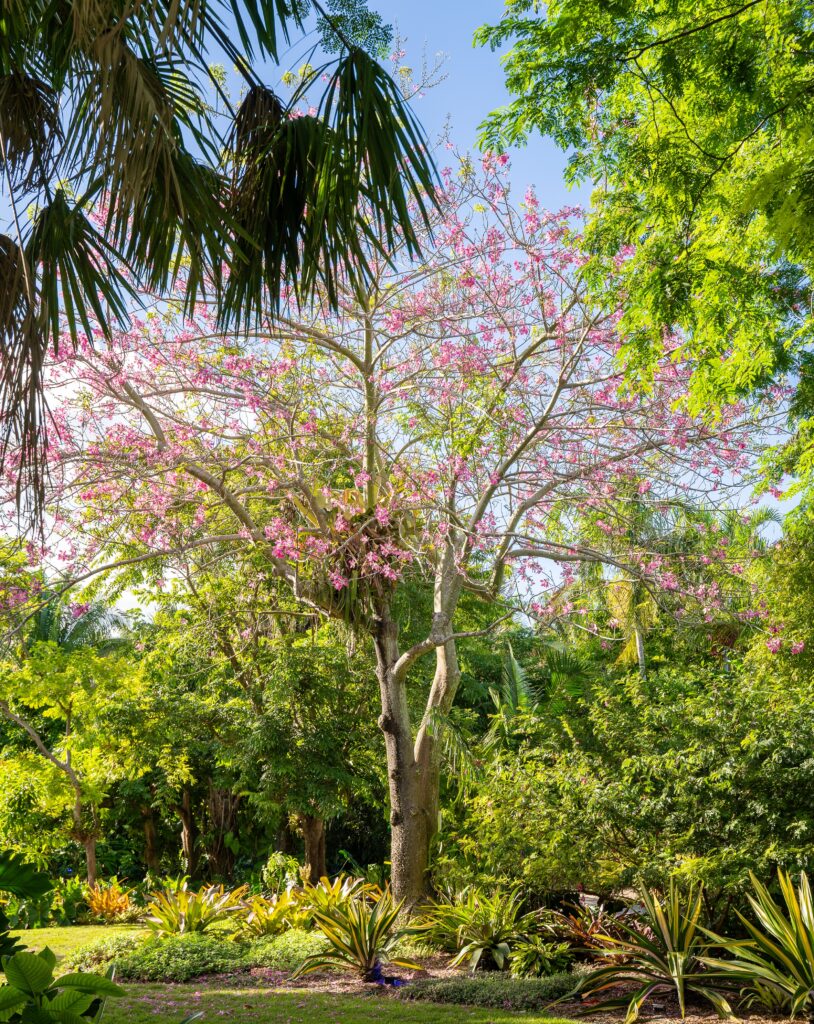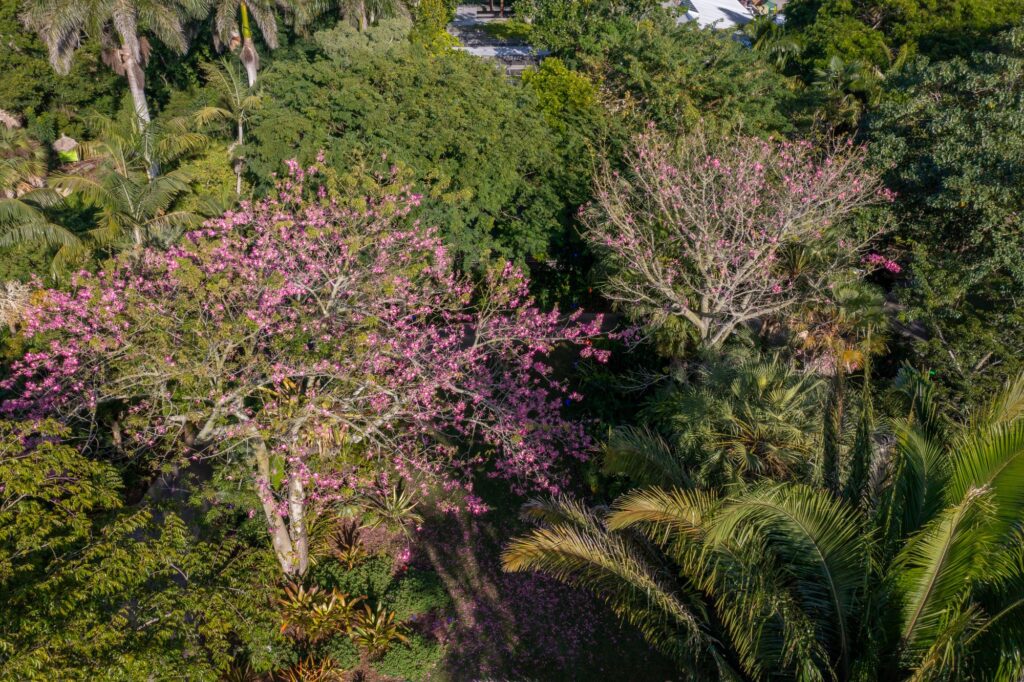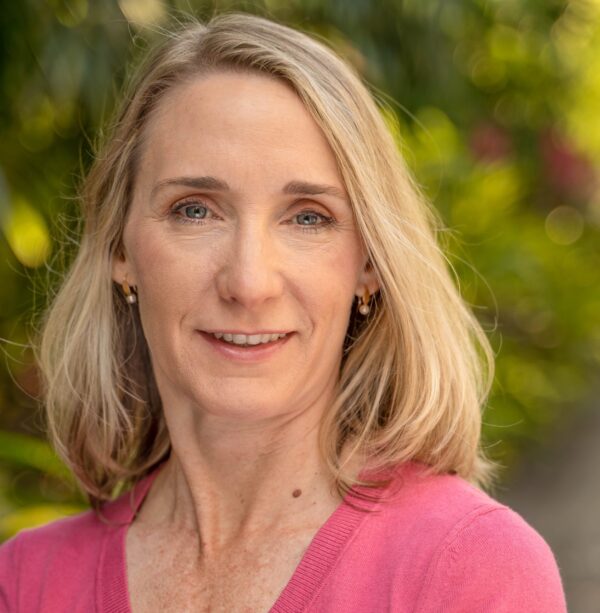 About the Author
Jennifer Reed is the Garden's Editorial Director and a longtime Southwest Florida journalist.