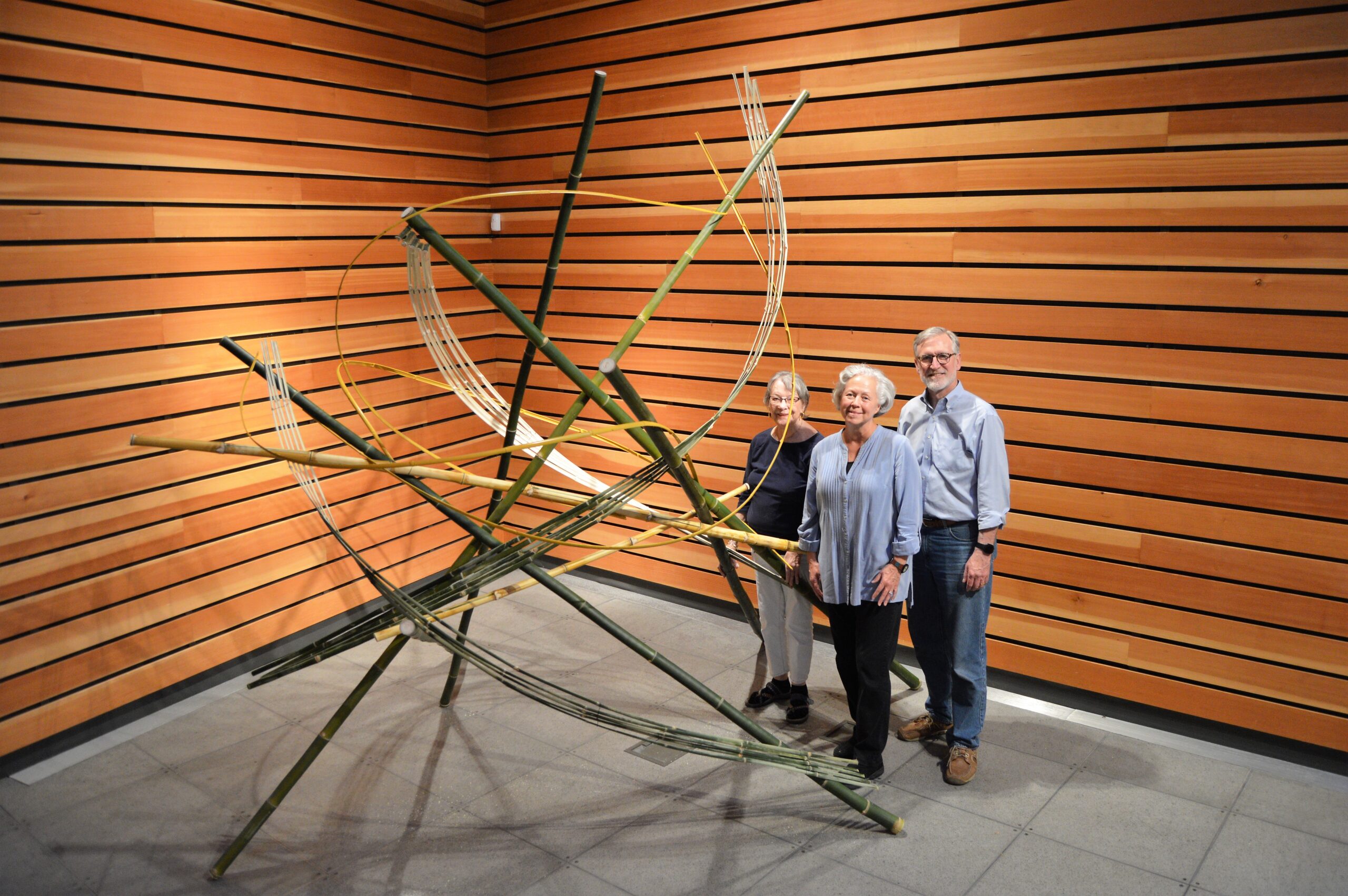 If you intend to visit this weekend's Naples Ikebana International #160 show, you're likely — and correctly — anticipating tabletop floral arrangements showcasing the Japanese floral design practice. You're probably not expecting a 9-foot by 9-foot bamboo sculpture dominating one corner of Kapnick Hall.
For the first time, the Naples Ikebana show will feature just that, a Sogetsu freestyle bamboo sculpture designed by longtime Ikebana artist Marcia Borel and constructed with the assistance of fellow practitioners: her husband, Jim, Carol Brocklesby, Susan Minamyer, and Sue and John Pigman.
Sogetsu is the most contemporary of Ikebana's schools, founded in 1927 by Sofu Teshigahara, an Ikebanist who wanted to make the centuries-old practice less about rigid technical rules and more about creative artistic expression.
What Borel hopes to express is "joy."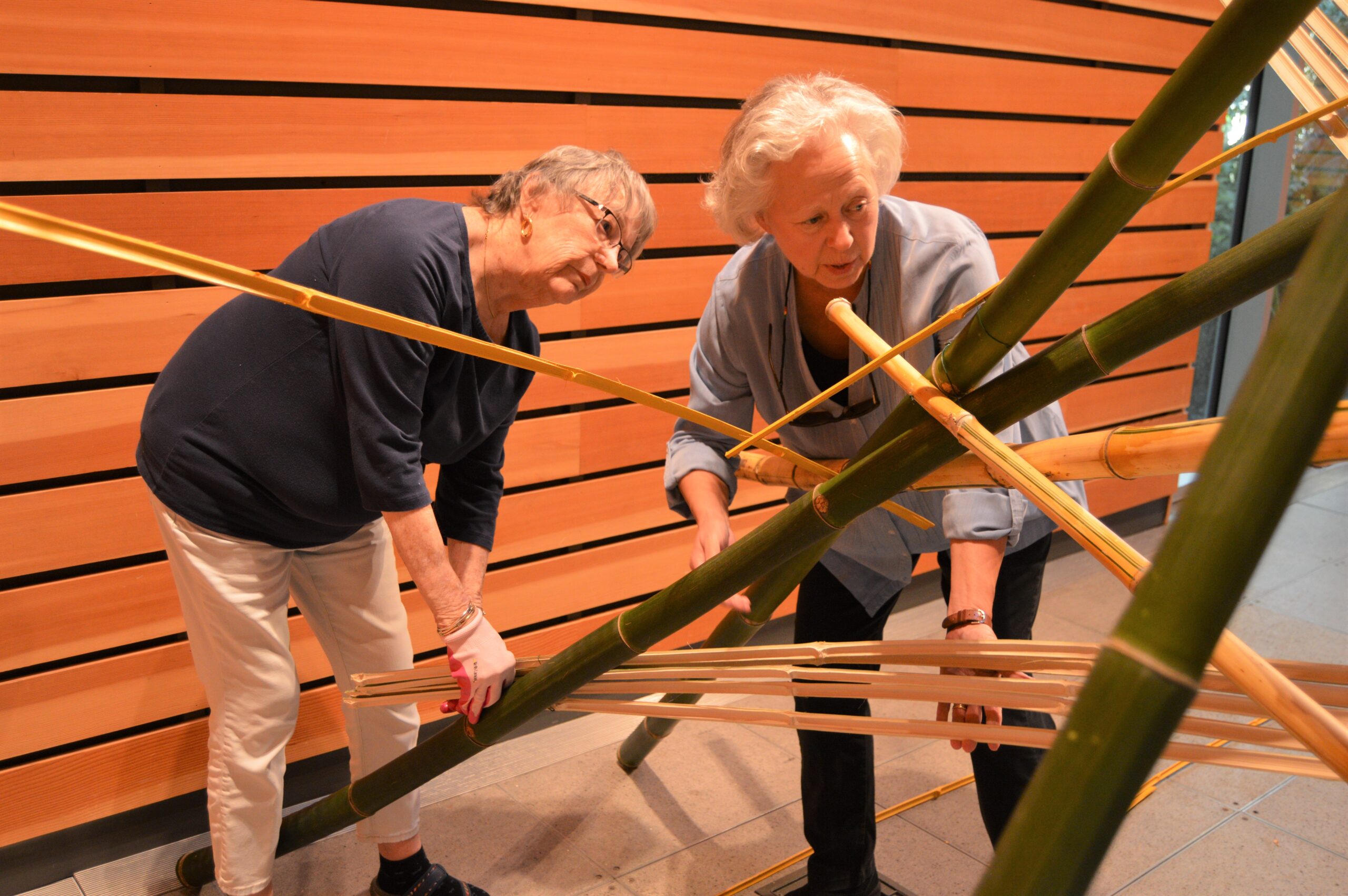 "Does it look joyful?" she asks her husband and Carol, who finalize the sculpture with her on Monday. It does, they agree. The bamboo swoops and swirls upward. You could imagine a dancer's outstretched arms or, maybe, a child twirling a ribbon.
The show's theme is "The Joy of Reconnecting."
The sculpture uses 14 pieces of bamboo, harvested from the Garden. Marcia determined the outline before construction began, sketching a concept, and building a model to scale using dowels. But there is much finessing during the actual process.
"I think that's too much of a straight line," Marcia says, stepping back to get a better look. Jim and Carol curve the bamboo until the arc feels just right. She nods her approval. Jim drills into a support piece and affixes this added strand with floral wire.
The Ikebanists anchored the sculpture with bright green stalks about 3 inches in diameter. Then, using a special tool, they split several stalks into reed-like strands. They informally refer to a multi-strand piece as an obi — a decorative belt worn with a kimono. They finalize the sculpture with single strands that add depth and detail. The bamboo's varying tones — from jade to yellow to tan to white — enhance the visual appeal.
Marcia delved into Ikebana in 1993, when the family moved from Pennsylvania to Japan for Jim's career with DuPont.
"I was a young mom, standing on a corner, watching the school bus roll away with my children. My husband is traveling for his career. My big work is done — getting the family there, getting the schools figured out, and all of a sudden, I'm thinking: 'How am I going to live here? What am I going to do?'"
She followed a friend to an Ikebana class on a Thursday morning. The friend soon abandoned the practice, but Marcia was hooked. She continued her training when the family returned to Pennsylvania and now ranks in the discipline's second-highest tier. Jim does not profess to be an Ikebanist but learned much about it through his wife and serves as her "No. 1 support person."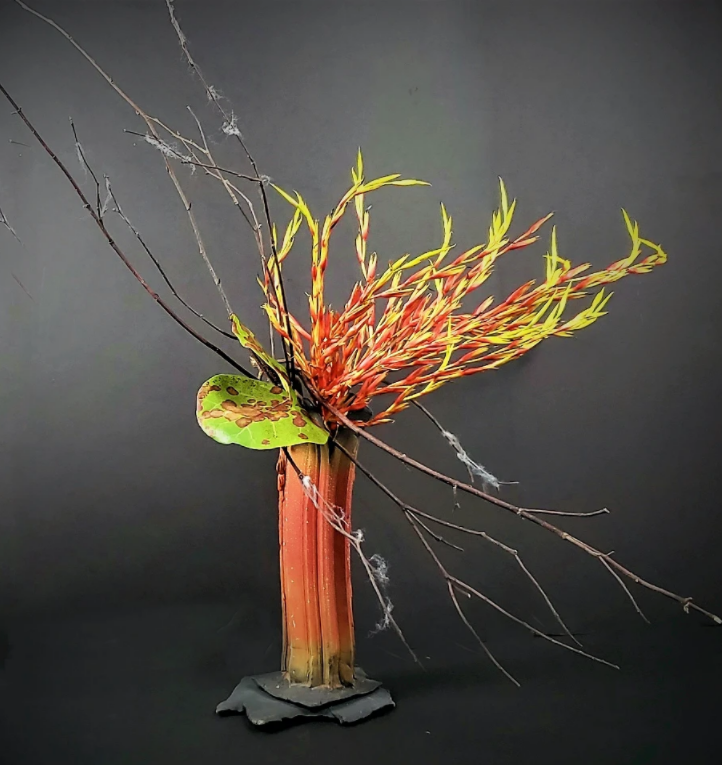 Carol is a painter who also discovered Ikebana through a friend. The Sogetsu School's freewheeling expressionism "satisfied my creative urges."
"I just love it," she says. "Now I'm a teacher."
The idea for creating the sculpture was born out of Marcia's 2019 experience at Longwood Gardens in Pennsylvania, which hosted a major Sogetsu exhibit. The head of the Tokyo-based Sogetsu School sent a design team to create a massive bamboo sculpture that would occupy a glasshouse and use more than 600 bamboo stalks. The Sogetsu School reached out to Marcia, who is chairperson of the state's longest-running Ikebana organization, the Mainline Sogetsu Study Group, to serve as an intermediary between Longwood and the School in Japan. She tapped that experience to create the work for Kapnick Hall.
The Naples Ikebana International #160 show, held February 18 – 20, is included with general admission, free for members. The event features special children's programming from 10:30am to noon each day. Click here for more information on visiting the Garden.
---
About the Author
Jennifer Reed is the Garden's Editorial Director and a longtime Southwest Florida journalist.