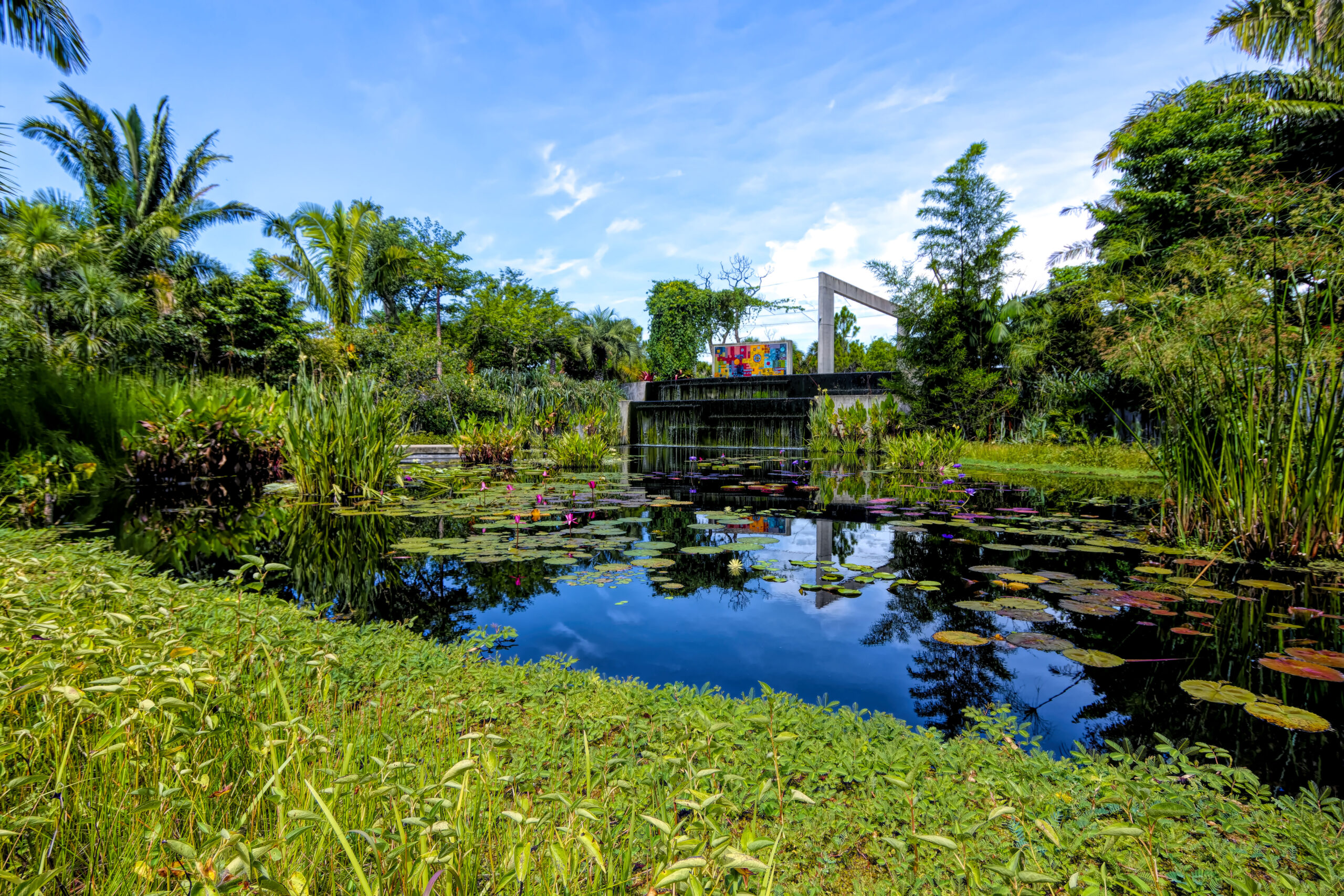 If one thing is for certain these days, it's that, well, nothing feels certain. It makes places of solace all that more important. Creating that atmosphere is something we have worked diligently to provide while still offering the health and safety measures that are imperative during this time. With these enhancements in place, we are so glad to have the Garden reopened and waiting for all who want to explore this tropical paradise. To our Members and those who bolster the Garden's mission through visits, donations, and community partnerships, here's a closer look at how your support has helped the Garden thrive these past several months (and for those interested in additional giving opportunities, please click here).
1. Safety First – If you haven't been back to the Garden yet, when you do arrive, you'll notice safety and cleanliness have taken center stage. Don't get us wrong: We've always maintained our Garden to the utmost standards. But we have some new, permanent fixtures in place that promise to enhance public safety well after the threat of COVID-19. Upon your return to the Garden, you'll notice plexiglass panels at our ticketing windows, touchless water bottle filling stations, hand sanitizer stations, and you may even catch sight of our Operations staff members spraying a hydrogen peroxide solution. Not only is it effective, but it's also safe for guests, and (of course!) the plants. An added bonus: These increased health measures will go even further to help prevent the spread of seasonal flu and other contagions.
What to expect during your next visit to the Garden
2. #STAYPLANTED – Ironically, the Garden's closure opened our mission to more people than ever before. By the end of the day March 16, the day we ceased public operations, plans were in the works with one goal in mind: how to bring the Garden to people, when they cannot come to the Garden. Within the week, Education team staff — whose faces are familiar to many from group tours and events — began making cameos in YouTube DIY videos ranging from how to create your own vanilla extract to how to start seeds in toilet paper rolls. Collection updates on our blog, coveted Fogg Café recipes, on-the-ground updates from our Horticulture team, and kid-friendly activities round out the content on naplesgarden.org/stayplanted. The best part: You help determine what resources we share through your time spent on our website and participation on our social channels.

3. Citizen-Science Abounds! Ever wonder what are those wiry weeds that push up between sidewalk cracks, or find yourself eyeing those flowers that surface in your neighborhood every spring? Our unexpected closure offered the perfect opportunity to launch Project Stay Planted, the Garden's citizen-science endeavor using the iNaturalist app. The app allows people to learn more about the plants around them while collecting data that ultimately helps plant ecologists and researchers. From Earth Day, April 22, through May 25, participants downloaded the app and took photos of the plants they saw. Once subject-matter experts identified the plants, they were catalogued in data sets that reveal plant species range, commonality, and sometimes, unexpected locations.
This summer, we continue to share different ways you can stay involved in the iNaturalist community and introduce new learning tools within the app, so keep an eye out on our Notes from the Garden blog and social channels!
4. TLC for our collections – Late each summer, the Garden closes so that the Horticulture team members can take on the big projects they're unable to tackle while guests are on site. This year, that annual closure came early, and with it, the addition of new plants — vireya rhododendrons from Hawaii, a Jatropha collection, and a number of cycads — just to name a few. Our team seized the opportunity to remove and relocate sick or slow-growing palms and trees, perform renewal pruning to reign in leggy growth, mulch, aerate … and the list goes on. The end result: a beautiful and vibrant space to experience upon your return.
Reserve your timed-entry tickets to the Garden 
This article is from the Summer 2020 Garden Magazine.
---
About the Author
Jenny Fuentes is the Content Manager at Naples Botanical Garden. She is a communications professional with experience in the nonprofit and higher education arenas. It's the thrill of a good story that keeps her anchored to this profession.