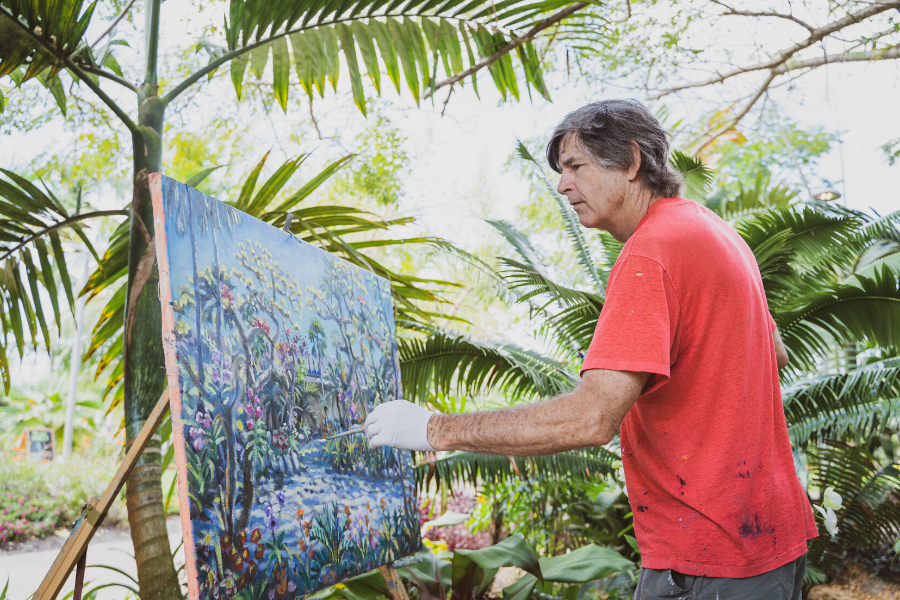 Paul Arsenault has created a new series featuring Naples Botanical Garden for The Impressionist's Garden: Plein Air Paintings by Paul Arsenault, presented by BNY Mellon Wealth Management, on display through November 8.
The first works Paul Arsenault painted in Naples were somewhat simple: bold blocks of color, mostly greens, his attempt to capture a lush, verdant landscape so utterly foreign to a 20-something-year-old New Englander.
It is more than four decades later, and Arsenault stands in the Kapnick Brazilian Garden, paint brush in hand, transforming a blank canvas into a rendering of the Burle Marx mosaic. It is detailed and intricate and dense with shapes, textures, and shadows. There's still plenty of green but just as many colors from the rest of the spectrum.
The exhibit celebrates the Garden's evolution from a community dream to a world-class establishment. It also traces the maturation of an artist, putting never-before-displayed works like those early Naples paintings against his acclaimed, impressionistic landscapes.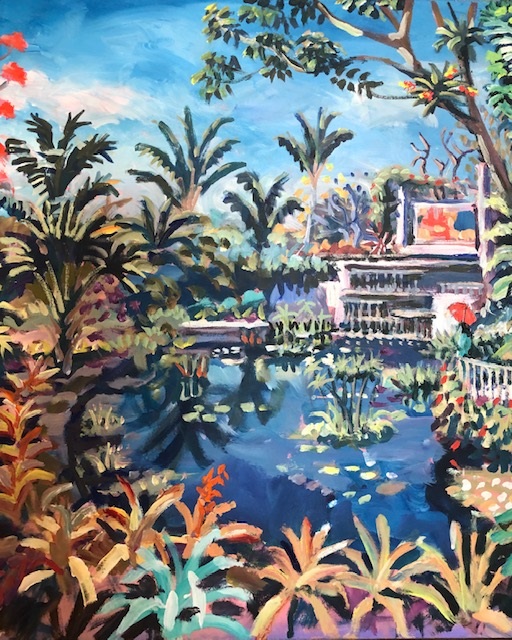 "It shows a history of my development as an artist. It shows dimension. Everyone thinks I'm just hanging out drinking cool drinks in Old Naples," says Arsenault, with a quick and hearty laugh. "This shows an artful progression and the lush landscape that I responded to right away."
Read more about Arsenault's lifelong love of the artistic world and his longtime relationship with the Garden
Arsenault has a love for gardens and got involved in ours back when it was still a community dream. He painted an orchid sale that residents coordinated as a fundraiser and used it to generate additional money. At the request of early benefactors, he painted his vision of a subtropical garden, another fundraising venture.
Over the years, he's wheeled his cart of supplies to the Garden many times to capture its ever-changing vistas. He remains one of our ardent advocates.
For this exhibit, Arsenault went big, producing 10 4-by-6-foot canvases, two panels for each of our cultivated gardens. He'll also show a few smaller paintings depicting other Garden scenes, along with those early works.
"To be witness to such a successful community endeavor is just exciting," Arsenault says. "It means so much to be able to express my feeling for and love for the Garden and how it should be appreciated and honored. That's why I want to make (this exhibit) a very important part of my art and my career. This is a major piece for me."
He sought to capture the "essence" of each garden—the "magnificent color and richness" of the Kapnick Brazilian Garden, for instance, or the "heart" of the Scott Florida Garden in the Smith River of Grass that leads to it.
Arsenault chose to portray the Garden's most iconic features—the mosaic wall, the Pastore Family Caribbean House, the kid-sized cottage in the Smith Children's Garden. With his artist's eye, he also identifies and invites viewers into scenes they might otherwise overlook. In the Kapnick Caribbean Garden, for example, he painted off-the-beatenpath palms lining a strip of sand. In the Kapnick Brazilian Garden, he zeroed in on a winding pathway that evokes a sense of mystery. In the Scott Florida Garden, he positioned his easel on a lakeside walkway below an elevated chickee. As a result, the structure appears to loom over the Garden, a nod to the native cultures that once reigned here.
"I can't just do 'greatest hits,' front on," he quips. The artist takes some creative license, infusing his paintings with elements that may not be present in reality. He exaggerates the hue of bromeliads in the Brazilian Garden paintings, for example. On one of the Children's Garden panels, he includes a hint of the Gulf.
"I wanted to put (the Garden) in the context of where we are in Naples Bay," he explains. The Garden is thrilled to host this new exhibit, says Erin Wolfe Bell, Director of Exhibitions.
"Paul is fascinated with botanical gardens and has painted them all over the world," she says. "But his deep connection to Naples Botanical Garden is evident in this exhibition; you can almost feel his passion spilling from each scene. When he's in the Garden working, or talking about his Garden paintings, there's a special spark. We're so fortunate to have an artist like Paul to capture the Garden so brilliantly."
See the exhibition in Kapnick Hall through November 8. Included with regular Garden admission; free for Members. View the digital catalogue.
This article is from the Summer 2020 Garden Magazine.
---
About the Author
Jennifer Reed is the Editorial Director of Naples Botanical Garden and a longtime Southwest Florida journalist.
---
The Impressionist's Garden: Plein Air Paintings by Paul Arsenault, on view in Kapnick Hall, is presented by BNY Mellon Wealth Management and included in regular admission, free for Members.