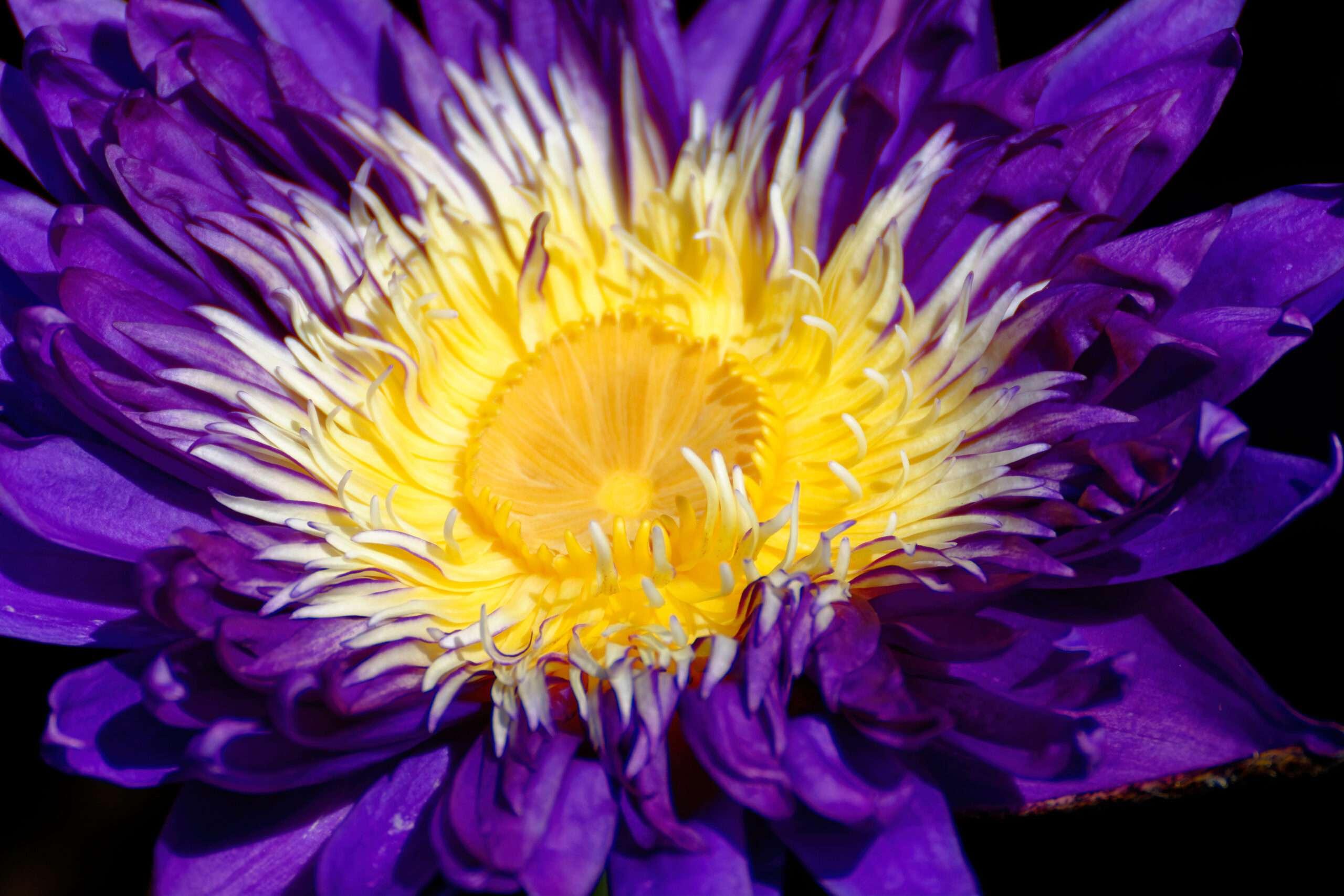 A couple of weeks ago, I tagged along with photographer Paul Osborn, who has been documenting the Garden for the past six years through the lens of his Nikon.
A few days later, he sent me a flash drive containing the best images from our morning excursion, and when I reviewed them, all I could think was: Our Garden looks like this?!
The first image alone — a dying leaf — was stunning. What Paul captured didn't look like decay at all. Instead, it appeared that an artist had swirled watercolors in rust, ebony, and bronze to create an abstract representation of a leaf. I examined another: a pink waterlily, past its prime, but more interesting than the most perfect of blooms. The photographer managed to present exposed seeds on one stalk, tender petals on the other, lush green, and withering brown all in the same frame — a window into a life cycle.
Today, as part of our 10th anniversary season, we open an exhibit of Paul's work, Inner Beauty: A Photographic Celebration of Naples Botanical Garden. Twenty-five images will hang in Kapnick Hall through January 5.
"When I come into the Garden, I'm looking for colors, shapes, patterns — just about anything that catches your eye," he says.
Paul is a self-taught photographer. He discovered the craft about 25 years ago when he borrowed his son-in-law's film camera, took an immediate interest to it, and scoured area libraries for every photography book he could get his hands on.
"I probably read every book they had," he says.  He switched to digital photography once the technology advanced and developed a specialty in "macrophotography," capturing objects at extreme close-up.
To do that requires a different way of seeing the familiar. We're in the LaGrippe Orchid Garden, and he passes by big showy blooms, peering instead at the plants tucked in crevices or entangled in stems and leaves.
"I've probably got 50 photographs of something like that," he says when I ask him about the flowers he had disregarded. "I'm looking for something interesting."
He snaps a couple of frames, shifting his body this way and that to get the right bloom framed before the right backdrop. The one he sends me later is a cluster of orange-hued blooms with scarlet "freckles" set against silvery strands of moss. The image looks almost three-dimensional.
Hover over this image and click the left or right arrow buttons to see more photos by Paul Osborn.
"I've watched people in here, and they look straight ahead, and they see a couple of neat things, and that's it," he says. "But if they just stood in one spot, there's probably 50 different things they can see."
What is it Thoreau said? "The question is not what you look at, but what you see."
A little later, as if to prove his point, Paul stops by the Burle Marx mosaic in the Kapnick Brazilian Garden, surely one of the most photographed places in all of Naples. He pays the wall no heed and looks instead at a small container garden showcasing water plants. Like our lily pools, the water in these planters is dyed black, giving an illusion of depth and a backdrop that lets the color and features of the plants pop. He presses the shutter button.
"What did you see in that?" I ask him.
"The color and the contrast against the dark green and black." The end result? A yellow bloom dominating the frame. A gold-colored leaf, rimmed in red, floats on the right-hand side. Three slender stems divide the image's left side into thirds. In short: a work of art right here under our noses.
Paul's exhibit is included in admission and free to members. To plan your visit, click here.
---
About the Author
Jennifer Reed is the Editorial Director of Naples Botanical Garden and a longtime Southwest Florida journalist.