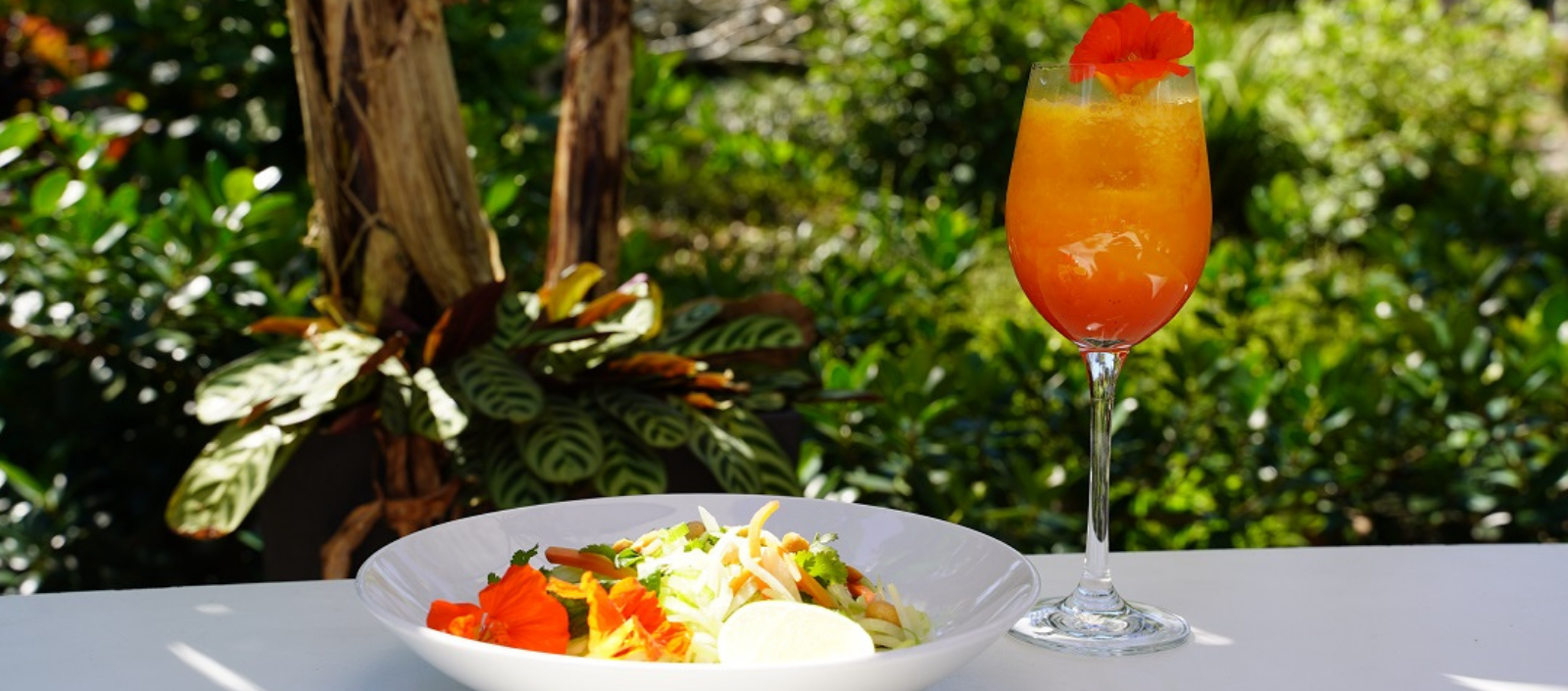 Enjoy this article, originally published in the Summer 2021 issue of Cultivate, the Garden magazine.
Perfect for an evening patio party or a weekend summer brunch, these recipes from Chef Jack Raben of Fogg Café offer ample opportunities to spring into summer!
The passion fruit Aperol spritz tastes super sweet mixed with the orange juice and offers a perfect balance with the bubbles of the champagne and the bitterness of the Aperol. The green papaya salad is light and crisp with a blend of refreshing flavors and spice followed by a peppery finish of the edible nasturtium flower.
---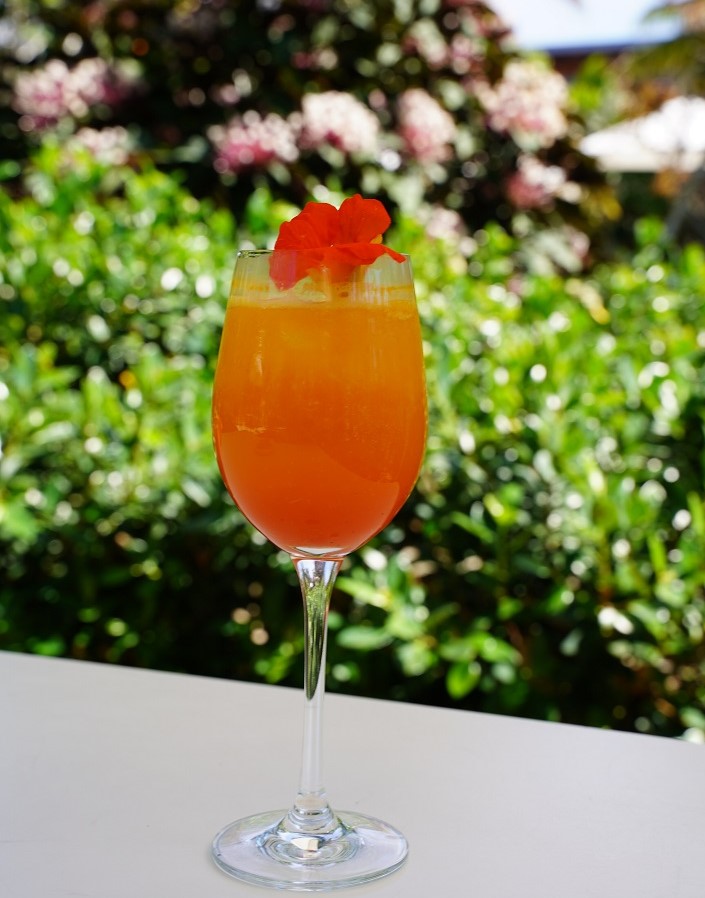 Passion Fruit and Aperol Spritzer

Passion Fruit Pulp
1. Cut the fresh passion fruit in half, scoop the pulp and seeds, and discard the rind.
2. Pulse in a food processor or blender to break the seeds out of the pulp, but not purée them.
3. Push through a fine-to-medium strainer (excess juice may be frozen for later use).
Spritzer
3 ounces sparkling wine
2 ounces passion fruit and orange juice mixture (2:1 orange to passion fruit juice)
1 ounce Aperol
Tip: Cut the passion fruit with fresh-squeezed orange juice to smooth out the flavor profile.
Serve over ice and your choice of garnish.
Want to turn your spritzer into a mocktail? Sub the sparkling wine and Aperol with sparkling water and a dash of grenadine.
---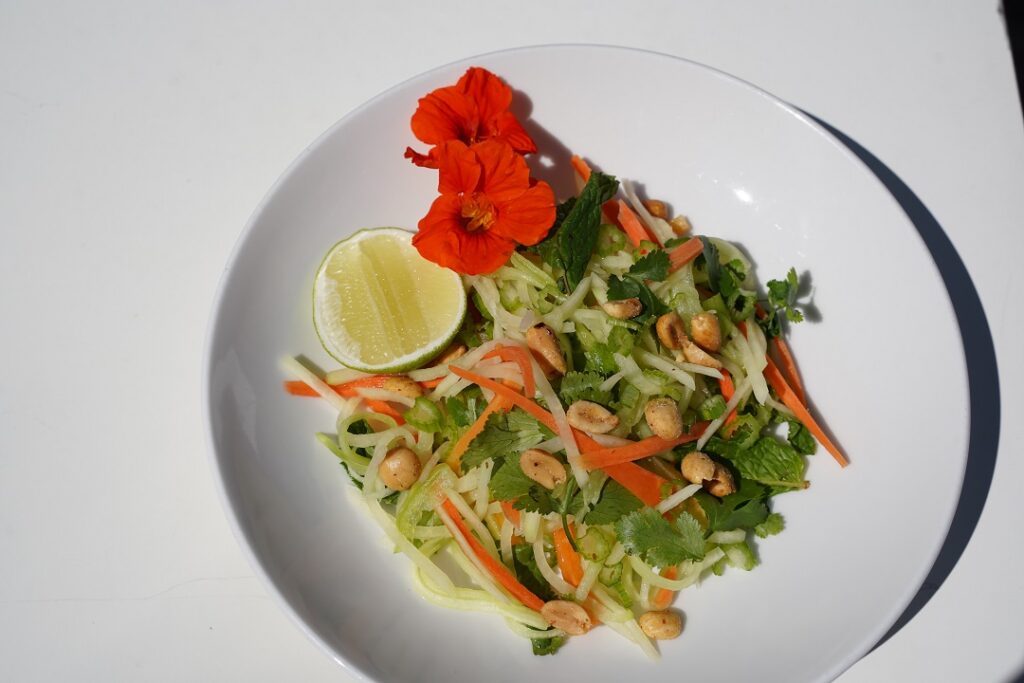 Green Papaya Salad
1 large green papaya, peeled and seeded, shaved on a mandolin with medium teeth into strips, or peeled into ribbons and then cut into strips. Note: If the papaya is too crunchy, salt first, and then strain for 10 minutes; if it is too soft, soak in ice water for 10 minutes.
2 – 3 Chinese celery stalks, thinly sliced at an angle (substitute option: regular celery)
½ English cucumber, seeds removed and thinly sliced or spiraled into ribbons
½ cup pickled carrots (recipe below)
½ cup picked and torn mint and cilantro leaves (basil may be added)
½ cup roasted and salted peanuts (optional for allergens)
¾ cup fish sauce vinaigrette (recipe below)
Pickled Carrots (Yields one cup)
½ cup rice vinegar
½ cup sugar
½ teaspoon kosher salt
1 cup julienned carrots
3 – 4 mint stems and leaves
Bring water, sugar, and salt to a boil, and simmer until salt and sugar dissolve.
Remove from heat, add mint and carrots, and let stand 20 minutes. May be refrigerated up to five days.
Fish Sauce Vinaigrette (Yields 1½ cups)
½ cup fish sauce
¼ cup sugar
¼ cup white or rice vinegar
1 lime, juiced
1 clove garlic, minced
1 inch peeled ginger, minced
2 Thai chilis, stemmed, seeded, and minced
Note: Gloves are recommended when handling the Thai chilis. Even though the sugar helps temper the spice level, you may opt to substitute with a less spicy chili. Mix all until sugar is dissolved; serve or refrigerate one week.
Want to create a vegan version?
Use ½ cup light soy in place of fish sauce or ¼ tamari for vegan and gluten-free.
Note: Tamari has a much higher sodium level than soy.
---
Picked with Passion
The Passion fruit in the Aperol spritzer was picked from the yard of Brian Galligan, Vice President of Horticulture. For the green papaya salad, the Chinese celery and nasturtium were sourced from the Marcia and L. Bates Lea Asian Garden, and Matt Herrman, Tropical Fruit Specialist, picked the green papaya from the Kathleen and Scott Kapnick Brazilian Garden.
Enjoy Chef Jack Raben's summer brunch and lunch menu at Fogg Café open 9am – 2pm daily.
---
About the Author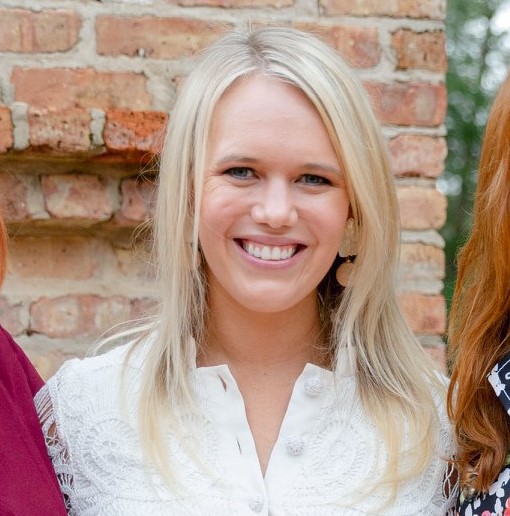 Darby Kordonowy is the Content Coordinator for Naples Botanical Garden. Darby loves learning! Her favorite plants are the jade vine (Strongylodon macrobotrys) and the Camellia japonica 'Pink Perfection.' She is an amateur bird watcher!