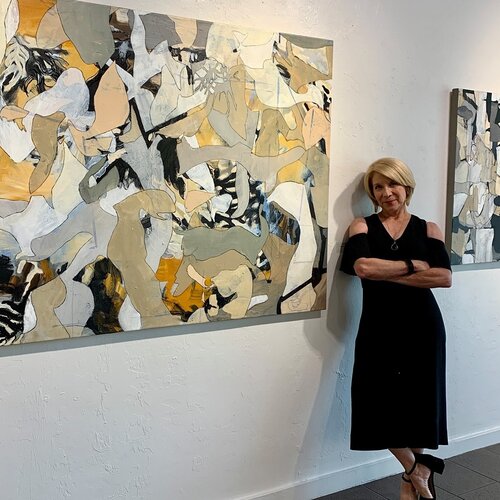 Once Hurricane Ian's winds died down, artist Patricia Zalisko did what we all did: venture outdoors. She lives inland and escaped major damage, but she was anxious to see how friends and fellow Southwest Floridians had fared.
The sights and stories, as anyone who lived through Ian knows, were horrific. The storm ravaged a restaurant owned by one pair of friends and the home of another. Zalisko saw coastal communities swallowed by the Gulf and coastal wildlife displaced and confused.
She began transforming her observations into poetry and art. Zalisko is a contemporary multimedia artist who specializes in the use of collage and authors accompanying haiku poems — a Japanese style using 17 syllables divided into three lines of 5, 7, and 5 each.
The result: 20 10-by-10-inch works, created on birchwood panels, each exploring a different aspect of the storm, revealing Zalisko's response to it, and suggesting the beauty that can result from devastation. Patricia Zalisko: For Life to Return is on display in Fogg Café through January 21, 2024.
Zalisko worked primarily in black, white, and gray. The series conveys everything from the rattle of her roof tiles (Ian's Jig) to the destruction of the shrimp boats (The Fleet) to the tragic discovery of a woman's body and the sandhill crane that served as a sentry over her (The Departed).
On the day Zalisko completed her last piece, she heard a news report about the Garden's efforts to restore beach dunes, which can reduce the impact of wind and water damage to coastal homes and businesses.
"It was pure coincidence," Zalisko recalls of the newscast. But a serendipitous one as the artist had been seeking a place to show her work and determined the Garden was the perfect partner. She, in fact, had reflected on the tenuous relationship between the natural and built environments in the piece titled Fragile Union. "Marrying nature/With architecture creates/A fragile union," reads its accompanying haiku.
The exhibition is for sale, either as an entire body of work or as individual pieces, and Zalisko will donate 100% of the proceeds to the Garden and its coastal resiliency work.
"Patricia's work captures the sounds, the movement, the emotions, and the impacts to nature and humankind left by Hurricane Ian on Southwest Florida," says Vice President of Conservation Chad Washburn. "We are grateful that her work is a part of that process of healing and understanding in so many ways and are thankful that her generous support from the sale of each piece helps the Garden to restore our coastal ecosystems."
Zalisko hopes her work inspires people to consider their impact on the natural world.
"I want people to think about what's going on. And maybe become a little more proactive about saving their environment," she says.
That sentiment is perhaps best reflected in Nature's Fury with its jagged-edged images and its jarring reminder:
Nature demonstrates
Her fury at our treatment
Of her gifts to us.
About the artist: Patricia Zalisko grew up in New York City where she developed a fascination with art museums and galleries. Her earliest recollection of making art comes from her preschool years when her mother introduced her to the Ukrainian tradition of decorating Easter eggs, known as "pysanky." At her mother's insistence, she eschewed the financial uncertainty of an artist's life and instead studied law, ultimately becoming a government attorney and mediator for a state agency. She and her husband retired to Florida in 2004, and Zalisko reignited her passion for art.
She trained under various mentors, developing a bold, abstract style, largely influenced by nature.
"I go outside, and I marvel at light and darkness, the shapes the textures," she says. "I draw my inspiration from nature. It may not be in an obvious way — I'm not going out there painting a landscape — but I wouldn't know how to appreciate the difference between light and dark and something that's smooth or heavily textured unless I was out there learning from nature."
Zalisko is an avid reader who took up poetry at the suggestion of an art coach, who urged her to explore short verse as a way of "giving her brain a break" from making art and reading complex books. She develops written and visual imagery concurrently.
"It's kind of like a little marriage between the creative and the analytical," she says.
Discover more about Zalisko and her work.
Patricia Zalisko: For Life to Return is included with Garden admission, free for Members. Plan your visit, including summer hours and special summer resident discounts.
---
About the Author
Jennifer Reed is the Garden's Editorial Director and a longtime Southwest Florida journalist.