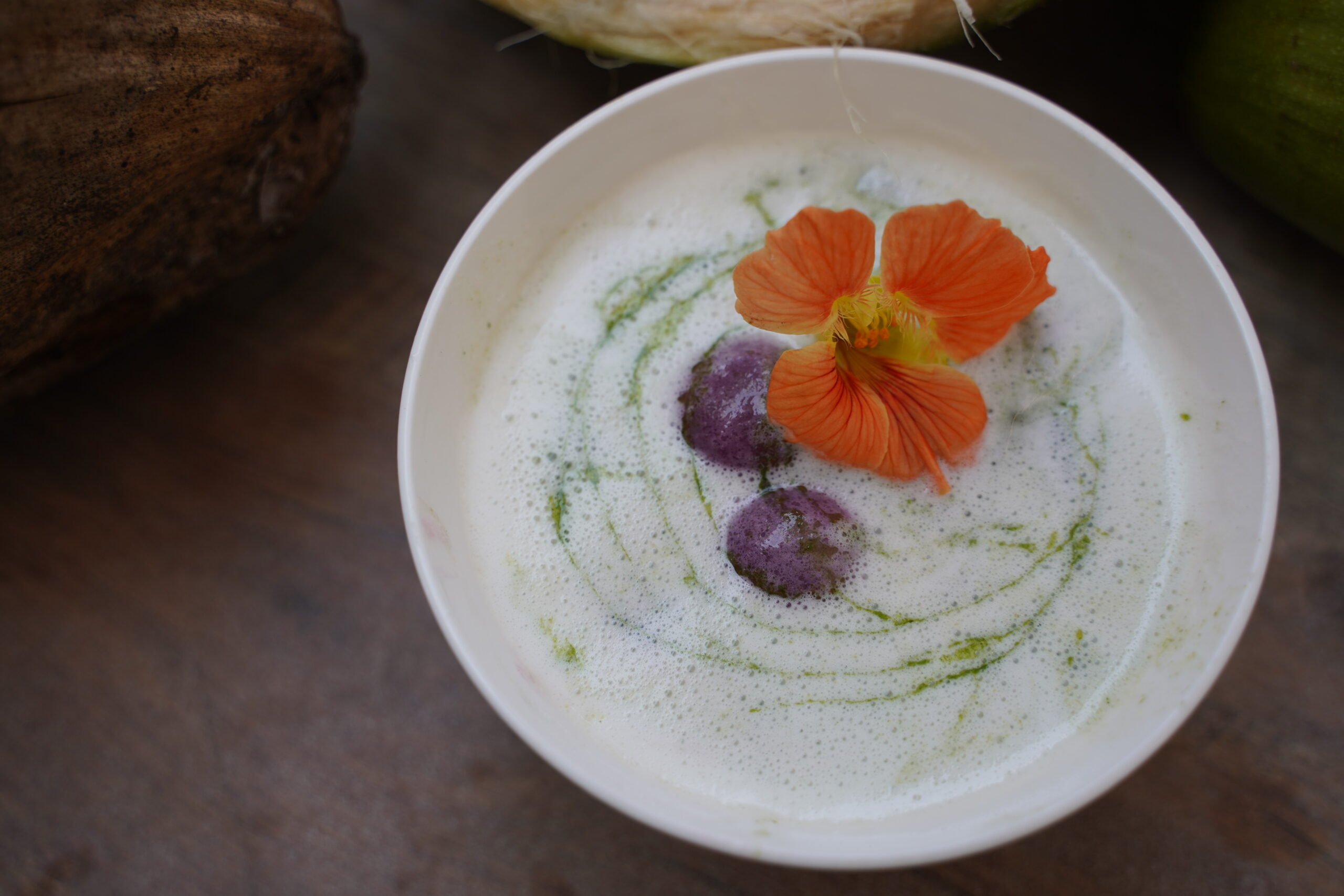 What's better than a refreshing cold soup on a hot summer day?
---
Ajo blanco, also known as white gazpacho, is referred to as Spain's chilled summer soup.
For this recipe, Fogg Café Chef Andrew Foyt combines coconut milk, almond, garlic clove, and cucumber for a creamy soup brightened by mint oil and garnished with pickled mint leaves and parsley.
To add a pop of texture, the chef adds roasted grapes, while the mint oil provides a hint of spice to the rich soup. Drizzle the oil in a decorative aesthetic on top of the soup to wow your dinner guests. Make this soup at home, and try it at the Garden's Fogg Café during Tasting the Tropics on Saturday, July 2, from 9am – 2pm.
Chef Andrew sourced the coconut and garnish herbs from the Garden with harvesting help from Matt Herrman, Tropical Fruit Specialist.
---
Ingredients
Coconut Gazpacho:
1 quart of coconut milk
1 cup of blanched and sliced almonds
1 garlic clove, smashed
¾ cup cucumber, peeled, seeded and chopped
½ cup extra-virgin olive oil
¼ cup lime juice
pinch kosher salt
Mint Oil:
1 cup pickled mint leaves
1 cup parsley leaves
½ cup canola oil, or any neutral oil
Roasted Grapes:
2 cups red seedless grapes
1 tablespoon sugar
½ teaspoon salt
2 teaspoons extra-virgin olive oil
---
For the Gazpacho:
Place all ingredients in a blender, and blend on high for one minute, or until well emulsified. Pour into a separate container, and chill for at least two hours.
For the Mint Oil:
Bring 2 cups of water to a boil in a small pot. Once boiling, steep mint and parsley leaves in water for 30 seconds, or until they turn bright green.
Scoop herbs into a prepared ice bath to "shock" herbs and stop the cooking process. After a few minutes, remove the herbs from the ice bath, and squeeze out the excess water.
Put the herbs on a cloth napkin, roll over the edge, and wring out leftover water.
Once dried, place the herbs into a blender with the oil, and blend on high until smooth and bright green. Transfer to another container; let chill.
For the Grape Garnish:
Pick the grapes off the vine, and toss in the sugar, salt, and oil.
Transfer to a sheet pan lined with parchment paper, and roast in a 300-degree oven for 30 minutes. Transfer to a container; let chill.
Assembly:
Pour chilled gazpacho into your preferred soup cup, arrange 4 – 5 roasted grapes on top, and drizzle with mint oil.
This recipe originally appeared in the Spring/Summer 2022 issue of Cultivate, the Garden's magazine.
---
About the Author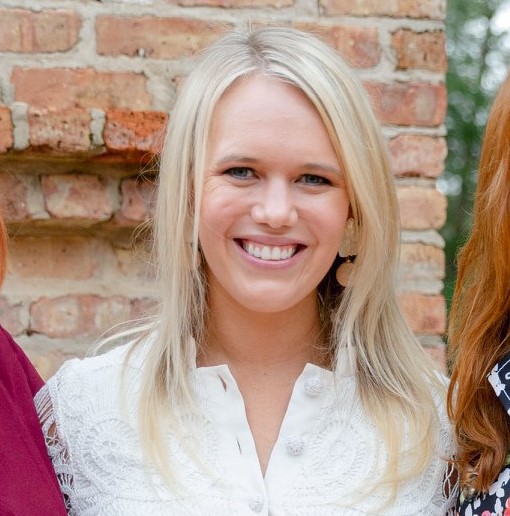 Darby Kordonowy is the Content Coordinator for Naples Botanical Garden. Darby loves learning! Her favorite plants are the jade vine (Strongylodon macrobotrys) and the Camellia japonica 'Pink Perfection.' She is an amateur bird watcher!