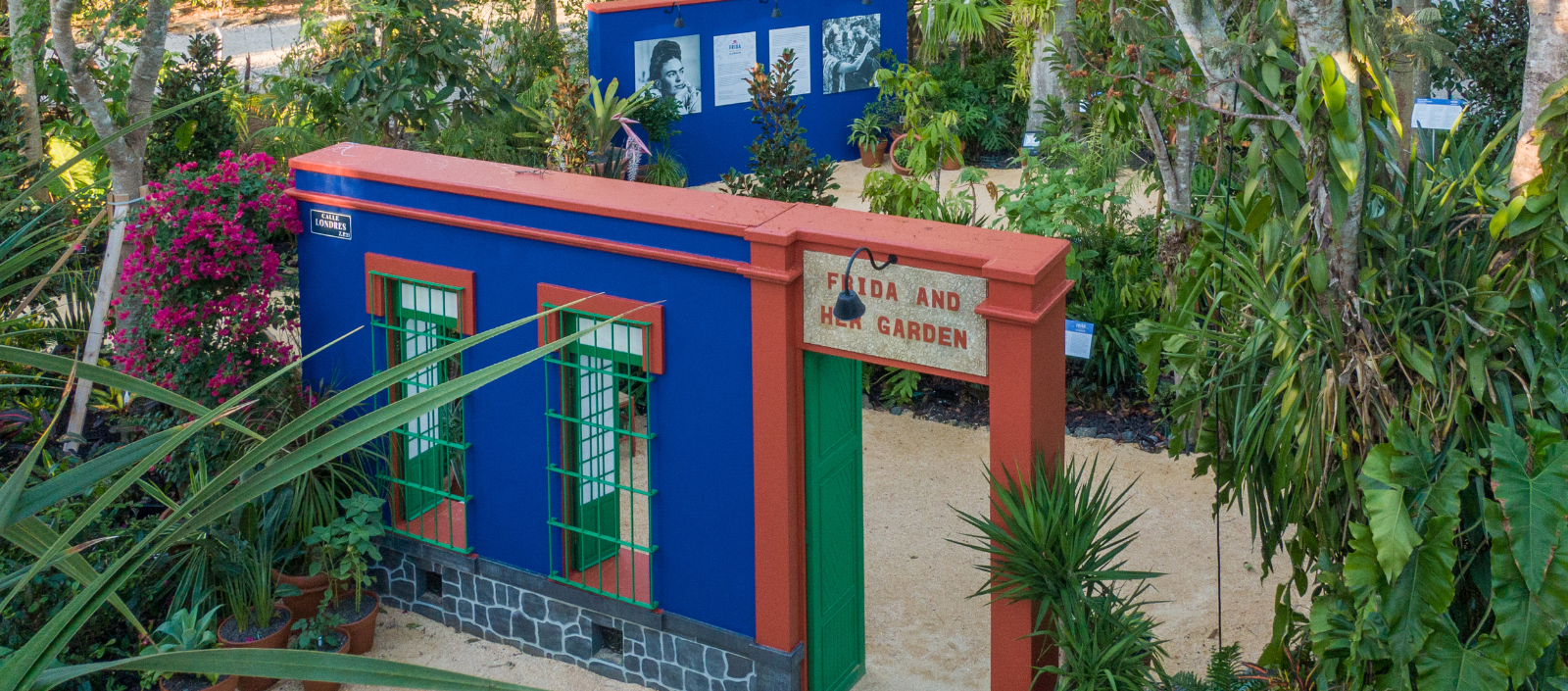 One of the most compelling things about artist Frida Kahlo was her pronounced sense of self — her embrace of traditional Mexican dress. The way she wore her hair. The soul-bearing autobiographical paintings. And the transformation of her home and garden into an homage to her native culture.
So says Perla Labarthe, general coordinator of Museo Frida Kahlo, the artist's Mexico City home that was immortalized as a museum after her death in 1954.
"Frida was keen to develop her own personality, her own identity," Labarthe said during a recent visit to the Garden to kick off the opening of Frida and Her Garden (January 14 – September 10). "She decided how her house should be. That was an extension of her identity. It was what she valued, what she cherished, what she wanted shown to others."
Frida and Her Garden replicates portions of Kahlo's beloved home, La Casa Azul, or the Blue House, surrounded by plants reminiscent of the home garden she cherished. Kahlo was raised in that house, though it initially had the look of a typical 20th-century home, painted a traditional light color, Labarthe explained. The garden featured highly cultivated flowers, such as roses and geraniums. Once Kahlo took ownership, she and her husband, muralist Diego Rivera, overhauled the home, giving it a Mexican look inside and out. They painted it the now-famous cobalt blue, accented with red trim, surrounded by green foliage and black volcanic rock.
"These four colors together make a beautiful palette," Labarthe said. The home became a work of art unto itself.
As for the garden, Kahlo replaced the formal flowers with tropical species and native Mexican plants, such as cacti. The couple installed a stepped pyramid and other elements in the garden on which they displayed Rivera's extensive collection of pre-Hispanic figurines.
"(The garden) was a statement of what Frida valued in the vegetation and the pieces she put there," Labarthe said. She incorporated many of those plants into her paintings. "It was her creative universe."

In a way, Kahlo's insistence on showcasing her region's native beauty mirrors the Garden's push for the same. In working with local governments, our experts encourage policymakers to give Southwest Florida a strong sense of identity in its public landscapes by using plant species unique to this part of the world.
Kahlo's garden reflects ours in another important way, as a place of tranquility. The artist had suffered from polio as a child and a bus accident in her teens that nearly killed her. La Casa Azul and its garden served as a refuge and place of healing.
Labarthe said she was "thrilled" when our Garden approached her about the exhibition, which was originally shown at San Antonio Botanical Garden. She has worked with our team to ensure the authenticity of our depiction of La Casa Azul.
"I think a wonderful way to start learning about Frida is through her garden," she said. "I think nature is one of the most amazing sources of inspiration for many, many artists."
Frida and Her Garden is included with Garden admission; free for Members. You can also enjoy it after hours during Frida After 5, the first Friday of the month, February through May.
This post supports this year's theme, Mexico: A Celebration of Plants & Culture, which highlights one of the most biodiverse places on Earth and celebrates cultural connections to the natural world.
---

About the Author
Jennifer Reed is the Garden's Editorial Director and a longtime Southwest Florida journalist.