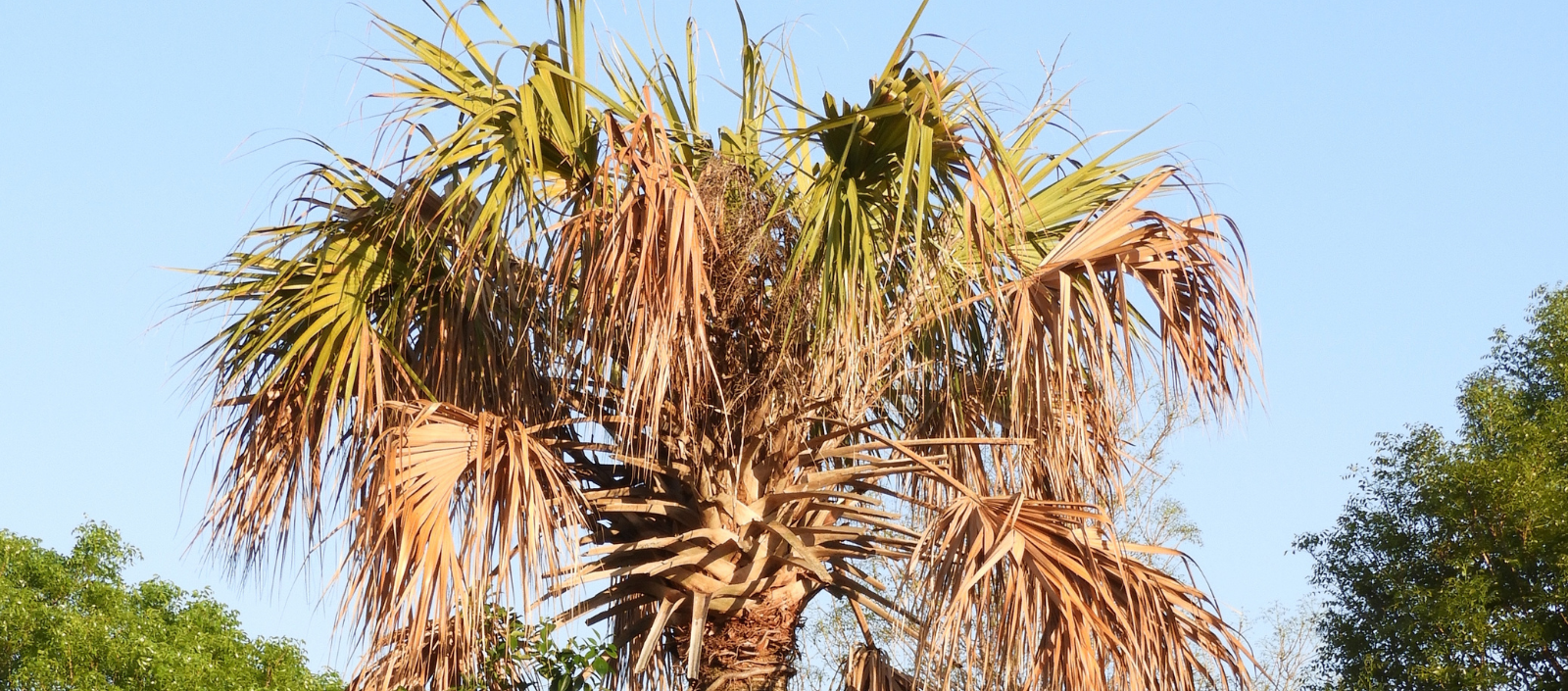 Lethal bronzing disease (LBD), formerly known as Texas Phoenix Palm Decline, is a devastating disease of palm trees. As the name suggests, lethal bronzing is fatal to about 19 palm species, many of which are common in the Collier County landscape. The disease is believed to have originated in Jamaica and was first documented in Florida in 2006 in the Hillsborough County area. Homeowners might remember a related disease, lethal yellowing, a bacterium that was notorious for destroying tens of thousands of beautiful coconut trees across South Florida. LBD may pose an even bigger threat. The list of palms that may be susceptible to LBD is significant — and growing — as new research expands our understanding of this terrible disease. Some of its victims are prolific in our region's landscape and iconic to Florida. These include Florida's state tree, the sabal palm, and the queen palm.
Lethal bronzing disease is a type of phytoplasma, a bacterium that invades the plant's phloem tissue. It is transmitted through the bite of Haplaxius crudus, which belongs to a group of insects known as planthoppers. This insect is nearly undetectable due to its small size, ability to camouflage, and the fact that it takes residence in the high canopies of palm trees. The phytoplasma bacteria resides in the insects' guts and are transmitted from tree to tree through their mouth parts.
To date, there is no known cure and limited funding for research. As the Garden's Plant Health Manager, this is worrisome. We have hundreds of palm trees in our collection.
I connected with a leading researcher on lethal bronzing, Dr. Brian Bahder at the University of Florida. He was kind enough to come out and survey our trees for Haplaxius crudus. His research focuses on the origins of the disease using genetic information gathered from hundreds of planthopper specimens. Dr. Bahder and I spent a few hours searching in the Garden for the insects. We identified H. crudus in several palm trees and sent them to a lab in Gainesville for analysis. Thankfully, none turned out positive for LBD.
However, lethal bronzing is present in Collier County and is becoming a problem for this area. Identifying the disease is tricky because the symptoms of LBD are often confused with potassium deficiency and the natural decline of palm leaves. Both of those conditions cause the fronds to turn yellow or brown in color. In cases of lethal bronzing, symptoms include rotting plant buds, early fruit drop, and a change in the color of the fronds. The lower leaves become a distinct red- to-bronze color, and they decline rapidly, starting at the bottom of the crown and moving toward the top spear leaf. This process takes from a couple of months to a year, depending on the species and the health of the plant at the time of infection.
There is no known cure for the disease, but there are things you can do to help researchers and to keep the disease from spreading. If you suspect your tree has fallen victim to LBD, send a photo to your local county extension office so they can assess whether your tree has indeed been infected. Usually, they need to take a tissue sample from your palm tree to confirm a positive case. You may also send a sample to the Palm Phytoplasma Diagnostic Clinic at the UF/IFAS Fort Lauderdale Research and Education Center, where technicians can process yellow sticky traps to determine the presence of H. crudus and determine if the local population carries the disease. Sample submission forms and instructions can be found at www.bahderlab.com under the "Services" tab. If an infection is confirmed, it is critical that you remove the tree as soon as possible. Afterward, it would be wise to test all the remaining palm trees in the given area and follow up with a preventative treatment of oxytetracycline every three months for two years. This is an antibiotic that is injected into the base of the tree in the hopes of keeping the bacteria from spreading.
Limiting LBD is important to the look and health of our region's landscape. Dr. Bahder compares it to a malaria outbreak: Once an infected tree gets bitten by a planthopper, that planthopper — like a mosquito — can spread it to multiple other trees. Research for H. crudus biocontrols could take decades, so in the meantime it's important to stay vigilant in order to protect our precious palm trees.
---

About the Author
Cameron Cole is the Plant Health Manager at Naples Botanical Garden.