The instructions were scant and mostly pictorial: Stack tables into tiers. Drape table coverings. Decorate.
Artist Ricardo Soltero, the mastermind behind the La Calavera Catrina exhibition, had intended to visit the Garden in early October to create an ofrenda, or memorial, a hallmark of Día de los Muertos (Day of the Dead) celebrations throughout the Latin world. Hurricane Ian canceled those plans. So in the days before our first Día de los Muertos Celebration, our staff members hustled to interpret Soltero's intent and create a display worthy of the artist and the holiday it represents.
"We looked at a lot of photos of his previous works," says Erin Wolfe Bell, the Director of Exhibitions & Special Programs. "So, we had a good idea of how he builds them."

Traditionally, an ofrenda includes favorite foods and mementos, candles, photographs, and marigolds, whose bright colors and fragrances guide souls home. Soltero shipped some items, such as marigold garlands and ornate skulls he created from papier-mâché and gave a shopping list with instructions to procure the rest. It included purple fabric, bins, tables, corn, wood strips, and bowls of sea salt, traditionally used to purify the souls during their visit home.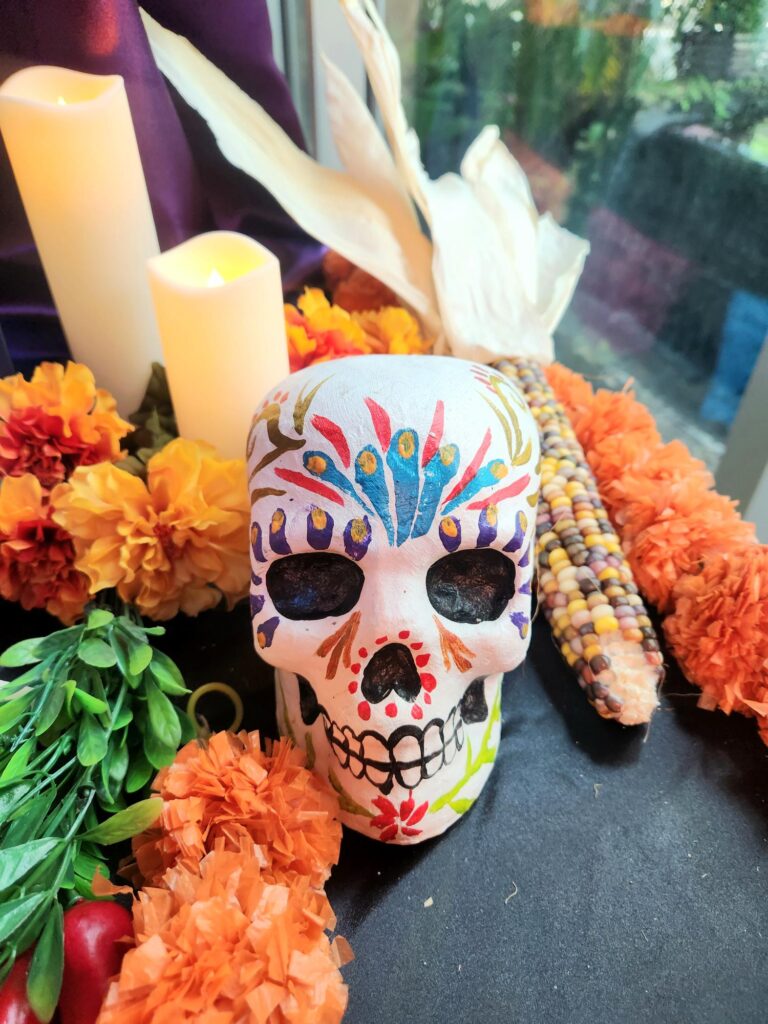 As our team channeled the artist, the artist himself was busy overseeing the world's biggest Día de los Muertos celebration outside of Mexico at the Hollywood Forever Cemetery, where Soltero is the event's artistic director. He responded to our questions via Instagram, the only reliable way to reach the busy artist quickly. Luckily, he had given the staff a lot of artistic license.
"We figured it out," Bell says, putting the finishing touches on the display.
This post supports this year's theme, Mexico: A Celebration of Plants & Culture, which highlights one of the most biodiverse places on Earth and celebrates cultural connections to the natural world.
---
About the Author
Jennifer Reed is the Garden's Editorial Director and a longtime Southwest Florida journalist.