New Waterlily Hybrids
Make World Debut
at Naples Botanical Garden
Starting this June 2019, and through 2022, Naples Botanical Garden will host the New Waterlily Competition. All entries will be grown under the supervision of Aquatic Areas Manager, Danny.
Members and Guests will have the opportunity to see hybridized varieties of the waterlily plant genus Nymphaea, with entirely new traits such as blooming, color, cold and heat hardiness, fragrance, form, unique foliage and anything that favorably distinguishes it from what already exists.
See the competing waterlilies in person! They are currently growing in special aquatic gardening tanks in The Grove, located between the Lea Asian Garden and Scott Florida Garden. Click here to plan your visit.
---
About the New Waterlily Competition
Each year, contestants from across the globe produce hybrid waterlilies to enter into the International Waterlily & Water Gardening Society's (IWGS) New Waterlily Competition. IWGS formed a collective in 1982, as the world of water gardening grew in popularity and complexity in Colorado. Today, IWGS has members with various levels of expertise in aquatic gardening and a shared passion for improving growing techniques, creating new hybrid plants and expanding research.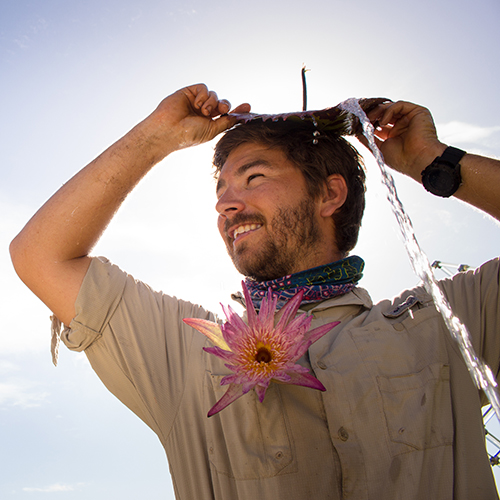 Follow Danny (pictured, right) and our team of gardeners with regular updates, posted below! If you have any questions or requests for topics for us to cover on the New Waterlily Competition, please email info@naplesgarden.org.
---
Latest Update:
One new waterlily will be added to the Garden's permanent collection, later this Fall. Cast your vote here! READ MORE
See how Morgan applies some lessons in aquatic gardening while Aquatic Areas Manager Danny Cox and Aquatic Areas Technician Matt Herrman attend the International Waterlily and Gardening Society 2019 Symposium in France. READ MORE
With the first blooms of the season, the New Waterlily Competition has arrived in the South Grove at Naples Botanical Garden. Learn about hybridization, and see how the first specimens were transplanted. READ MORE