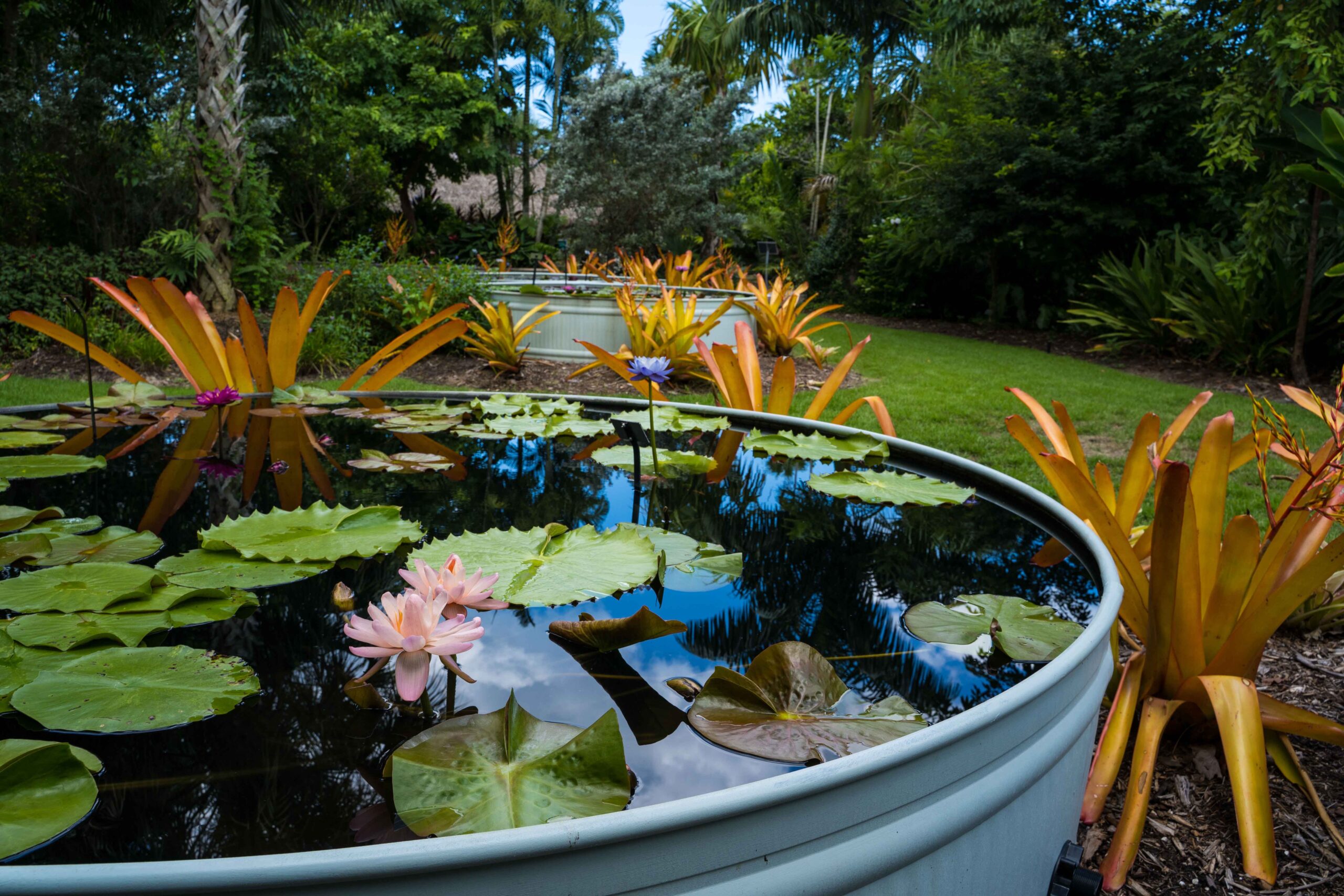 Wednesday, December 01, 2021
The waterlily that won judges' hearts this year is a cup-shaped beauty with mottled petals – dark purple, light purple, fuchsia, and white, contrasted by a tangerine-colored center and surrounded by leaves in a painterly pattern of green, red, and brown. The International Waterlily & Water Gardening Society (IWGS) today, December 1, released the winners of the 24th Annual New Waterlily Competition, hosted here at Naples Botanical Garden. Twenty-six hybridizers from nine countries each submitted a plant for consideration, the largest pool of candidates in the competition's history.
The overall winner: Pornchai Sukkasemsamranjit of Thailand with his hardy intersubgeneric cross Nymphaea 'Purple Zebra.' He's a veteran hybridizer who has won honors at the competition before.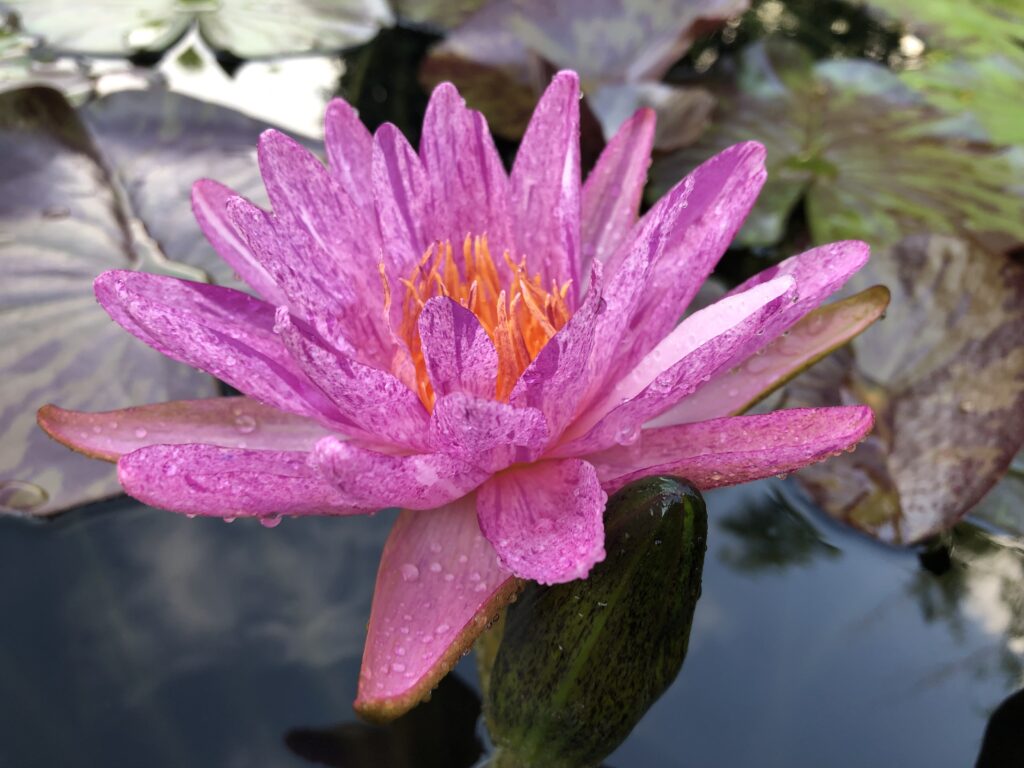 "Pornchai's plant 'Purple Zebra' is truly a standout," says Kathy Cahill, the Garden's Aquatic Areas Manager, who was responsible for growing and tending the competition flowers, as well as documenting them via photography, observation, and datapoints for the international panel of judges. "It flowers prolifically and consistently, with six or more flowers a week. The contrast in coloration between the flowers and pads is truly unique and visually arresting."
The hardy intersubgeneric category was born out of hybridizers' quest to create purple and blue hardy waterlilies—colors present in tropical waterlilies but not in the more cold-tolerant hardy ones, explains competition chair Suzanne Boom. The winning hybridizer isn't the first to have succeeded in achieving the color by crossing a hardy with a tropical, but 'Purple Zebra' is "still a new look with those purple variegated flowers," she says. "It scored very well on all fronts."
First-place winners in other categories are:
Hardy Waterlily: Tony Moore (United States), 'Painted Pom Pom'
Tropical Day Bloomer: Korakott Pumpetch (Thailand), 'Foi Thong'
Tropical Intersubgeneric: Kanyaporn Inngam (Thailand), 'Ravissada'
Tropical Night Bloomer: Rajamangala Institute (Thailand), 'Tubtimchon'
(A full listing can be found on the IWGS website)
Tony Moore (United States), 'Painted Pom Pom'
Korakott Pumpetch (Thailand), 'Foi Thong'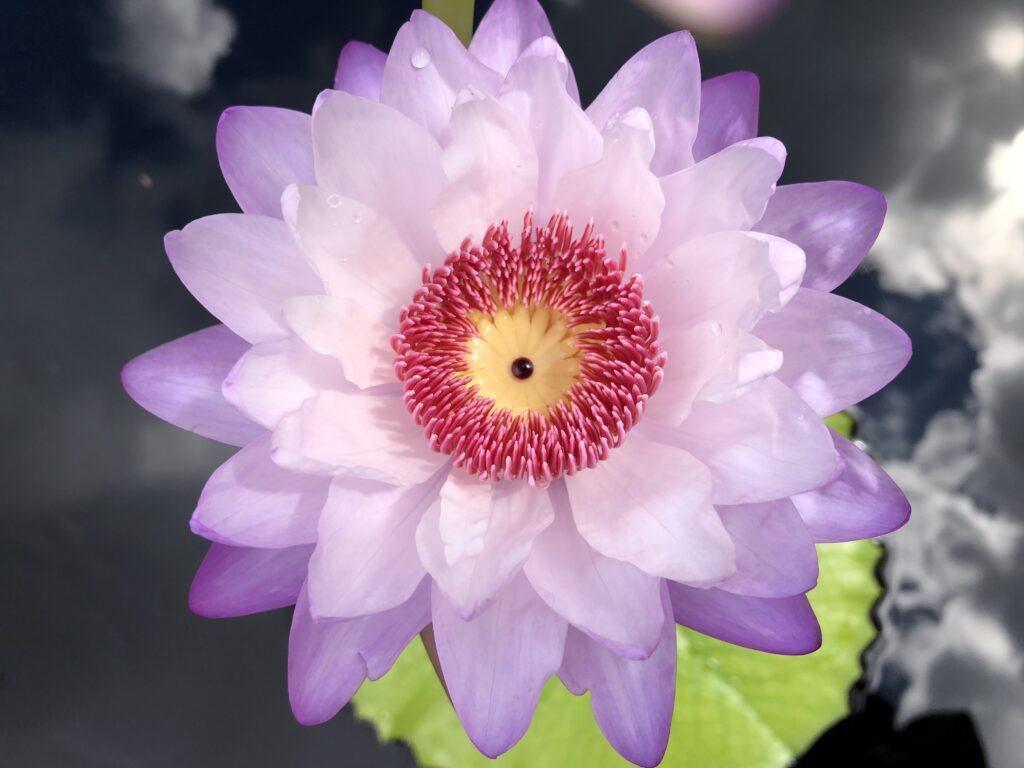 Kanyaporn Inngam (Thailand), 'Ravissada'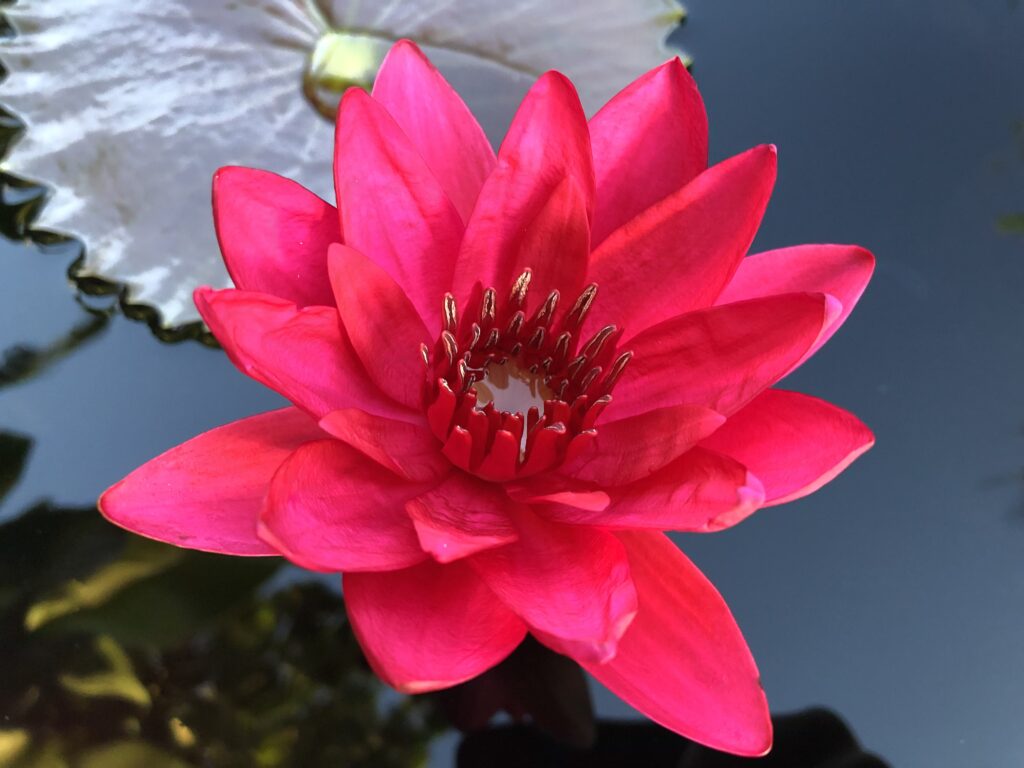 Rajamangala Institute (Thailand), 'Tubtimchon'
The judges—17 of them from around the world—and contestants remain anonymous to each other throughout the process. The judges consider: the flowers, including the frequency of their blooms; the foliage; general impression; and uniqueness. "There are lots of beautiful flowers out there," Boom says, "but not all of them bring anything new to the industry."
These winning plants certainly do. Cahill, for one, considers the first-place tropical night bloomer to be a standout. "What is truly worth noting is the color of the flower petals. Many night-blooming lilies are red, but this one is an amazing, vivid red, almost florescent," she says, likening the hue to "bright red lipstick kisses" or "red M&Ms."
Nearly all the hybridizers donated their competition plant, adding 22 new waterlilies to our collection. They are on display in the Kapnick Brazilian Garden in the upper pool by the Roberto Burle Marx mosaic. "They have continued to flower and grow exponentially," Cahill says.
Cahill added a unique perspective to her role: She's also been a competitor. Cahill was a floriculturist at the Garfield Park Conservatory in Chicago before joining our staff and entered her hybrid Nymphaea 'Garfield Park', a chance seedling, in the 2020 competition.
"I have vivid memories of how nerve-racking it was to force my plant over the winter so it would be ready to ship in March to the competition site according to regulations. It was especially difficult to let another person grow my plant for the judges to review, with no input or control over the care it received," she recalls. "Hybridizers enter the competition in the hopes of winning. They have a keen interest in the plant they entered, how it's grown, documented, and judged. I understand that from direct, personal experience. I worked hard to help every plant competing this year reach its potential while being fair and equal in all the plants' treatment."
The Garden will host the New Waterlily Competition again next year, the 25th anniversary, along with the society's symposium this August. You can enjoy waterlilies and other aquatic plants year-round at Naples Botanical Garden. The Water Garden currently features a special curated display of waterlilies from Florida Aquatic Nursery, North America's largest aquatic wholesaler and a frequent honoree at the New Waterlily Competition (their tropical day bloomer, 'Purple Passion,' took second place in its category). In the lower Brazilian Garden pool there is an exhibition of Florida-based hybridizer Craig Presnell.
---
About the Author
Jennifer Reed is the Garden's Editorial Director and a longtime Southwest Florida journalist.