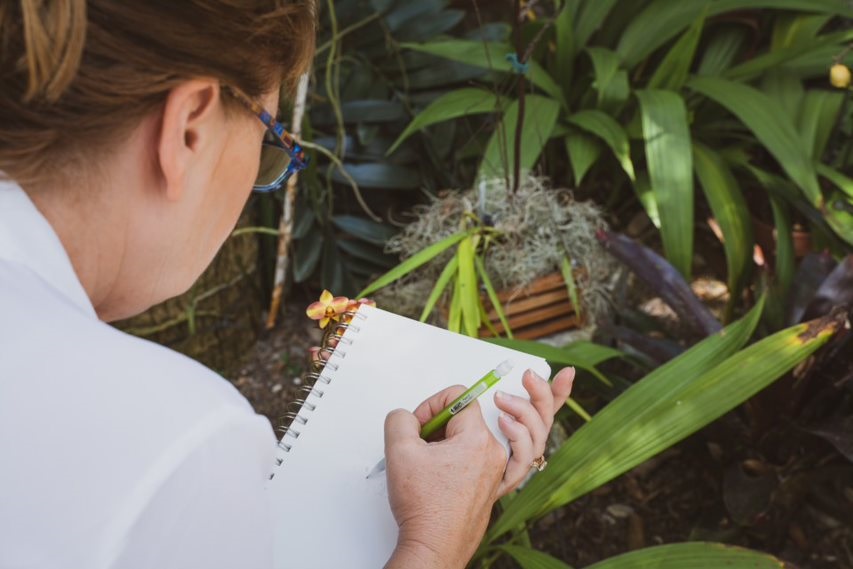 Since 2019, the Garden has offered Nature Journaling: Botany Through Art, eight-week courses for older adults that teach the fundamentals of watercolor painting and the art of chronicling nature through picture and word. When COVID-19 halted group activities, Garden educators and the program's funder, Aroha Philanthropies, worried about the well-being of older adults sequestered at home. At the foundation's invitation, the Garden applied for — and won — a grant to create a virtual experience. We launched an online program for nature journaling alums, expanding the fundamentals and — more critically — keeping them engaged and connected during isolating times. For students, it was not only an extension of their art instruction, but it was also a technological crash course.
---
Learning to Zoom
They took class over Zoom and shared their work, critiques, and questions via a Facebook group. By the end of the sessions, participants shattered whatever stereotypes exist about older people and technology.
"It does take a little bit of time to get used to the virtual aspect," says Mary Helen Reuter, the Curator of Education and Visitor Experience and staff facilitator for the nature journaling program. Some participants had used the Zoom video conferencing platform in the past, but for most, it was a new experience. The first week was "quiet," Reuter reports. But once members learned to post their work on Facebook and navigate Zoom's chat feature, "it started blowing up," she says. "It was like opening new doors."
---
A new way of teaching
"Well, there were challenges and benefits," says artist Elizabeth Smith, the instructor. "I did not get the immediate feedback you get when you are together in person. And overcoming the technology bridge was difficult for some students." But the new format had its perks. Reuter posted the Zoom sessions to a private YouTube channel where participants could review lessons.
"They could go back and watch them, stop them, or paint along with me," Smith says. "They could re-watch the video as many times as they wanted."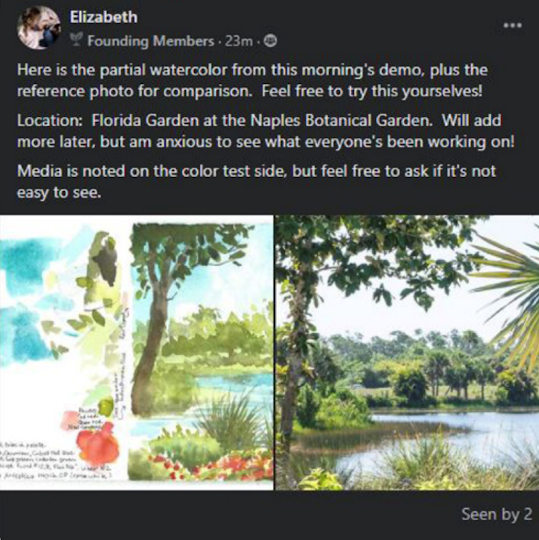 ---
Pandemic spurs practice
Because the participants had taken a nature journaling class before, the online sessions were designed to take their skills to the next level. And they did. Mary Raymond is a botanist by trade, a Garden volunteer, and a floral design judge for the Garden Club of America. She spent the pandemic honing her nature-inspired art, taking not only the Garden's online course but also other web offerings. Being a part of an organized group helped motivate her to practice, she says. And practicing allowed her to immerse herself in something meaningful.
"During these times, we need a distraction. We have all this time on our hands. (Art) takes time, and concentration and quiet. It's kind of selfish, but sometimes we need something that belongs to us and no one else."
---
Finding light in trying times
Carmina Rodriguez Villa loved the in-person experience of her previous nature journaling session.
"But under the circumstances, it couldn't be better," she says of the online format. "I thought Elizabeth was wonderful in how she went over everything and how patient she was. (Zoom) was a good way to see each other's faces," she adds, "though I miss greeting people in the Garden." In normal circumstances, Rodriguez Villa volunteers for the Garden and several other organizations between visits to family throughout the country. She misses the interaction, though at 75 she knows she needs to protect her health.
"This was a little ray of sunshine," she says of the course. "They made us appreciate the nature around us. We're a little bit down, but nature is up."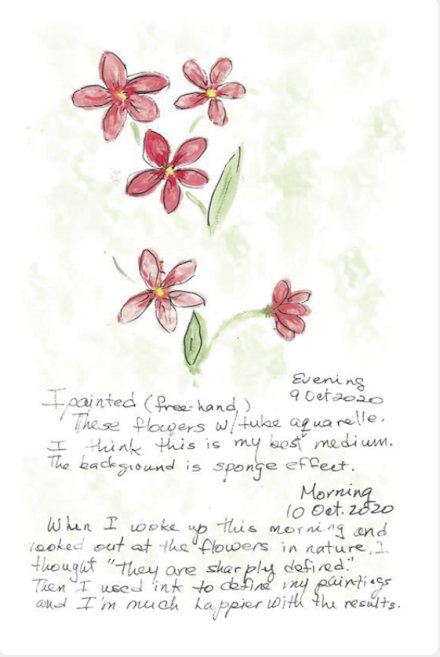 The next Nature Journaling: Botany Through Art exhibition is March 5 – 6 in Kapnick Hall.
---
This article originally appeared in the Winter 2021 issue of Cultivate, the Garden's magazine.

About the Author
Jennifer Reed is the Editorial Director of Naples Botanical Garden and a longtime Southwest Florida journalist.