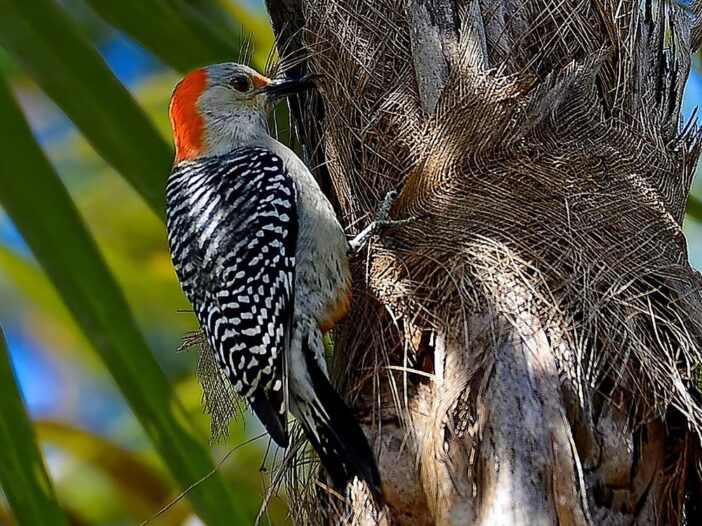 Got a dead tree in your backyard? Don't automatically add it to the horticultural waste pile.
Natural Resources Associate Mike Cox offers a better idea. Cox recently planted a 4-foot-tall piece of dead pine tree in a grassy clearing. His colleague, Natural Resources Director Eric Foht, had found it elsewhere on the property. It had a perfectly round, 2-inch diameter hole in it.
A dead tree, which is known as a snag, is prime wildlife habitat, especially for woodpeckers.
"I used to do this with my dad as a kid," explains Cox, who grew up in Golden Gate Estates. "You just take it and stick it into the ground … My dad called them 'woodpecker hotels.'"
And sure enough, a mama red-bellied woodpecker moved her babies — Cox has spotted three of them — into the hollowed-out stump. The chicks stayed hidden deep in the snag on a recent afternoon, but their chirping confirmed their presence. Cox had chosen this open spot deliberately (it's in a fire lane that separates our property from a residential street) because it's away from wooded areas where the birds' predators live. He's planted two more snags nearby, though nothing has taken up residence in those, yet.
In addition to woodpeckers, bats, small mammals, and other types of birds favor snags for their homes. The rotting wood also harbors insects, food for larger critters.
"Anyone can do this in their backyard," Cox says. "It's a good way to help your local environment."
---
About the Author
Jennifer Reed is the Garden's Editorial Director and a longtime Southwest Florida journalist.