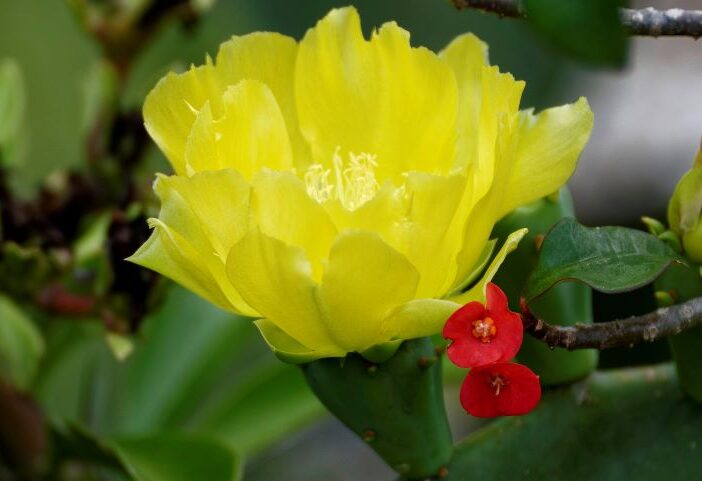 ---
Aztec legend speaks of an ancient people who moved from their homeland, Aztlán, to form a new capital. Huitzilopochtli, god of sun and war, instructed them to watch for an eagle perched on a cactus and to build a great city in that location. They discovered such a spot on a small island in Lake Texcoco, which would become Tenochtitlan. Chinampas (small artificial islands) were added to enhance its size, amazing technology for their time. This site later would become modern Mexico City. The symbol of the eagle perched on a cactus is still very close to the identity of Mexico and is even featured on its national flag.
The cactus is Opuntia, or prickly pear, and its importance extends well beyond Mexican history and legend.
"Prickly pear" actually refers to more than 300 cacti species native to Mexico and the southern United States. In Mexico, these Opuntia cacti are known as "nopal," derived from the Nahuatl word for prickly pear, "nochtli." The Aztecs would use juice from this cactus to treat burns and other ailments, and they considered it sacred. This species is still consumed by people and wildlife today. Nopales are made into an assortment of goods, even shampoo. Unlike most cacti, the entire plant is edible, not just the flowers and fruit. It is considered la planta de vida (plant of life). That's because it has tremendous health benefits including high concentrations of antioxidants, fiber, vitamins, and minerals. It is also reported to help regulate blood sugar levels, may reduce cholesterol, contain antiviral properties — and even reduce hangovers (potentially caused by another plant — agave).
Before cooking or preparing, the thorns must be removed. Opuntia thorns can have serious spines, so they will need to be handled with care. Some suggest a paring knife or vegetable peeler to remove outer skin and spines. Some say to rinse them in a large strainer to help remove spines. However you choose, just use caution. Grocers will typically sell them fresh, with spines removed, or canned. We are fortunate to have wonderful local restaurants with nopales on the menu.
Local scientists in Mexico have also discovered Opuntia's brilliant capability to be used as a stable biofuel because of their abundance of sugars. Inedible scraps are fermented with manure and distilled into fuel. The local government of Zitacuaro in Michoacan has signed agreements to use this for municipal vehicles. This is an important breakthrough because of the harm mainstream biofuels cause the environment. Ninety-seven percent of biofuels are made from monoculture crops that destroy native, biodiverse landscapes. Soy, corn, oil palms, and sugarcane make up most global biofuel production and require a great number of resources to grow and produce. The potential use of Opuntia as a renewable energy may be a profound step in reducing waste and our reliance on traditional fuels.
Opuntia bloom in spring and summer and are preferred by many pollinators, especially bees. The fruits are an excellent source of food and hydration for desert animals, such as tortoise, coyote, bats, and birds, including doves and woodpeckers. To grow at home, they can be planted in ground in well-draining soil or a sandy spot that isn't prone to flooding. Opuntia requires little to no irrigation in native climates and is hardy in zones 4a – 9a. Mature plants are a beautiful sculptural element to a landscape with woody stems and round paddles that soften the view.
To find these unique plants on our campus, visit the Foster Succulent Garden where we have beautiful specimens.
This blog supports this year's theme, Mexico: A Celebration of Plants & Culture, which highlights one of the most biodiverse places on Earth and celebrates cultural connections to the natural world.
---
About the Author
Kristin Hood is an Executive Assistant for Naples Botanical Garden. She is a longtime plant enthusiast and co-owner of Plant Parenthood NYC.