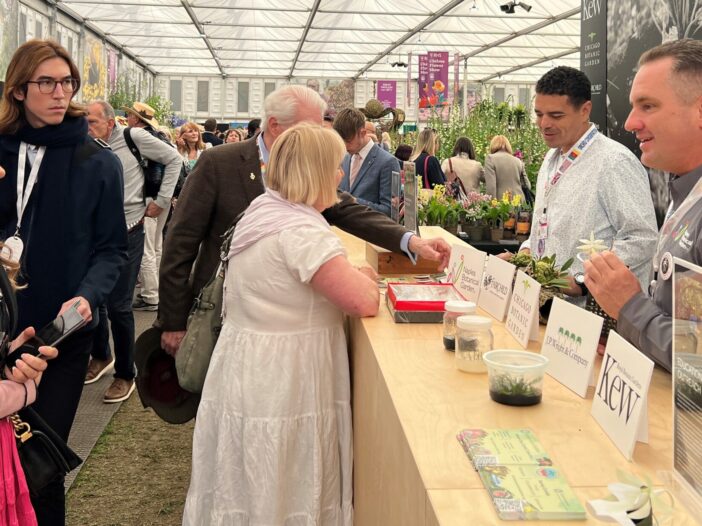 The invitation: Go to London. Team up with the world's foremost experts on native orchids and create an exhibition for the world-renowned Royal Horticultural Society's Chelsea Flower Show.
The challenge: Navigate complicated international law and ship a ghost orchid (and other rare botanical specimens) overseas.
The goal: Get that ghost orchid to bloom!
The rumblings began some time ago, talk of showing the ghost orchid (Dendrophylax lindenii) and other rare native orchids at the renowned RHS Chelsea Flower Show. Then, somewhere around late February, Dr. Larry Zettler, who runs the Orchid Recovery Program at Illinois College, and John Parke Wright IV, a Naples resident who is president of the J.P. Wright Co. and founder and chairman of Orchid Conservation Chelsea, got serious. The pair, who had teamed up a year ago to present Queen Elizabeth II with an orchid for her Platinum Jubilee, assembled a group of experts who specialize in the native species of Florida, Great Britain, and Cameroon. The ghost orchid would take center stage at a first-of-its-kind display and serve as the "hook" to talk about the imperative to conserve native orchids and their habitats.
We leapt at the opportunity. The Chelsea Flower Show is the horticultural world's equivalent of the World Cup. It's a six-day affair that attracts some 160,000 people. We had never been.
Our team was a who's-who in orchid conservation. Among them were: Zettler, who leads long-term studies of ghost orchids in South Florida; Jason Downing of Fairchild Tropical Botanic Garden; Johanna Hutchins, the Juli Plant Grainger Orchid Floriculturist at Chicago Botanic Garden; Dr. Mike Kane, a retired University of Florida professor who is famed in botanical circles for propagating the notoriously finicky ghost orchid in his lab; and our very own Director of Collections Nick Ewy and Vice President of Horticulture Brian Galligan. (You can learn more about our Garden's work in orchid conservation here.)
How does one get rare orchids across the Atlantic? Very carefully. And with many, many permits. There are only about 1,500 to 2,000 ghost orchids remaining in the wild. The other native orchids we wished to showcase are similarly rare. Because of that, these plants are subject to CITES — the Convention on International Trade in Endangered Species of Wild Flora and Fauna — and must undergo a rigorous permitting process before they can go in the mail. Participating gardens and universities scrambled. Chicago Botanic Garden succeeded! (Our CITES permit did not come through in time to export rare orchids, but we did contribute plants that share the orchid ecosystem, such as tillandsia and bromeliads that are not subject to CITES approval.)
Upon arrival in London, the entire group — some 25 of us — gathered at the Royal Botanic Gardens, Kew to meet in person and finalize the week's gameplan. Step one? Complete the display. Grow Tropicals, a London-based horticulture retailer and key exhibition partner, had begun the process well before our arrival. Still, we spent a couple of long days — I'm talking 14-hour-long days —finalizing it. We wanted visitors to have the feeling of stepping into the Everglades. Nick and Johanna spent most of the time on ladders attaching plants to a tree that served as the exhibit's focal point. They tucked 13 baby ghost orchids from Glasgow Botanic Gardens, no bigger than inchworms, amid other plants, creating a game of hide-and-seek for guests. Once complete, the display quickly became the talk of the show.
It's funny how the things we take for granted can enchant those from other places. Spanish moss enthralled the average attendee. But the plant-savvy guests and the in-the-know media had their eyes squarely on Chicago's ghost. This specimen was one of Professor Kane's lab-propagated ghost orchids grown from seeds collected with government permission in the Florida Panther National Wildlife Refuge. And it had a flower spike.
This botanical superstar orchid kept everyone on edge. Would it bloom during the show? Media frequently checked in for updates. This would be big news — the first time that a Florida ghost orchid has ever bloomed in the United Kingdom. Alas, plants don't succumb to such pressure, not even with Johanna and Nick placing heating packs around it at night to keep the tropical orchid happy in the chilly, northern springtime. We used the excitement around the potential bloom to draw in crowds and educate them about orchid habitats and the critical need to save them. Our display even won a silver medal, an uncommon feat for first-time presenters.
When not interacting with guests, we plant professionals marveled at the teamwork required to save precious species like native orchids, brainstormed future collaborations, and offered perspectives on common challenges. The team from Kew gave our team much-needed advice on running a large growing space as we prepare to move into the Evenstad Horticulture Campus this fall.
I'm writing this on the plane home, still trying to wrap my head around what we have just experienced. Nature brings people together, and I am encouraged by the excitement around plants from our fellow #plantnerds across the pond. The week also brought colleagues from across the country together and further strengthened the bonds that unite us. We hope to host our new friends in Florida soon. Maybe they will even catch a glimpse of the ghost orchid in its native home.
And, speaking of the ghost orchid… our celebrity plant unfurled its petals on Thursday, June 1. It missed the Chelsea Flower Show, but it still made headlines. Here's a statement from Kew, where it is now housed, and reports from the BBC, The Telegraph, The Evening-Standard, and Sky News.