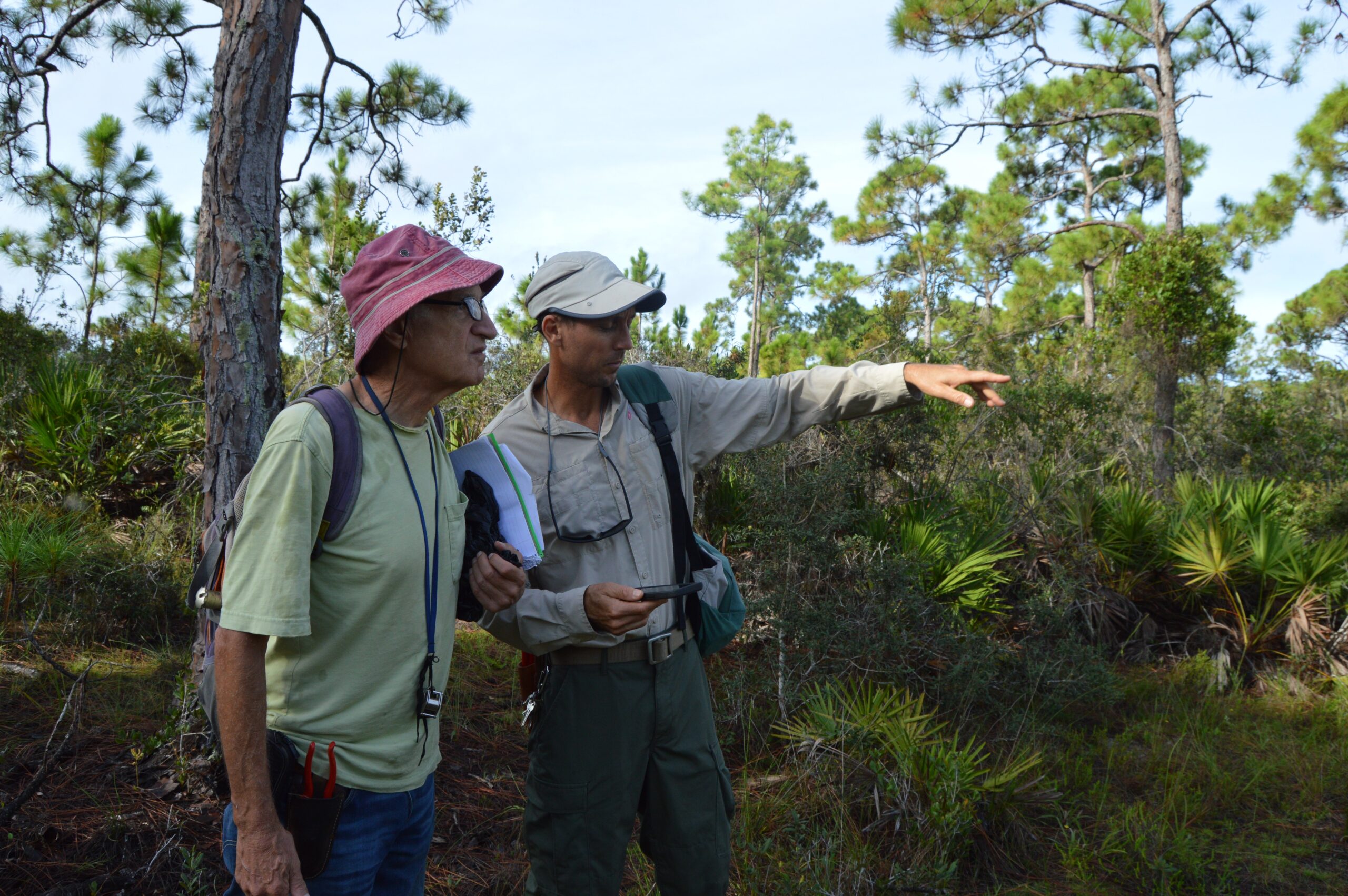 New survey shows the extent of plant life in the Garden's natural areas, including an oak of national conservation concern
Dr. George Wilder pauses at the edge of a wooded trail and reviews the morning's objective — to determine the boundaries between two habitats, coastal scrub and pine flatwoods. Along the way, the botanist will continue conducting a first-of-its-kind plant inventory of our Preserve, a task that had thus far yielded 490 species — and uncovered the presence of an oak tree that will allow Garden conservationists to contribute to a major, nationwide push to protect the species.
We'll get to that find in a moment.
Wilder, who runs the Herbarium of Southwestern Florida located at the Garden, steps off the trail and into the brush. Natural Resources Director Eric Foht and Kate Talano, the Garden's GIS Specialist, follow. Wilder has already identified seven habitats on our property; knowing their boundaries and what grows within them will help Garden specialists conduct research, collect seeds, and develop land management strategies critical for native plant conservation.
"I'm doing it, in part because I love this work, and I'm doing it in service of the Garden," Wilder says.
Wilder stops and points out a plant with clusters of tiny white flowers. Asclepias curtissii, he announces. Curtiss' milkweed is a rare plant in a rare scrub habitat.
"This is our most significant find of the day," Wilder says. Talano records the coordinates. Foht notes, "This is the benefit of just walking out here."
It was another walk on another day that led to the finding of Chapman's oak (Quercus chapmanii). Chapman's oak is considered abundant in Florida, particularly along the west coast. But experts flagged it as a "species of conservation concern" in a 2019 analysis because its habitat is shrinking, wildfires essential for the oak's reproduction have been suppressed, and climate change is altering its habitat. There are 91 native oak species in the United States; Chapman's oak is one of 28 deemed to be at risk. The analysis was conducted by The Morton Arboretum, Botanic Gardens Conservation International, U.S. Forest Service, and Fauna & Flora International. The organizations are facilitating oak tree conservation nationwide.
Conservation Horticulture Manager Jessica DeYoung had collected seeds from Chapman's oak at Rookery Bay National Estuarine Research Reserve and tends a few young saplings in the nursery. Generally, Garden conservationists do not introduce new species — even native ones — to the Preserve without knowing whether those plants naturally occur there. They did not know Chapman's oak existed on the property until Wilder began his plant inventory.
But once he found Chapman's oak — one of five oak species he has identified — the Conservation and Natural Resources Team had the green light to plant it.
"We have just a couple of (Chapman's oak) specimens left in our Preserve, so we're really uplifting that population and bolstering its size by planting wild, local genetics here on site," DeYoung says. Chapman's oak appears in other botanical gardens, but those specimens originate in the northern portion of its range. Our conservationists aim to protect Florida native genetics.
But the real significance of this story is how much life our 90 acres of undeveloped land harbors. It supports the 514 types of plants Wilder has identified. It contributes to the conservation of Chapman's oak, of the threatened and endangered plants on the property, and protects native plants in general as Florida loses more and more land to development. It also provides habitat for countless pollinators, birds, mammals, and reptiles, including the endangered gopher tortoise.
"As more and more natural land is destroyed here in South Florida, the holdings of the Garden become increasingly precious, particularly the scrub," says Wilder, who remembers when scrub habitat used to be found throughout Southwest Florida. "The scrub has some uncommon and rare species growing in it. The whole habitat is rare … and when you have something that's becoming increasingly rare, the remnants are increasingly valuable."
This is the first comprehensive survey of the Garden's natural areas. Vice President of Conservation Chad Washburn says he's eager to learn the scope of plants in the Garden's charge and to analyze their unique needs, such as occasional prescribed fires.
"George's botanical exploration and mapping of the natural areas will help us better manage the land for the conservation of plants," he says.
Explore the Garden's Preserve during your next visit, and discover the natural wonders it holds.
---

About the Author
Jennifer Reed is the Garden's Editorial Director and a longtime Southwest Florida journalist.