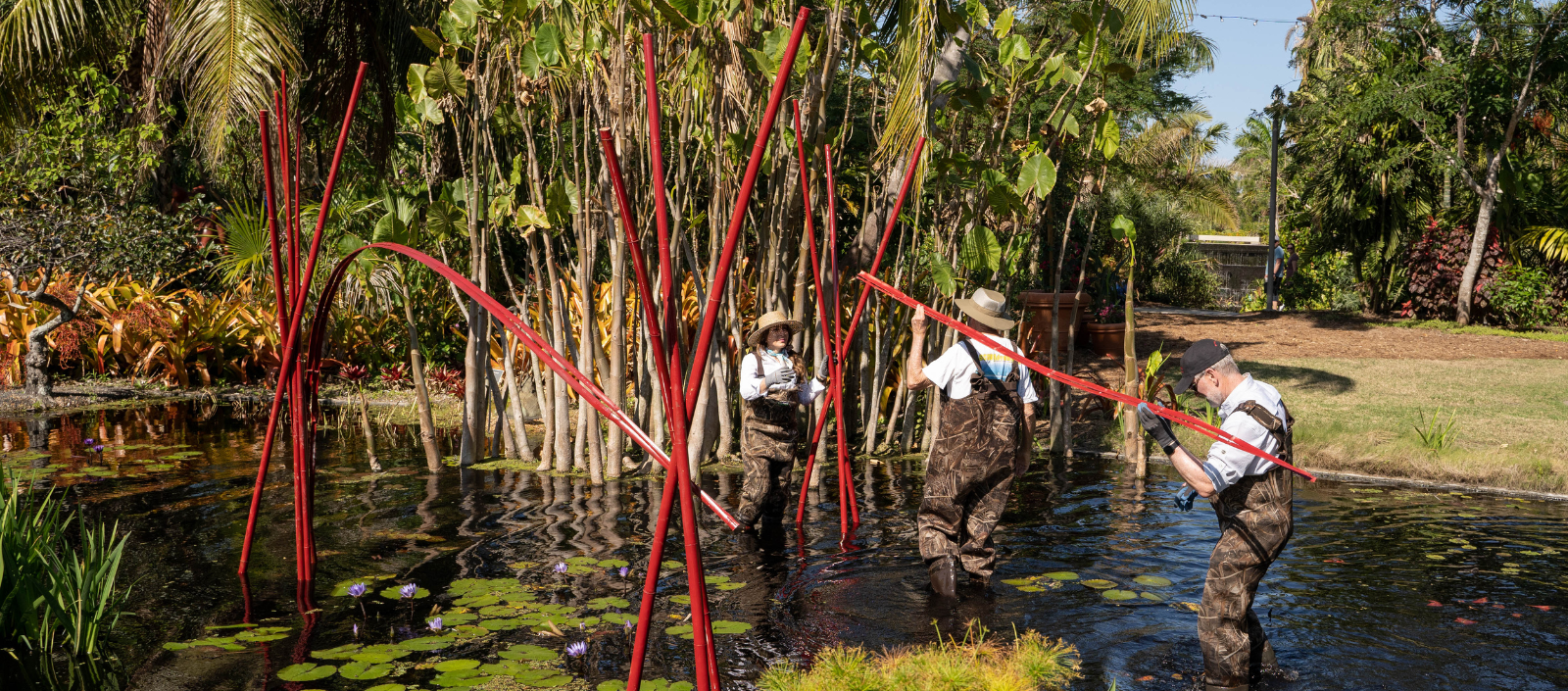 The heart of the Annual Ikebana Exhibition can be found in Kapnick Hall where nearly 100 exquisitely designed floral arrangements will be on display this weekend, February 10 – 12.
But there's a surprise awaiting visitors in the Water Garden, where a Sogetsu freestyle bamboo sculpture emerges from the water. Sogetsu is a school of Ikebana, the Japanese art of floral arrangements. Marcia Borel, a "komon," or advanced practitioner, conceived the design and directed its construction. Fellow Ikebanists Sue Pigman and Nelsa Bross, along with spouses Jim Borel and John Pigman and Sue's brother, Jim Kling, donned waders and brought her vision to life.

The sculpture measures approximately 12 feet by 9 feet. It is crafted from bamboo harvested from the Garden and painted red with gold accent pieces. Marcia named it Reflections. This is the group's 50th — golden — anniversary. The water reflects the sculpture's silhouette, giving it additional dimension and symbolic meaning.
"People are reflecting back on the years of friendship," Marcia explains of the milestone for the Naples Ikebana International #160 chapter. "Our motto at Ikebana International is, 'friendship through flowers.'"
The sculpture mixes angles and arches. The latter are meant to convey the passage of time. A gold strip enters from the water, weaves through the structure, and exits in a line pointing to the heavens.
"To me, that evokes the future," Marcia says.

Marcia and her companions had created a sculpture in Kapnick Hall for last year's show. This new venture, Marcia's first water-based construction, required a bit of ingenuity to anchor it in the pond and to account for the wind. Jim Borel fashioned bases out of buckets, wood braces, and stones. Marcia used thinner-than-customary bamboo strips to ensure the wind could pass through the structure.
Jim's job took him to Japan in the 1990s, and Marcia discovered Ikebana there. She continued the practice in Pennsylvania, their home state, studying under a Sogetsu master teacher. She and Jim learned how to craft bamboo sculptures at Longwood Gardens in Pennsylvania, which brought in a team of Sogetsu artists from Japan to create one for an exhibition.
"It takes a team to do this. That's part of the joy of it. We have a commonality in creating an artwork together," she says.
This year's Ikebana exhibition is titled Celebrating 50 Years of Friendships Through Flowers. It will feature designs in the schools of Ikenobo, Sogetsu, Sensho Ikenobo, and Ohara. Guests may view Ikebana arrangements in Kapnick Hall; see the Reflections sculpture in the Water Garden; watch live demonstrations on the Performance Lawn; and purchase Ikebana materials in Kapnick Hall. A special family W.O.N.D.E.R. demonstration takes place 10:30am – noon each day on the Performance Lawn and offers an opportunity for artists of all ages to design an Ikebana-inspired flower arrangement.
The exhibition is included in Garden admission; free for Members.
---
About the Author
Jennifer Reed is the Garden's Editorial Director and a longtime Southwest Florida journalist.