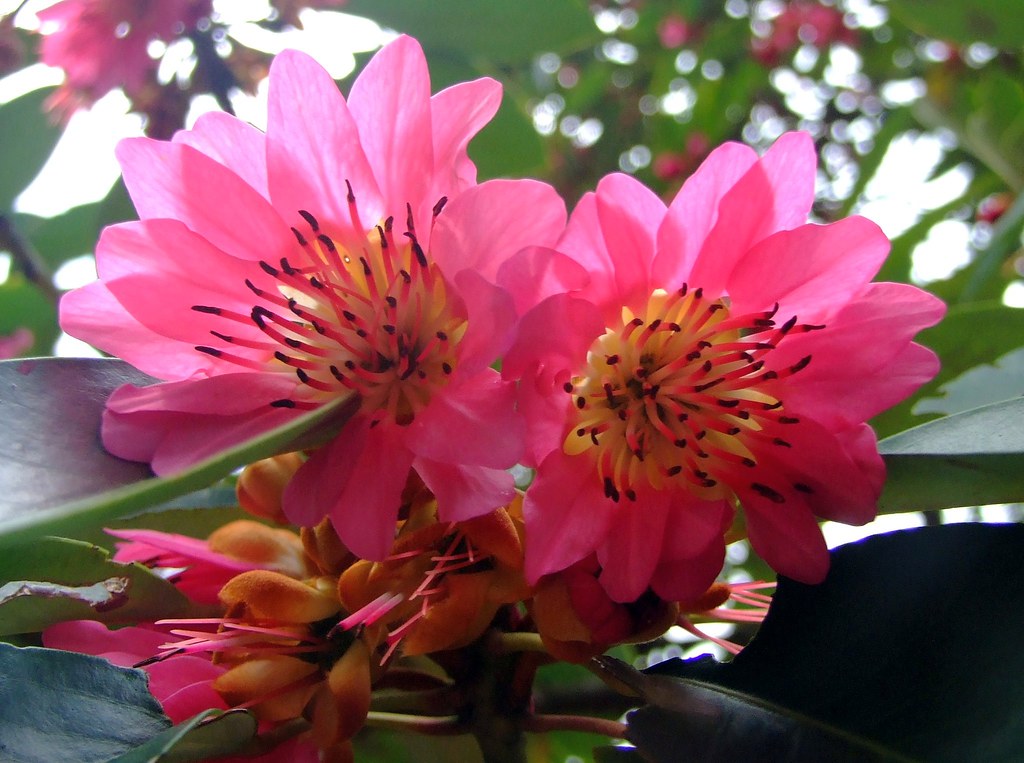 Summer, rainy season, is the time of year when we do most of our planting as our tropical collections love the heat and Mother Nature helps with irrigation.
Our experts are forever on the lookout for additions that are rare, threatened, horticulturally distinct, or that expand upon an existing collection. They network with plant collectors, trade with fellow botanical gardens, take in specimens offered by our partners in the Caribbean, or sometimes collect during their own travels (with permits or necessary permissions, of course).
These plants, or cuttings from plants, often get their start in our nurseries. During the rainy season, our horticulturalists assess our holdings and determine plants ready to go on display. Some of them will mature into new botanical beauties. Some may not make it, and that's OK. The Garden, in a way, is a massive horticultural experiment — a never-ending quest to see what species take root and flourish. In particular, our staff looks for plants that require minimal fertilizer, as overuse can affect water quality. The information, eventually, may influence the local landscape industry, giving designers new ideas for plants that are unique and beneficial to the region's ecosystems.
These plants don't exactly come with instructions, so horticulturalists must determine what it takes to get them to accept Southwest Florida sandy, high-alkaline soil. In some cases, that means enhancing the soil with microbes and organic materials.
"We are continuously pushing that envelope of things that are difficult to grow, but things we feel we can grow if we unlock their secrets," says Vice President of Horticulture Brian Galligan.
Here are a few examples of newly added plants:
Dahlstedtia pinnata (Kapnick Brazilian Garden)
This South American plant produces clusters of purple or reddish flowers. We acquired ours from the Los Angeles Arboretum. Brian and Liz Chehayl, the Brian Holley Curator of Collections, spotted it during a visit there and asked their counterparts if they could have seeds. None were available at the time, but about a year later, a batch arrived in the mail.
"They're a little finicky," says Director of Collections Nick Ewy, "but the one we planted is the healthiest by far."
---
Erythrochiton brasiliensis (Kapnick Brazilian Garden)
Our plant-loving staff is among our best resources for new plants added to the Garden. Erythrochiton brasiliensis, also known as "Star of Brazil," is a slow-growing small tree that produces pretty white flowers emerging from reddish-orange bracts. Our mother plant came from Liz's yard. A tree grown from a cutting she took from it is in Kathryn's Garden. Now, it has lots of seedlings, which have been sprinkled throughout the Brazilian Garden.
---
Dipteryx odorata (Kapnick Brazilian Garden)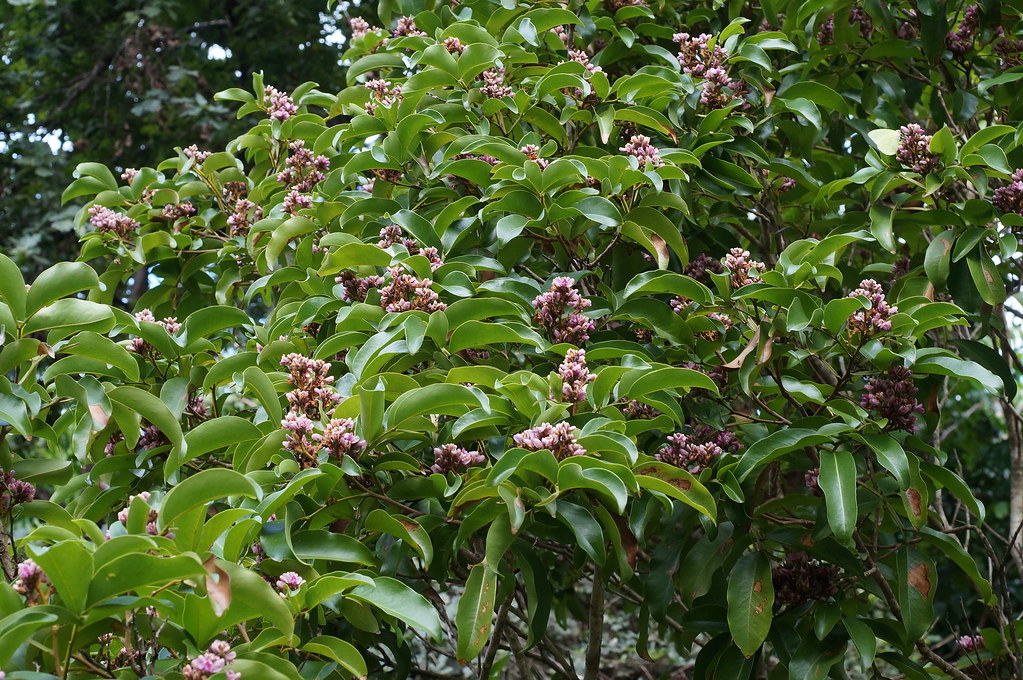 The tonka bean tree, as its Latin name implies, gives off a lovely fragrance when in bloom. In South America's rain forests, it towers high in the canopy, yielding bright pink flowers. The seeds, bark, and beans are used in indigenous medicines, treating ailments from earaches to digestive complaints. Anyone on a blood-thinner may be familiar with it, too. The beans contain coumarin, a substance used in the creation of the drug coumadin, also known by the name brand Warfarin.
The tree is also prized for its wood; in fact, the Eleanor and Nicholas Chabraja Visitor Center is constructed from it.
"This is one we've been wanting for a long time," Nick says of its acquisition.
---
Garcinia mangostana (Lea Asian Garden)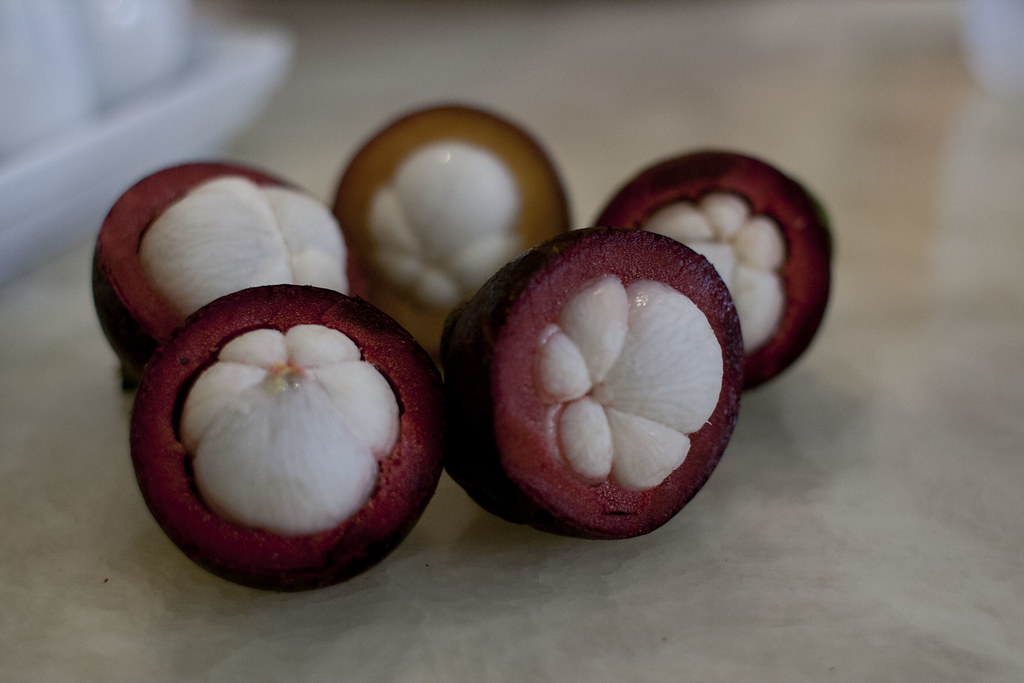 The mangosteen is dubbed "the Queen of all Fruits." This tree, which grows primarily in Southeast Asia, produces a royal purple-colored fruit that opens up to reveal perfectly sectioned white flesh. "It's delicious," according to Liz. "An amazing, really tropical taste," says Brian.
We haven't seen ours fruit yet, but with Collier County experiencing fewer freezes these days, our horticulturalists are hopeful that it will do so.
---
Rhodoleia championii (Lea Asian Garden)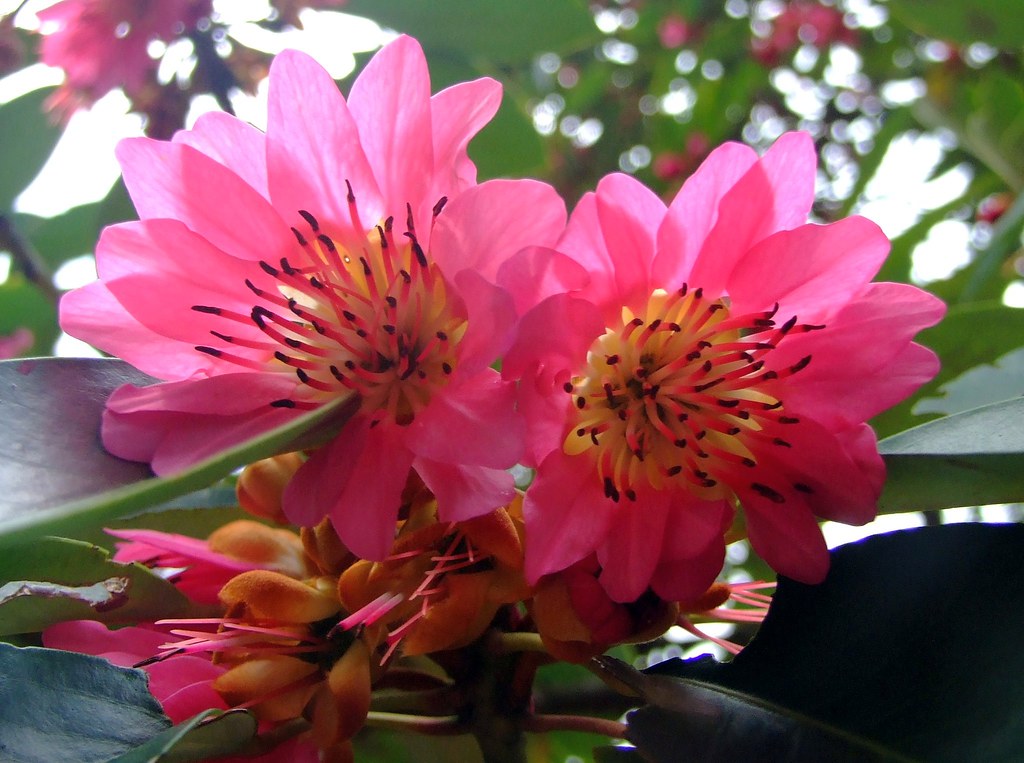 The "Hong Kong rose" is fairly rare in cultivation, which makes it all the more spectacular. It sports thick, leathery green leaves and multilayered blooms. "It's a beautiful flower," Nick says. The horticulture staff is still learning about this plant, but it has flowered in the nursery — a good sign as they put it out into the Garden.
---
Ravinia urbanii (Kapnick Caribbean Garden)
This is a beautiful, flowering tree endemic to Puerto Rico, meaning that island is the only place where it grows in the wild. The tree is rare; in fact, one of our Puerto Rican collaborators received a grant to collect its seed for conservation purposes. Our tree comes from a cutting gifted to us after the Garden assisted with Hurricane Maria recovery. (For an image, see this U.S. Forest Service fact sheet).
---
Phlebotaenia cowellii (Kapnick Caribbean Garden)
This Puerto Rico native is known as the violet tree for is purplish-blue flowers. The tree is endangered, making its conservation in botanical gardens all the more important. During its bloom period, it's a show-stopper of a tree. This summer, our staff planted two: a cutting that they placed right near the entrance of that garden and an 8-foot-tall one donated to us by long-time Garden collaborator and tree expert Steve Brady. That one is located just before the trellis, on the left.
In addition to these specimens, the staff has planted many other botanical curiosities and plants of interest, including philodendrons, anthuriums, bromeliads, palms, and orchids. While the rest of us mark Labor Day and the "end" of summer, you'll see our staff continue to have shovels in ground until the last of summer's rains have ended and we shift into the dry season.
---

About the Author
Jennifer Reed is the Garden's Editorial Director and a longtime Southwest Florida journalist.