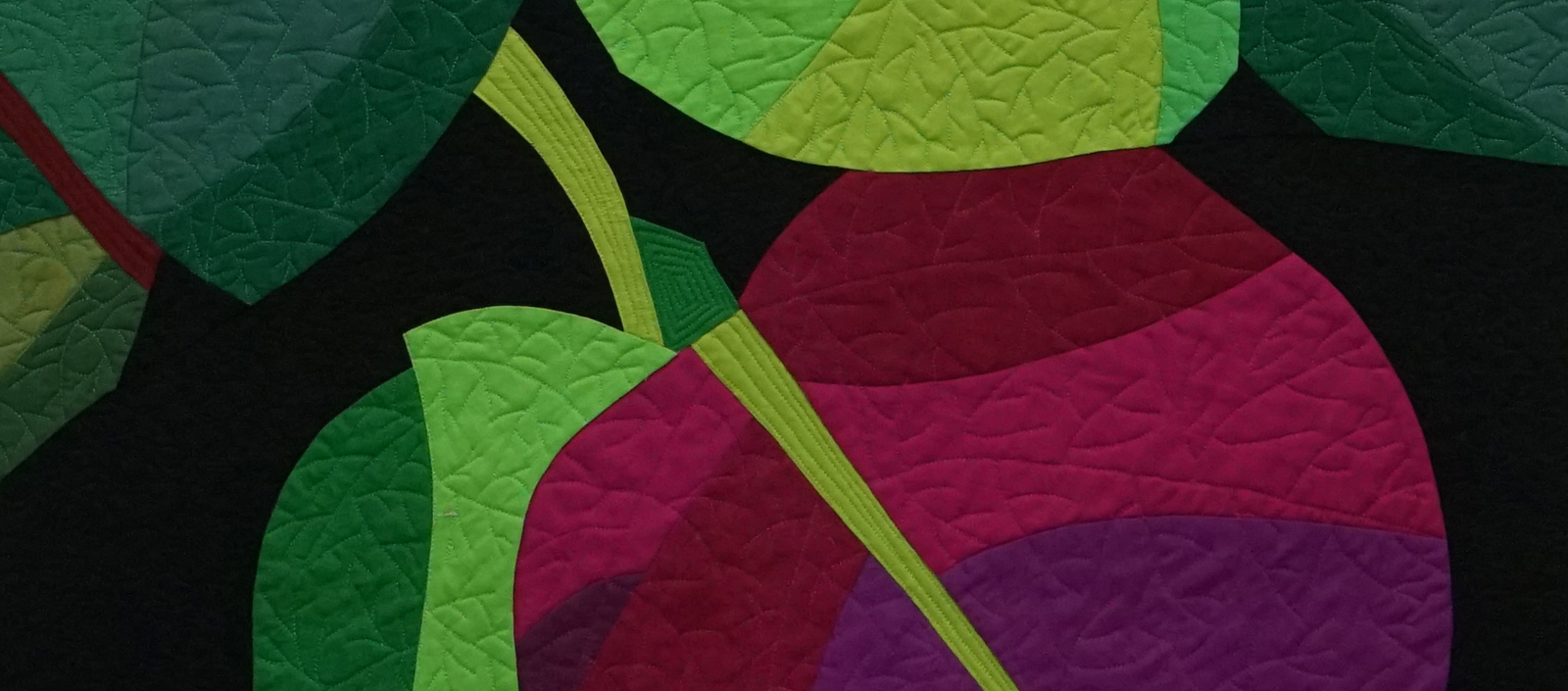 The artists behind Woven: Fiber Arts Now give us a glimpse of what's to come in our newest exhibition. The Garden team curated this show, on view in Kapnick Hall starting April 8.
The work of five local artists will be "woven" together in this synergistic exhibition featuring materials such as silk, pine needles, reed, and
cotton. The result: a never-before-seen celebration of the possibilities of fiber, the beauty of the Garden, and the endless potential of the natural world.
---
DUSTY HOLMES
CHOSEN MATERIALS: Pine needles, pottery, seed pods, and other materials found in nature.
HOW LONG YOU'VE BEEN WEAVING PINE NEEDLES: 10 years.
MORE ABOUT YOUR PROCESS: Each piece of pine needle art is composed of hundreds of pine needles that are gathered right here in Naples, Florida. They are par-boiled, straightened, caps removed, and then while still moist, woven one by one into a coil to form the basket. Once the pine needles are woven, they are very stable, and the baskets will last for many, many years.
WHAT YOU WANT GUESTS TO CONSIDER WHEN VIEWING YOUR WORK: I want people to realize that in times past, people had to rely on the bounty of nature to provide them with a means to make vessels to carry water, winnow seeds, and dry meats.
---
MUFFY CLARK GILL
CHOSEN MATERIAL: Hot wax, dye silk, FabricMate markers (primarily batik and rozome processes).
HOW LONG YOU'VE WORKED WITH THESE MATERIALS: Since I was a sophomore in high school.
WHY YOU CHOOSE FIBER AND TEXTILES AS YOUR MEDIUM: I like the effects of seeing the dye on silk and the vibrance the silk imparts to the image.
WHEN YOU DISCOVERED YOUR MEDIUM: I first saw batik at an arts and crafts exhibition at a gallery in Kampala, Uganda. I returned to the States interested in trying to experiment with it on my own. I have been pursuing this passion off and on ever since.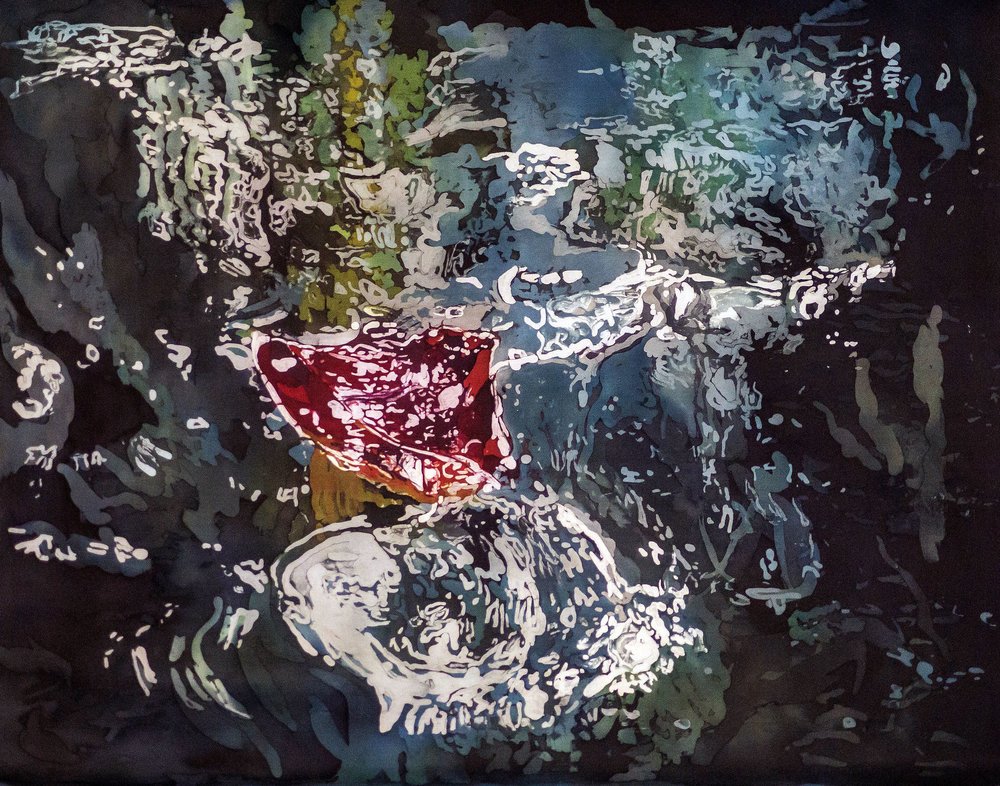 ---
ROSELINE YOUNG
CHOSEN MATERIAL: Handwoven wall hangings comprising natural materials, wools, cotton, and linen, woven on 4– and 8 – harness looms, some further embellished with quilting and rug-making techniques.
HOW LONG YOU'VE WORKED WITH THESE MATERIALS: 30+ years.
WHAT YOU WANT GUESTS TO CONSIDER WHEN VIEWING YOUR WORK: I want guests to consider how the gardens generate emotional responses to their beauty in color interplay, endless textures, and unique patterns. My work is touchable, giving my individual response to these beautiful gardens and how they make me feel.
---
MARY DAY
CHOSEN MATERIAL: Rattan reed.
HOW LONG YOU'VE WORKED WITH RATTAN: 15 years.
MORE ABOUT YOUR PROCESS: The reed is dyed before it is woven, using a traditional twining technique. Each form has open spaces in the weaving to allow the original curve and bending of the vine from which it was milled.
This consideration influences the final configuration. I discovered my medium organically, through a process of trial and error.
SOURCE OF INSPIRATION: Flora and fauna are the strongest influence in my studio practice. The rhythms of curving line and connecting points found in the natural world inspire me. I hope to use some of the Garden's plants to dye reed. I will be weaving for the exhibition.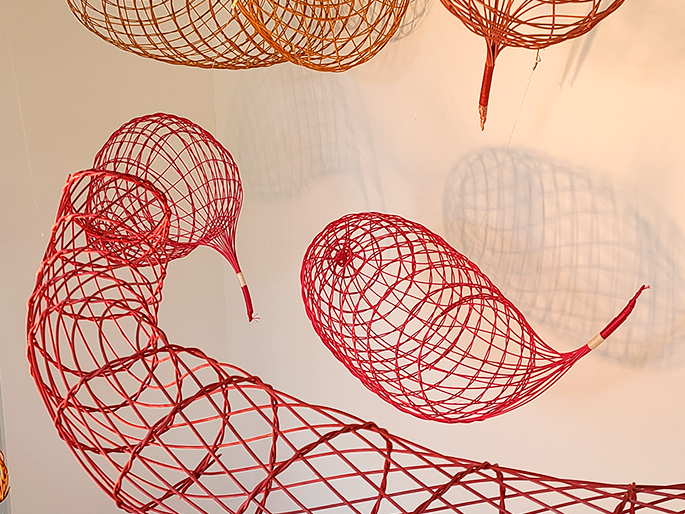 ---
CHERYL COSTLEY
CHOSEN MATERIAL: Fabric.
HOW LONG YOU HAVE WORKED WITH FABRIC:
My mother and aunts taught me to sew and instilled a love of fabric in me as a child. I remember playing hide and seek in boxes of fabric and as a teen would cut up my old skirts and make dresses for my baby sister. However, I had little time to play with fabric during the years of raising a family, earning a Ph.D., and being a career woman. About 20 years ago I was "itching" to do something creative with my hands, and thus the journey as a fiber artist began. It began by begging (literally) my way into a fiber art study group at a local art center, which was a jump-start for me.
WHAT GUESTS CAN EXPECT: The pieces in this exhibit are centered around the seagrape (Coccoloba uvifera), which is my favorite native Florida plant. I honor it because of the work it does to preserve and protect our beaches. It is part of the interwoven ecological system that is necessary to our fragile environment.
DON'T MISS
In addition to this engaging exhibition, visitors are invited to participate in a community weaving project on Friday, April 8, and Saturday, April 9, from 10am – 2pm. Three large looms will be installed on the Performance Lawn, where you can partake in the essence of what it means to be intertwined, with instruction from seasoned volunteers with the Weavers of Char-Lee guild. You will weave not only handspun fibers such as yarn but also natural plant materials harvested from the Garden.
This article originally appeared in the Winter 2022 issue of Cultivate, the Garden's magazine.
---